The finest of athletes: Bruce Kidd on the 10th North American Indigenous Games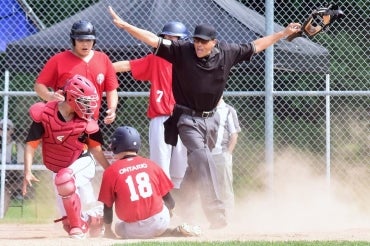 Olympian Bruce Kidd is vice-president and principal, U of T Scarborough.
U of T News is reposting his blog post below on the 10th North American Indigenous Games. U of T Scarborough is hosting four sports for the competition, and Kidd writes about why Indigenous sports deserve our support.
---
I was asked to serve as one of two non-Indigenous flag holders for Team 88 at this weekend's opening ceremonies of the Toronto 2017 North American Indigenous Games at the Aviva Centre. That was a weighty honour, representing the commitment of Canadians – the members of what we can call 'settler society' – to realize the Calls to Action of the Truth and Reconciliation Commission. The 88 in the flag I carried refers to the TRC's 88th Call to Action, which urges governments and civil society to ensure the long-term growth of Indigenous sport.
This is the 10th North American Indigenous Games. Teams from 13 provinces and territories of Canada and 13 regions from the U.S. are participating. This is the largest-ever sporting and cultural gathering of Indigenous Peoples in North America, with more than 5,000 participants and 2,000 volunteers. It's the first time that these important games have been held east of the Ontario-Manitoba border and only the second time since Winnipeg in 2002 that the Games have come to a major Canadian city.
These are inspirational ceremonies and electrifying competitions.
All of us at U of T Scarborough are proud that our campus will be hosting four sports: Athletics (cross-country running), Badminton, Baseball and Swimming.
I am deeply moved by the project that is the North American Indigenous Games (NAIG). At a time when young Indigenous people and their communities face so many challenges, NAIG provides a vehicle for healthy self- and community-development through the shared activities of sport and the arts.
I first saw this spirit in action when I visited the 1993 NAIG in Prince Albert, Saskatchewan, and I'm convinced it works. It was extraordinary to see the way these Games inspire initiative, self-discipline, community development and collaboration, bringing people from different parts of the continent together.
North America's First Nations have a long and proud history in sport. In the 19th century, George Beers, the 'father of Lacrosse' as we know it, deemed First Nations athletes 'the finest of men.' These athletes were considered such extraordinary competitors, that in those racist times, they were often banned outright from Euro-Canadian competition, lest they won all the prizes. (In response, some of them tried to pass as white to find a way into those competitions. A favourite trick was growing barbershop mustaches because it was believed that Indigenous people couldn't grow facial hair.)
Sadly, the ravages of residential schools and the economic and social marginalization of the reserves meant much of this proud sport tradition was obliterated in the 20th century. But during the last 30 years, thanks to the efforts of remarkable leaders like Grand Chief Willie Littlechild, Alwyn Morris and most recently Mary Spencer, a concerted effort is being made to revive and strengthen Indigenous sports, and NAIG plays a big part. It deserves our support.
Just as the modern Olympic games were planned to stimulate individual achievement and community development among the leading nations of the 19th century, so NAIG has been designed as a similar project in our own times for the founding nations of North America. It's an incredible sporting and cultural celebration that is not to be missed.
UTC