'Finding community': It's Queer Orientation week at U of T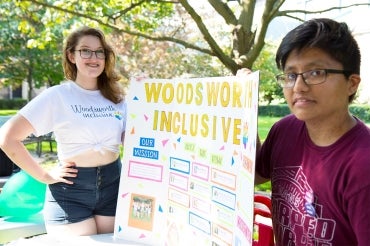 From a trans tea party to LGBTQ film nights, from discussions to semi-formals, there are dozens of events across the University of Toronto to mark Queer Orientation this week.
"For some it's about finding community, and for some it's about finding new community, and for others it's about exploring who they are," says Allison Burgess, an event organizer and the Sexual and Gender Diversity officer at U of T. 
This year marks the 11th annual Queer Orientation at U of T, a week of LGBTQ-focused programming across all three campuses – U of T Mississauga, U of T Scarborough and the downtown Toronto campus. The event, which runs until Saturday, is an opportunity for new and returning students, faculty and staff to make connections and engage in activities and discussions related to LGBTQ+ communities.
Kathy Vi Mac, program co-ordinator in the Sexual & Gender Diversity Office and student volunteers helped to organize an international student lunch on Tuesday, in collaboration with the Centre for International Experience. And then there was a Quad Carnival at Sir Daniel Wilson residence. Over at U of T's Sexual Education Centre, there was a cupcakes and coffee event where students and faculty could drop in to decorate a cupcake, meet new people and chat in a casual, queer-positive space.

U of T's Sexual Education Centre hosted an afternoon drop-in with cupcakes and coffee on Tuesday at its offices on 21 Sussex Ave, behind Robarts Library (photo by Hannah James)
"I really appreciate the community that's on the campus at U of T," says Sarah Nathanson, a second-year international relations student and an executive member of Woodsworth Inclusive (WINC), an organization that hosts a variety of events and spearheads initiatives for the lesbian, gay, bisexual, trans and queer community and its allies at Woodsworth College. "It's really helped me grow into myself at U of T. It's made me feel very comfortable and so happy during my university experience." 
Nathanson, who came to U of T from South Africa last year, says Queer Orientation helped her transition to university life and a new country. This year, she's actively involved in organizing events,  including hosting a WINC booth at Quad Carnival and organizing the semi-formal Wine(ish) & Cheese event, co-hosted by LGBTQ communities at Woodsworth and Innis colleges.
Today at U of T Mississauga, you'll find Community BBQueer and a film screening of Game Face followed by a discussion on how to make UTM's athletic facilities more queer and trans friendly.
At U of T Scarborough on Friday, events include BiTalks with Scarborough Campus Students Union's Nana Frimpong,  opening up a dialogue about all-gendered washrooms.
Downtown, there's Move with Pride scavenger hunt and social, a trans mixer and a screening of Moonlight, hosted by the Cinema Studies Student Union.
"We want to reach out in as many places as we can to let people know that we are all working together to create a welcome and inclusive place for LGBTQ+ commuinty members. We are working hard to create these speaces and there is still a lot more work to do," says Burgess.
A full schedule of Queer Orientation events can be found on the Sexual & Gender Diversity Office website, or on Facebook.
Shuttle buses run between Univeristy of Toronto Mississauaga and University of Toronto St. George campus every day and U of T Scarborough can be reached by TTC.
 
UTC