From fighting fungus to improving innovation: U of T researchers lead CIFAR interdisciplinary research programs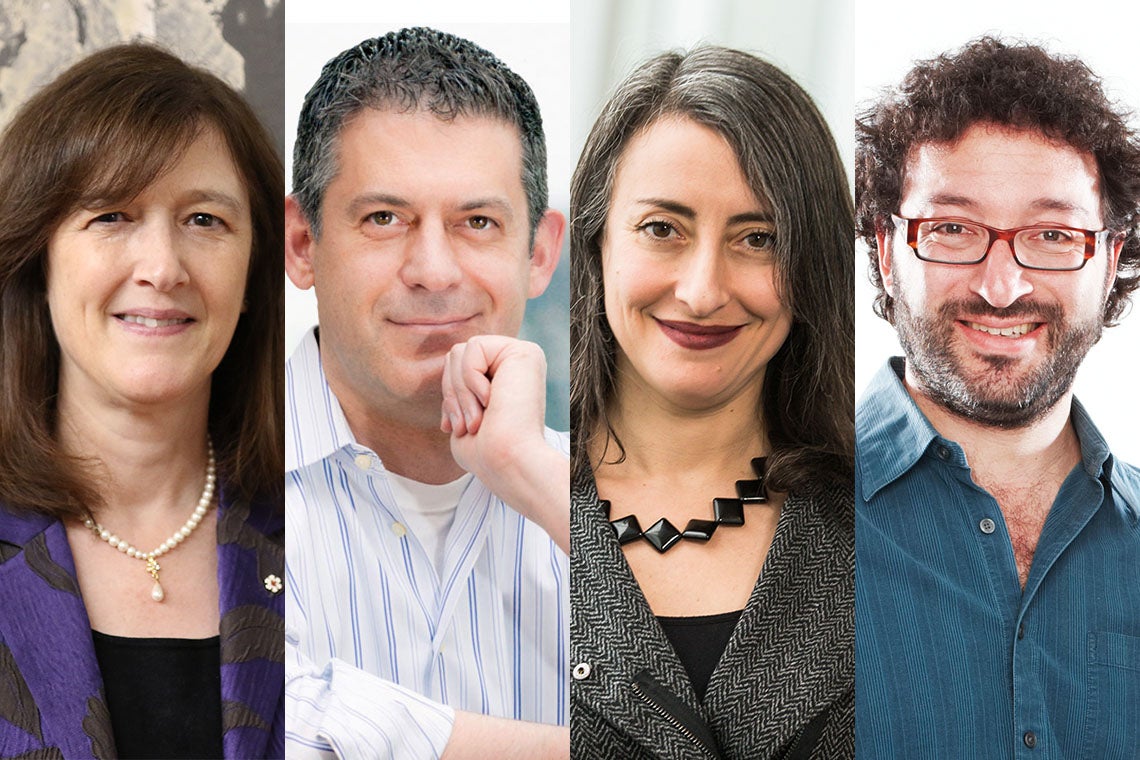 Drug-resistant germs like the fungus Candida auris are making their way into hospitals around the world, stumping scientists who are trying to trace their often-mysterious origins.
But a group of international researchers from a diverse range of disciplines, including microbiology, evolution, food security and immunology, are hoping that by working together they can address the potential harm to humans, wildlife and agriculture.
The newly created program, called Fungal Kingdom: Threats & Opportunities, is co-directed by Leah Cowen, a professor and chair of molecular genetics at the University of Toronto, and Joseph Heitman, a professor and chair of molecular genetics and microbiology at the Duke University School of Medicine. It is one of four research programs led by U of T faculty that make up the new 13-program portfolio of CIFAR, a Canadian-based organization that looks to address some of the world's most pressing issues through interdisciplinary research.
"Through CIFAR, University of Toronto researchers have been able to engage with a global network of scholars across disciplines and borders to tackle complex challenges," said Vivek Goel, U of T's vice-president of research and innovation. "This highlights the international demand for U of T's expertise in a range of areas – from public policy to geochemistry."
The other U of T-led CIFAR research programs include:
Innovation, Equity and the Future of Prosperity, co-directed by Dan Breznitz, who is the co-director of the Innovation Policy Lab at U of T's Munk School of Global Affairs & Public Policy, Susan Helper, an economics professor at Case Western Reserve University, and Amos Zehavi, a professor at Tel Aviv University and a senior associate at the Innovation Policy Lab.
This program is one of two in the social sciences that CIFAR has added this year – the first since 2004. 
Earth 4D: Subsurface Science and Exploration, co-directed by University Professor Barbara Sherwood Lollar in U of T's  department of Earth sciences and John Mustard, a professor of Earth, environmental and planetary sciences at Brown University.
Quantum Information Science – a renewed program, co-directed by Aephraim Steinberg, a professor of physics at U of T, and David Poulin, a professor at Université de Sherbrooke.

​ Breznitz said the CIFAR program gives his research group a platform to look at innovation in a different light. While there are proven benefits that come with innovation – from economic growth to personal well-being – those benefits are not always distributed equally.
The program looks to combine research on innovation technology and distribution – two areas Breznitz said are heavily siloed – in order to create an action plan that leads to meaningful change.
Inequality can take many forms in the innovation sphere, said Breznitz, offering the example of how innovation is funded.
"The main vehicle for financing innovation is venture capital," he said, adding this usually means giving a small group of people large sums of money in the hopes they can deliver exponential returns.
"What you're really creating is an industry completely obsessed with financial access," he said. "Those who succeed, the people who basically get the lottery ticket, are people who are already extremely well-off.
"Ninety per cent of people are left out." 
The first step in launching the program will be to create a common language between researchers – a challenge when they come from many different backgrounds like law, engineering, geography, sociology and economics.
"That's going to be both hard and the most fun," said Breznitz. "I've got a very big, new sandbox to play with."
Sherwood Lollar's program, Earth 4D, is taking an innovative approach to studying our own planet. It calls for thinking about Earth as we do other planets in our solar system by taking a closer look at how each of its elements interact with one another – from the interior to the surface and into the atmosphere.
"Interestingly, when we think about our own planet, that's not typically the way science has gone about it," she said. "If you think about the breadth of work we do on this planet, it tends to be: 'We need to understand this problem over there and that problem over here.'"
Sherwood Lollar's team will be focusing on four themes: water, and how water resources are being altered by climate change; energy, from the need to drive technology to how subsurface life sustains itself without the sun; the origin and evolution of life on this planet; and the concept of time and how it affects the other themes.
"We decided we really were at a place and point in time where there was an opportunity to transform how we think about Earth," said Sherwood Lollar.
To do so, she said it was necessary to bring together a group of researchers who not only bring a wide range of expertise, but are at different points in their careers.
"Intergenerational exchange is really important in this group," she said. "One of the things I love about it is we're already seeing people who didn't know each other, and didn't work together, coming together to do this kind of work.
"CIFAR is a very unique and effective agent in the Canadian intellectual and research landscape because their mandate is specifically to try to bring together [researchers in] pursuit of big fundamental questions that have been wrestled with across the board – by society, by science, by engineering, by humanities – but to do it in a new way," said Sherwood Lollar.
Steinberg's quantum information science program launched in 2002 and has been renewed three times, most recently this year. The group explores the potential of the growing field of quantum information science, including its applications in disciplines like physics, engineering and computer science.
"What a program like ours needs to do is not just build a computer and solve the problem that FedEx has already ordered, but rather try to demonstrate what determines which of the right problems to use a quantum computer for," Steinberg said in a video posted on CIFAR's website.
As for Cowen, her research program coincides with a growing awareness and concern about dangerous fungi, including Candida auris, which was recently covered by the New York Times.
The fungus first appeared in Japan in 2009 and has since spread across the globe, said Cowen. 
"It has this amazing ability to survive on surfaces so it's causing outbreaks in hospitals."
Human activity – including global trade, modern medicine and climate change – is intensifying the impact of fungi, according to Cowen. "The fungal kingdom includes as many as six million eukaryotic species and is tremendously diverse in terms of the kind of organisms included and also the impact on global health, agriculture, biodiversity, ecology, manufacturing and even biomedical research." 
Because the implications are so far-reaching, Cowen said there's a need to bring together researchers from a number of fields who can look at the fungal kingdom from different angles.
"We have brought together these amazing people that are much greater than the sum of the parts," she said.
Cowen's program will look at a number of challenges related to fungi, including: the emergence and spread of fungi; how fungi are adapting and interacting with their hosts; what makes some fungi resistant to anti-fungal drugs and fungicide; and developing strategies to thwart fungal diseases.
"It's the first time ever we've brought together this kind of diversity to do a research program to tackle these challenges," Cowen said.
With a file from Perry King
UTC