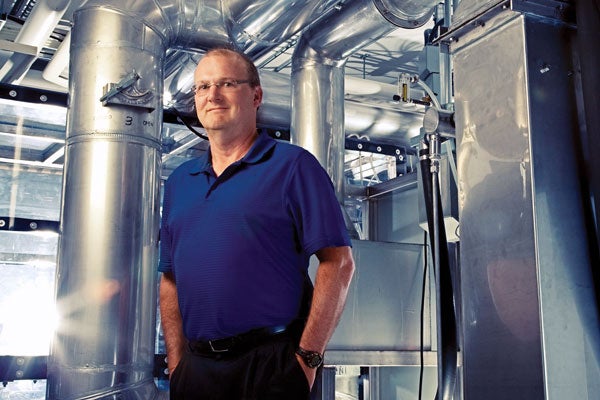 Fighting air pollution in São Paulo, Brazil and Toronto
Researchers collaborate to improve health in cities
Greg Evans and Roberto Guardiani may be separated by more than 8,000 kilometres, but that hasn't stopped them from pursuing an ambitious collaboration to improve the air quality in their home cities of Toronto and São Paulo, Brazil.
Few people mention these cities in the same breath, and for good reason – they have little in common in the way of geography, population demographics and size. But by celebrating those differences, Evans and Guardiani hope to clear the air at home and abroad.
"The ultimate goal is to develop a set of tools, measurement techniques and methods for data mining and analysis that can be transferred and scaled to megacities around the world," says Evans, a University of Toronto professor of chemical engineering and applied chemistry, and director of the Southern Ontario Centre for Atmospheric Aerosol Research (SOCAAR).
A native Torontonian, Evans studies the air we breathe, tracking pollution from major city streets as it spreads through urban neighbourhoods and into backyards and homes. The air quality data he collects could help city planners to determine, among other things, where best to position schools, retirement homes and hospitals to reduce exposure to air pollution.
"I'm interested in investigating what Canadians are exposed to, based on their proximity to major roadways," says Evans. "How does air pollution vary in neighbourhoods across the city? How does air quality in Toronto compare with, say, Windsor? And how can we monitor and protect vulnerable members of our communities, such as lung transplant patients?"
Encouraged by U of T's recent partnership with Universidade de São Paulo, Evans reached out to Guardiani to propose a collaboration that would benefit both cities. Evans believes much can be accomplished by exchanging knowledge and sharing facilities with researchers from other parts of the world.
"Our facilities here at SOCAAR rival the best air quality labs in the world, and our combination of on-site equipment with mobile and field instruments is a huge draw for collaborators and students from a wide array of disciplines," he says. "There are also some excellent research facilities, both at São Paulo's university and its hospital, that can serve as platforms for collaboration."
Returning from an exploratory trip to Brazil, Evans is excited about the nascent collaboration. "The trip was really useful. We established relationships with talented researchers from São Paulo and made new connections with colleagues here at Uof T and our affiliated hospitals.
"After exchanging presentations, we identified opportunities to integrate air quality and cardiac health that we believe will evolve into exciting collaborative research studies."
Andy Torr is a writer with the University of Toronto's Edge magazine, where this story originally appeared.