Federal budget supports digital literacy and work-integrated learning: U of T engineering has had success with these programs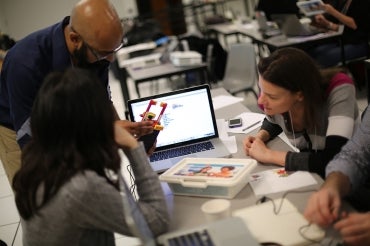 The 2017 federal budget earmarks $50 million over two years for Teaching Kids to Code, a fund that supports teaching initiatives in coding and digital literacy across the country, and includes new investments in work-integrated learning. Both are areas where U of T's Faculty of Applied Science & Engineering has a track record of success.
Teaching Kids to Code
"To give our young people the best possible start, we will promote hands-on learning in science, technology, engineering, and math, especially for young women, girls, and Indigenous youth," said Finance Minister Bill Morneau in his speech to Parliament.
Teaching Kids to Code will enhance activities such as coding workshops from U of T engineering's outreach programs. Aimed at providing both students and teachers with new tools to integrate programming, robotics and digital literacy into their classrooms, these workshops reach hundreds each year.
"Demand for talent in science and technology will only continue to grow in the coming decades," said Dawn Britton, associate director of engineering outreach at U of T. "Outreach activities are critical in ensuring that the STEM fields attract talent that reflects the full diversity of Canada."
Britton was on Parliament Hill for the announcement along with Jennifer Flanagan, CEO of Actua, Canada's leading science, technology, engineering and mathematics (STEM) youth outreach network. U of T engineering and Actua have partnered with Google to deliver Codemakers, which aims to transform the way youth engage with computers and build digital literacy through hands-on learning.
"For 25 years we have focused on engaging the hardest to reach youth, including girls and Indigenous youth, and we are thrilled that the government's innovation agenda is focused on skills development and inclusivity," said Flanagan in a statement.
In 2015–2016, U of T engineering engaged more than 9,000 pre-university students through pioneering programs, including:
Innovative programming, combined with strategic recruitment initiatives, has contributed to continued enriched diversity at U of T engineering among both students and faculty. This year, the first-year undergraduate class included more than 40 per cent women, the highest proportion in Ontario. This increased the overall proportion of women across all U of T engineering undergraduate programs to more than 30 per cent.
In the past 10 years, the number of female faculty members has more than doubled, from 21 to 55. U of T engineering is a key partner in advancing Engineers Canada's '30 by 30' objective: 30 per cent female representation among newly licensed engineers by 2030.
Enhancing work-integrated learning
The budget also included renewed support for work-integrated learning programs, such as U of T engineering's Professional Experience Year (PEY) internships. For nearly 40 years, undergraduate students have had the opportunity to spend 12 to 16 months applying their engineering competencies at leading companies worldwide. PEY partners range from local startups to major global corporations such as Apple, General Motors and Shell, as well as hospitals, universities and governments.
The federal budget reiterated a promise to spend $73 million over four years to create up to 8,700 new work-integrated learning placements. It also renews and expands federal funding for Mitacs, a not-for-profit organization that builds partnerships between industry and educational institutions, bolstering its programs with $221 million over five years. With this funding, Mitacs aims to deliver 10,000 work-integrated learning placements for Canadian post-secondary students and graduates each year, up from the current level of around 3,750 placements.
In 2016-2017, more than 730 U of T engineering students, representing approximately two thirds of eligible students, completed paid PEY internships, including 65 at placements outside of Canada. The average PEY salary was more than $47,000 per year, and many students return to finish their degree programs with a job offer already in hand – a major competitive advantage when entering the workforce.
Engineering