Federal budget 2017: Funding for AI and foreign scholars to help U of T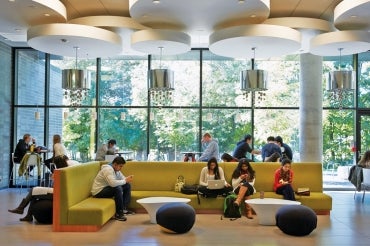 New funding for artificial intelligence research and support for the recruitment of established foreign scholars were among the highlights for Canadian universities in the federal budget tabled today.
The budget, announced by Finance Minister Bill Morneau, is providing $125 million to create a pan-Canadian strategy for promoting research, talent development, and industry partnerships in artificial intelligence (AI). 
The government also set aside $117.6 million to establish the Canada 150 Research Chairs program, which will create approximately 25 research chairs to attract top international scholars and researchers to Canada over the next eight years.
"The federal government's support of AI research and the creation of the Canada 150 Research Chairs program is a signal that the Government of Canada is serious about helping Canadian universities like the University of Toronto retain and recruit top scholars to propel our globally recognized research forward," said U of T President Meric Gertler.
"This funding will enable us to strengthen our leadership in areas where our scholars are already doing exceptional work," he continued. "It will also help ensure future generations of students can continue to learn from the best."
The University of Toronto is widely regarded as a global leader in machine learning, a booming field in AI research that has set off global demand in academia and the corporate world for top talent. It's also the home of the 'godfather of machine learning' – Geoffrey Hinton, a U of T Emeritus Distinguished Professor of Computer Science and Engineering Fellow at Google.
The budget continued support at the previous year's level for federal research granting councils. Next year's budget is expected to tackle recommendations from the forthcoming Review of Federal Support for Fundamental Science, chaired by former U of T president David Naylor, as well as reflect the Government of Canada's Innovation Agenda.
"We very much look forward to the national discussion that will follow the release of the Naylor Report, and will urge the Federal Government to build on its landmark commitments to unfettered research funding in Budget 2016," President Gertler said. "This will be crucial in enabling Canadian universities to recruit and retain academic talent from around the world at a time when Canada's brand is rising globally."
Federal support for research is delivered primarily through programs associated with the Social Sciences and Humanities Research Council (SSHRC); Natural Sciences and Engineering Research Council (NSERC); Canadian Institutes of Health Research (CIHR); and the Research Support Fund, in addition to the Canada Foundation for Innovation and the Canada Research Chairs program.
Other highlights for universities from the 2017 budget include:
$950 million for Innovation Clusters over five years. The government will launch a competition in 2017 focused on supporting a small number of business-led innovation "superclusters" that have the greatest potential to accelerate economic growth in highly innovative industries such as advanced manufacturing, agri-food, clean technology, digital technology, health/biosciences and clean resources, as well as infrastructure and transportation.
$73 million for the Work-Integrated Learning Program to create up to 8,700 new work-integrated learning placements over the next four years. The program encourages partnerships between employers and interested post-secondary institutions.
$221 million over five years to Mitacs to provide 10,000 work-integrated learning placements for Canadian post-secondary students and graduates each year.
$2 million annual budget for a Chief Science Advisor and related secretariat.
A number of new investments in government research/science, which may be accessible to university researchers, including Natural Resources Canada, Canada Mortgage and Housing Corporation, Agriculture and Agri-Food Canada, Fisheries and Oceans Canada and the Canada Space Agency.
$6 million in renewed funding for stem cell research through the Stem Cell Network in 2018–19.
$80.9 million over five years for new projects through the Canadian Space Agency to demonstrate and utilize Canadian innovations in space.
$241 million over the next 11 years for the National Housing Strategy, which includes expanded housing research through university networks and collaboration with other levels of government, as well as a network of innovation labs to incubate new ideas and design solutions to affordable housing challenges.
This year, the government said, it will assess how the National Research Council can best support the Innovation and Skills Plan and work to develop a new federal science infrastructure strategy. 
UTC