'Fascinating, gruesome, counterintuitive': U of T profs explore bug sex on CBC's The Nature of Things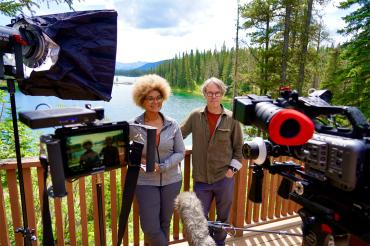 As the most numerous animals on Earth, there's no doubt that bugs have been getting busy.
Several University of Toronto researchers recently shared their insights into insects' mating rituals in the Bug Sex episode of The Nature of Things, a CBC documentary series hosted by environmentalist David Suzuki.
"Sex in bugs is fascinating, gruesome, counterintuitive," says Maydianne Andrade, professor in the department of biological science at U of T Scarborough and renowned expert on the mating habits of cannibalistic spiders.
"It's ridiculous in its complexity. Ridiculous in how extreme it is, and most people know nothing about it."
Andrade, who came up with the original concept for the documentary and was the story editor, appeared in the documentary alongside U of T Scarborough colleague Andrew Mason, a professor and chair of the department of biological sciences who studies bug acoustics and behaviour. Catherine Scott, who completed her PhD under Andrade at U of T Scarborough and is currently a post-doctoral researcher at McGill University, also took part in the documentary.
They were joined on the episode by U of T Mississauga's Darryl Gwynne, a professor emeritus of biology, and Rosalind Murray, an assistant professor of biology.
"Nature is amazing in what it generates in terms of diversity – same thing goes for the mating game," says Gwynne, who was Andrade's PhD supervisor.
After the episode premiered on CBC's streamer, Murray appeared on Fresh Air on CBC Radio to discuss her research into the sexual activity of an Ontario species of dance flies.
UTC