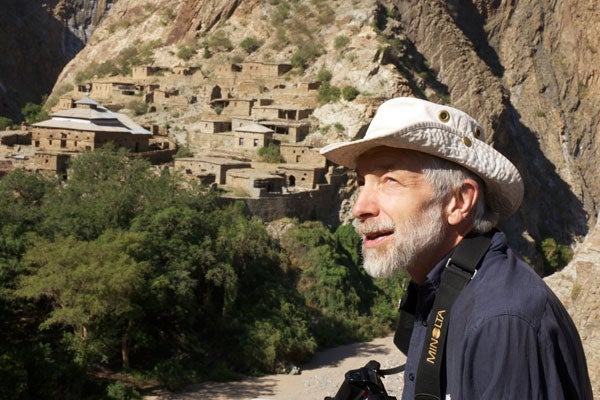 Like the famous Lomax recordings but for Ethiopia's stone cutters and their rock-hewn churches
U of T's Michael Gervers to film skilled carvers at work, interview priests and parishioners about craft that mostly died out 500 years ago
A few, like the world heritage site at Lalibela, stand magnificently tall as ornate tributes to Orthodox Christianity. Others dot the Ethiopian countryside as modest houses of worship. 
Now, thanks to a significant grant from the Arcadia Fund, the knowledge and techniques of how Ethiopia's rock-cut churches are created will be preserved for generations to come.   
"Ethiopia is the oldest Christian nation in the world dating back to the 4th century," says U of T Scarborough Professor Michael Gervers, an expert on Ethiopian history and recipient of the grant. 
"These churches have a long history in Ethiopia and much of my research has been dedicated to exploring this tradition."
There are hundreds of rock cut churches scattered throughout the highlands of Ethiopia, with many demonstrating some of the finest examples of monumental stone work found anywhere in the world. A few date as far back as the 12th century and some are under constant threat from the elements – Ethiopia is on a geological fault line and experiences periods of heavy rain – as well as neglect. 
The funding will allow Gervers to conduct a comprehensive series of interviews with the few remaining master craftsmen responsible for carving the churches. He will also interview priests and parishioners attached to them. The goal is to document the knowledge and techniques involved in making rock cut churches by preserving both oral descriptions, and the process, on video. 
Rock cut churches generally fall into two categories; those carved from one massive stone block and those excavated from rocky cliffs. Although the tradition waned about 500 years ago, a handful of skilled craftsmen continued to make both, some by contract, others by vocation.
"Some of those I interviewed said that contemporary rock cut churches are preferred because they are cheaper, use available materials and last much longer than constructed churches," says Gervers.
It typically takes a master craftsman five years to make an average church that is 15 metres square by four metres high. Craftsmen are trained as young men on the hewing techniques but knowledge is passed down orally without any written instruction to rely on beyond a written contract.
What's remarkable about the process is that the churches are created with only hammers and chisels, while measurements are judged by eye using finger to elbow as a standard length. Increased access to power tools, however, threatens ancient techniques and methodologies.
Gervers, who has been studying the churches for more than 25 years, has produced an online database of over 65,000 images of Ethiopian art and culture. He uses many of the images in his class on the cultural and social history of Ethiopia, which is a unique course in North America. 
The grant, which is for $250,000 over three years, will cover two more seasons of field work after which the video recordings with transcriptions and translations will be freely available on U of T's TSpace – a free, secure, research repository established by U of T Libraries to disseminate and preserve the scholarly record of U of T– for a minimum of 20 years.
"The Arcadia Fund is dedicated to preserving endangered culture and promoting open access to information, which are two issues close to my heart," says Gervers (pictured below, conducting field research). 
"It's an honour to be able to help preserve the knowledge that goes into the making of these cultural treasures."  
Don Campbell is a writer with the University of Toronto Scarborough.