Fahad Razak on why he's passionate about the Ontario Science Advisory Table – and the important work ahead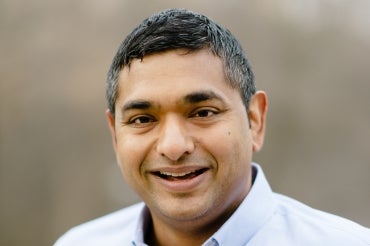 Fahad Razak became the scientific director of Ontario's COVID-19 Science Advisory Table earlier this year and already he's been at the centre of questions on mask mandates, wastewater signals and the table's move from the University of Toronto to Public Health Ontario.
An assistant professor in the department of medicine at the Temerty Faculty of Medicine and at the Dalla Lana School of Public Health's Institute of Health Policy, Management and Evaluation, Razak is an internist and epidemiologist at St. Michael's Hospital, Unity Health Toronto.
He spoke with writer Jim Oldfield about his decision to take on the job as the science table's scientific director and the potential challenges ahead. 
---
How did you find time for this role?
Before I took this role, I decided to step away from clinical work for a year. As a general internist at St. Michael's Hospital, on the front lines of the pandemic, it's been a very busy two and half years. My specialty has seen an enormous volume of COVID-19 patients, many with complex conditions that brought intense responsibility. I realized there was no way to continue that work and still do research, teach and advise at Ontario Health. I also have two kids under the age of five. So, my colleagues at the hospital very generously pulled away my clinical and administrative duties, and ensured we had enough staff and supports to cover my leave. And of course, I had a long talk with my wife and family about the new role and what it would mean.
What motivated you to take on this new responsibility?
It's important that the science table becomes sustainable, and this position offers an opportunity to help ensure that happens. The pandemic has come in several waves. We hope it will be over in a few months, but nothing about this virus suggests that's true. With each wave we've had a new series of questions to answer, many of them critical and urgent. And each time, the table has been there – with new modelling, or guidelines on vaccine roll-out or lessons learned in long-term care. But it takes a lot of effort to co-ordinate and produce that work. The table has about 30 core scientists and dozens more ancillary members and staff – many of whom support and communicate findings. There isn't much precedent for running an operation that large from a university, and so now we have an opportunity to create a new home and permanent infrastructure to support the work.
Any tension around that shift?
One critical strength of the table is that, among many members of the public and decision-makers, it's considered an independent body. Which it is. Researchers on the table are unpaid volunteers – internationally recognized scientists at the apex of their careers. They receive no material benefit from being on the table. They come to questions and issues with a purely scientific lens and do their best to produce what [Harvard University Professor] Sheila Jasanoff called "a serviceable truth." That means, based on the facts, they get as close as possible to a truth that is usable by decision makers and the public, acknowledging that we live in a world of incomplete data. When a group like this moves or undergoes a change, the question on many minds is whether the change will compromise their independence. Many in the media and on the table asked this question.
My strong belief is that the fundamental reasons why the group is independent and effective remain unchanged. These are still acclaimed scientists doing unpaid work as a public service. And, they can walk away at any time – that ability underpins the credibility and ultimately the value of the table's work.
What other changes are coming to the table?
I think we'll see a refresh of membership and leadership over coming months. Two-and-a-half years is a long time to pour effort into this work off the side of a desk. We all have other jobs, so it can't be an indefinite commitment. Beyond that, there is a need for the table to provide scientific advice that is not pandemic-related.
When you think about SARS-1 or the Walkerton water crisis, if a group like ours had been in place, I believe the province could have mounted a more nimble and robust response. So, we need to build out the terms of reference for this group, so we can respond better in the next crisis as well as this one. A lot of what we did during this pandemic was like building a plane while flying it, which is really not a good approach. Now we have an infrastructure in place, we can stay centred on COVID-19 but also retool so we can shift focus in the future.
Who chooses the scientific director for the table?
That happens through discussion among table members and the chairs [Adalsteinn Brown and Brian Schwartz]. Part of the idea is the person in this role can help communicate the scientific and consensus-building work of the table to government, policymakers, media and the public. I've been a core scientific member of the table since the beginning, and became associate director in fall 2021, so I'm familiar with the work our scientists have generated and I'm passionate about its value.
How are you prepared to handle questions from the media?
I've done interviews and learned from a few missteps – and certainly during the pandemic I and many colleagues have been called on by media to comment. I just try to convey what we know and don't know as honestly as I can, avoid extrapolating from the data, and identify major risks. Sometimes those risks are known, or maybe they're known, but haven't been considered enough, in my view. But I want to be a transparent voice for the work of the table and any consensus we land on. And I recognize that sometimes that will be unpopular.
But regardless, I think it's important to show empathy. Both the virus and pandemic control measures have caused a lot of harm and suffering. The idea of a wicked problem really applies here – we're often faced with trying to choose the best of several bad options. The choices are trade-offs that touch on values and morality and governance, so they aren't just about the science. Look, I grew up in Windsor, which is a blue-collar town. My dad worked in the construction industry, our family relied on the larger economy for survival and, like many families, we needed public schools to stay open for our education. That upbringing has really influenced my perspective on the pandemic.
What do you see in Ontario's future with regards to COVID-19?
We're at a risky point in the pandemic. There's a high degree of fatigue among the public and decision makers, and attention to pandemic concerns has greatly waned. The general feeling out there is, 'Let's move past this.' But the reality is we're not dealing with a human foe. In the last six months, we've seen a rapid resurgence of deaths in long-term care. And we've never had an infection rate like we saw in the last peak, which was up to 150,000 new cases a day. Many people developed only minor illness, but we still don't know the long-term risks. Long COVID will be a huge burden for people and the health-care system, and I don't think we've adequately recognized those risks.
I also worry a lot about whether we can mount an effective response in the next wave. As much as we would like it to be over, the wastewater signal across the province is clearly rising. And, as we have seen in abundant media coverage, the health system is clearly in crisis, not just from COVID-19 admissions, but the general fatigue, staff shortages, patient backlogs and other effects that are the cumulative legacy of two and a half years of the pandemic. We continue to see the spread of new variants that could coincide with higher-risk scenarios in the fall, when people move inside, schools re-open and other public spaces get more crowded. That timing could collide with pandemic fatigue and widespread illness from Long COVID to make things even worse. Will we have the energy to rally as a society? I don't know. I hope we all have a great summer, but we will need to re-focus.
This interview was originally published by the Temerty Faculty of Medicine on June 21, 2022.
Temerty