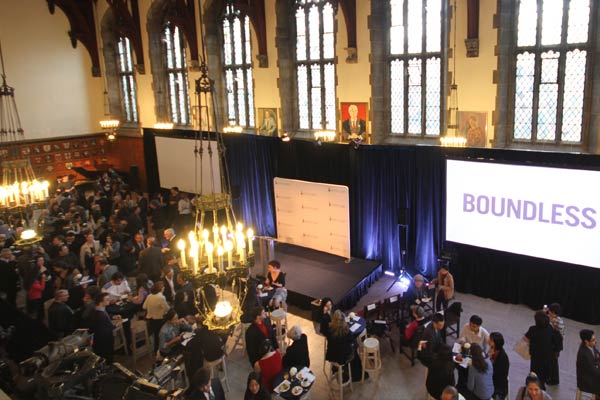 Culture, Creativity and Cities
Philanthropists help students pursue academic dreams
More than 500 students, benefactors, volunteers, faculty and staff gathered to celebrate the launch of the $250-million campaign for U of T's Faculty of Arts and Science.
The campaign, unprecedented for a faculty of arts and science in Canada, will strengthen the University's capacity to prepare global citizens and to meet the most pressing global challenges of the 21st century. It is  a major component of Boundless: the Campaign for the University of Toronto – the largest fundraising initiative ever by a Canadian university.
Boundless, launched in November 2011, has already raised more than $1-billion towards its $2-billion goal. In a packed Great Hall at Hart House, which serves as a hub for arts and culture at U of T's downtown campus, guests were excited to hear of the campaign's success thus far: to date, donors have contributed $142-million, which is 57% of the Faculty's $250-million goal.
The campaign launch coincided with the annual Arts & Science scholarship reception – a celebration of students' academic excellence.
Professor Meric Gertler, dean of the Faculty of Arts and Science, outlined some of the impacts that the campaign would have on current and future students: "We will seek philanthropic support to expand our innovative undergraduate programs that promote interdisciplinary thinking, first-year learning communities, international learning experiences and research opportunities. We will also seek to bolster our scholarship endowment to ensure access and opportunity to our undergraduates, and attract the best domestic and international graduate students. Combined with the past generosity of visionary donors, this new support will strengthen our efforts to ensure that all qualified candidates, regardless of their financial means, can pursue their academic dreams here."
Chancellor David Peterson spoke about the vital role that the Faculty plays on the world stage. In a recent survey by the Times Higher Education's World University Rankings, U of T was ranked 10th in the world for Arts and Humanities and 18th for physical sciences and social sciences.
"This campaign is our chance to strengthen this capacity—to realize a vision of leadership in Canada and the world, and to give future generations the gift that this great, good place has given so many of us," said Peterson.
The Faculty of Arts and Science is today home to the largest concentration of graduate students and almost 75% of undergraduate students on the St. George campus.
"The accomplishments of our Arts and Science alumni are due in part to the training and perspective they gain from this faculty – with its brilliant teachers and outstanding resources – but also from the benefit of being a part of the wider University of Toronto community, with its own broad strengths across a remarkable range of disciplines," said David Palmer, vice-president of advancement.
For more information visit: http://www.boundless.utoronto.ca/artsci