Faces of U of T Medicine: Damien Noone on becoming a doctor and choosing to be a mentor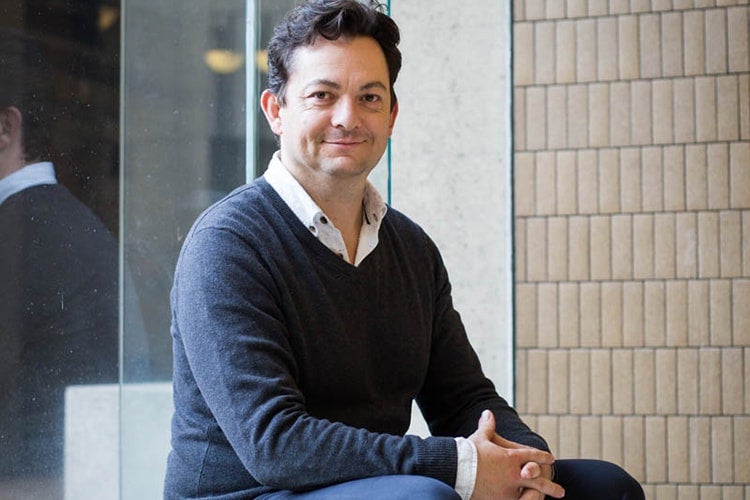 Damien Noone took a leave from medical school to tour with Riverdance – the Show (photo by Erin Howe)
As a child in rural Ireland, Damien Noone didn't dare to imagine he'd be a doctor when he grew up. As a teenager, a conversation with one of his high school teachers opened Noone's eyes to the possibility. Today, he's an assistant professor in the department of paediatrics in University of Toronto's Faculty of Medicine, and a paediatric nephrologist at The Hospital for Sick Children.
He recently reflected on his journey into medicine with writer Erin Howe.
---
What sparked your interest in medicine?
As a boy, I had a few experiences that exposed me to the world of medicine.
When I was about 10, I remember my mother losing a baby through miscarriage. I remember going with my father to visit the priest for permission to bury the baby in the local graveyard. I felt so helpless. Years later, in medical school, I came to understand my mother's miscarriages were due to rhesus disease, which causes antibodies in a pregnant woman's blood to destroy her baby's blood cells. 
About a year later, I developed a lump in my neck and was admitted to the paediatric hospital in Dublin. The doctor thought I had lymphoma. His trainee – who turned out to be right – believed I had a blocked salivary gland duct. While I was in the hospital, I met a boy with juvenile rheumatoid arthritis who was on crutches and crippled with pain. I was overwhelmed at the unfairness of his illness.
Then that was it for a time. I grew up on a farm, and whenever I wanted to avoid study or homework I'd pop out to the farm to help my father. He'd generally send me right back in saying, "go study so that you don't have to work like me." He worked in a factory and was a part-time farmer.
A simple conversation with my career guidance teacher in secondary school had a huge impact on me. He was the first to say to me: "You could be a doctor, a lawyer or whatever you want." At that point, no one in my family had gone to university and the words "I could" weren't in my vocabulary. 
Why was it important for you to become involved in the diversity mentorship program?
I read an insightful and honest column in the Journal of the American Medical Association called Underprivileged as Privilege. Written by one of our fourth-year medical students, Stephanie Zhou,  the article is about the realities of being a medical student – whether current or aspiring – from a lower socioeconomic status background. One particular line resonated with me: "I realized that I did fit into medicine – I fit in with my patients." Zhou's words echoed the sentiments I'd felt from the first day of medical school, when the posh kids and the poor kids sat side by side in large lecture theatres. 
The rich students had more expensive clothes, nice accents, and parents to be proud of, with fancy jobs and impressive titles. The poor were often from rural Ireland, had thick, country accents and were on government grants/subsidies because their parents couldn't afford to send them otherwise.
The wealthier students knew where they were going and had a map to guide them. The poor were just so happy to be there they just followed the crowd, rode the waves and did what they did best — continued to fight the odds.
The differences never seemed to bother those of us who were less well-off. During the clinical years of medical school, when we met patients, our socioeconomic status became an advantage. Just as Zhou expressed in her article, we came into their own because most people aren't wealthy and are down to earth. Also, there is nothing so humbling, grounding or levelling as illness.
What's the most important piece of advice you would offer a young person who dreams of going to medical school?
To realize the words "I could go" or "I can" are part of your vocabulary. If you truly aspire to something, don't stop asking for advice, seeking help and finding mentors to guide you on your journey.
Before you became a doctor, I understand you were involved with Riverdance. What was that experience like?
I took a leave of absence from medical school in Ireland to tour with Riverdance – the Show. It was a phenomenal experience. I toured the world, particularly North America and Canada for two years. I even performed at the Sony Centre for the Performing Arts here in Toronto in the late 1990s, when it was still called the Hummingbird Centre. I also had the privilege of being an understudy to the lead dancer, so I got to 'be the star' for matinee shows in my second year with the production. And if that wasn't exciting enough, I also fell in love with my future wife on tour – even though we'd known each other since we were eight years old.
What do you enjoy doing when you're not at the hospital?
Spending time with my three girls and wife – who all dance too. I really enjoy teaching Irish dance. It's my golf. I've actually just completed my formal examinations to become a qualified Irish dance instructor. I'm a motivator and love empowering the children to become better dancers and independent choreographers.
What's your favourite thing about the Faculty of Medicine?
It truly prioritizes diversity and wants the honour of welcoming good people, from all walks of life who have potential – and not just privilege – into their medical school.