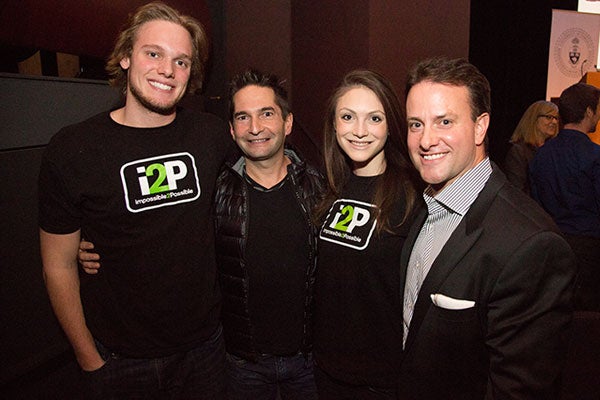 Extreme human performance: the science behind ultra-marathons, military missions
When ultra-marathoner Ray Zahab took the final strides of his 7,500-kilometre journey across the blistering Sahara desert, his weary frame had whittled down from its pre-run 162 pounds to a meagre 119.
A collective gasp was heard throughout the crowd gathered at the University of Toronto when Zahab shared this anecdote during his keynote address at the Faculty of Kinesiology and Physical Education's December 3 symposium, "Extreme Environments, Extraordinary Feats: How far can we push ourselves?"
Zahab was drained, dehydrated and mentally worn at the end of his run; the stories of strain that he shared at the event exemplified many of the scientific themes addressed before he took to the stage.  Professor Marius Locke started the night off by explaining how the body reacts on a cellular level to the stress of strenuous exercise in extreme heat, cold and other demanding environments.
Professor Judith Andersen from University of Toronto Mississauga shifted the conversation from the physical to the mental. She explained how the connection between the mind and body can determine the degree to which stressors in extreme circumstances impact long-term health, in particular for individuals such as soldiers who are forced into dangerous environments.
Professor Ira Jacobs, dean of the Faculty of Kinesiology and Physical Education, shared the results of some of the research he led while working for the Department of Defence. His findings contributed to healthier and more effective missions in high altitudes and extreme heat, and under zero-gravity conditions. One example Jacobs gave highlighted a group of soldiers who lost 10 per cent of their body weight during one short submarine mission, drawing a parallel between how the bodies of soldiers and the bodies of athletes like Zahab cope with severe dehydration.
Following Zahab's talk, the evening concluded with a panel discussion, led by Professor Greg Wells, who was the MC for the night. The 250 guests were invited to pose questions to the speakers; many were curious about connections between work in the field and real-life athletic and occupational applications. While each expert agreed that genetic predisposition and mental fortitude play a role in who excels under strenuous circumstances, they also emphasized that intense training and conditioning are vital in preparing the body to adapt to extreme physical challenges. Locke summed it up succinctly saying, "practice makes permanent."
"Those speakers were an ultimate combination," said Colin Henderson, a third-year kinesiology and physical education student. "It was cool to see them bounce ideas off of each other like that."
Henderson took on his first marathon challenge through Zahab's impossible2possible program. For him, the symposium was an inspiring fusion of everyday lessons from the classroom and intensive in-the-field experiences.
Judith Chadwick, U of T's assistant vice-president of research services, was among the guests who attended the event – the Faculty's sixth in an ongoing series of public symposia.
"It was a fantastic night," Chadwick said. "It was a really interesting mixture of science and a more lay approach to the topic. It's so important to share research in venues like this.
"We, as universities, need to engage differently with our communities than we have historically. These symposia are a great example of how we can realize this goal."
Valerie Iancovich is a writer with the Faculty of Kinesiology and Physical Education at the University of Toronto.
KPE