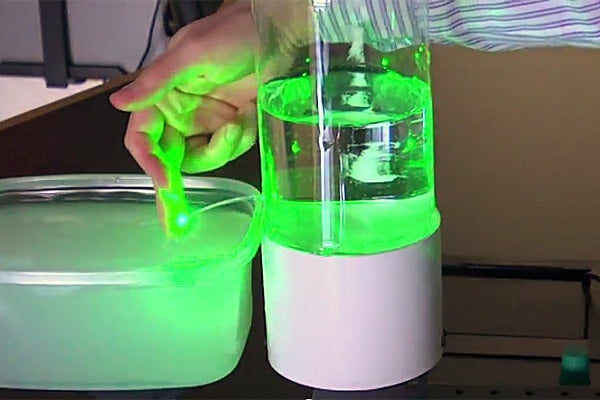 Exploding fruit and seismic waves? Science Rendezvous at U of T
Combustible gummy bears, explosive fruit and amazing superconductor cars that seem to float in thin air will all be part of a science extravaganza at U of T this Saturday.
On Saturday, May 12th,  Science Rendezvous opens the doors to over $5 billion in science infrastructure across the country, and here at U of T the public will have unprecedented public access to cutting-edge research labs and the chance to take part in experiments across 30 different departments and groups on all three campuses. From the chemistry of ice cream to the physics of rock and roll, Science Rendezvous has something for everyone.
When Professor Dwayne Miller of Chemical and Biological Physics launched the event here at U of T five years ago, he never imagined it would become a national science festival across 40 university sites.  On a trip to Germany, he saw a science festival called "The long night of science" that inspired him to say, "why not in Canada?"
"We started this discussion when I came back – I started talking to various people about whether we could do something like the German approach but on a different scale. People of like minds here started realizing that all the events we were doing for science outreach weren't working, so after 2 years of work and with the support of the VP of research at that time, we were able to get everybody in the Toronto area to hold a collective science event that we later dubbed Science Rendezvous, and it's grown by 20 per cent each year ever since."
The headlining demonstrations at U of T include a candy-shop crime scene, robots, making your own ice cream, seismic waves and much more.
Science Rendezvous aims to raise awareness about the country's large, active and leading-edge scientific research.  Attendees will have a chance to get their hands on science with over 10,000 demos and exhibitions. Scientists and researchers from U of T's science departments will be on hand to answer science questions and present explosive experiments.
Miller is an internationally recognized researcher, having published over 185 research articles, one book, and several reviews. His research accomplishments have been recognized with an A.P. Sloan Fellowship, Camille and Henry Dreyfus Teacher-Scholar Award, Guggenheim Fellowship, Presidential Young Investigator Award, Polanyi Award, Rutherford Medal in Chemistry, and numerous named lectureships. He is the founding director of the Institute for Optical Sciences at the University of Toronto.
"Everyone is born a scientist: you're naturally curious. Somewhere in our education system we beat it out of them. So the idea is to bring back the curiosity that people have and give them a venue to ask their questions and talk to real scientists. I thought it was really important to see what kind of science is going on in their backyards. It's Canadian and we should celebrate that. The other really important feature is to attract the best and brightest in science."  
Science Rendezvous is always scheduled to be held on the day before Mother's Day to place an emphasis on the importance of women in science, and provide an educational, free activity for this family-oriented holiday. As an integral component to the festival, many Mother's Day themed activities, including Historical Figures of Women in Science, and Liquid Nitrogen Flowers will also highlight the important role that women play in the sciences.
For more information visit: www.sciencerendezvous.ca