Expanded horizons: U of T student Saanjali Maharaj interns at NASA, seeks to inspire women in STEM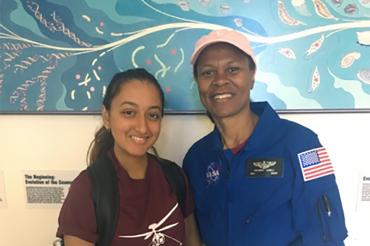 Saanjali Maharaj's summer research internship at NASA was a high point in a life spent pursuing all things outer space.
It started with watching Star Trek at age four. She later joined astronomy club at school and spent a summer at the University of Toronto's Da Vinci Engineering Education Program (DEEP) Summer Academy, where she took a course on spacecraft and orbital mechanics.
Now as a third-year engineering science student, she – not surprisingly – chose to major in aerospace.
Yet, while space exploration is incredibly exciting to Maharaj, she's also keen to see what studying that stars can accomplish closer to home.
"I'm learning that there are also many aerospace applications that can improve life on Earth," says Maharaj, who is interning at the NASA Ames Research Centre in Moffett Field, Calif.
At NASA, Maharaj is part of a team developing drones to assist emergency responders in controlling wildfires.
Part way through her internship, Maharaj recently chatted with U of T Engineering writer Liz Do about her NASA experience so far.
---
What made you want to pursue this internship?
The fantastic epics my father told me when I was little, featuring the voyages of the Starship Enterprise, began my fascination with space.
And in the wake of NASA's Artemis program, which includes putting the first woman on the moon, for me – a young woman with a penchant for aerospace – NASA was the ideal organization at which to intern.
Tell me about your internship.
I am a research intern in the branch of Rotorcraft Aeromechanics. I'm a member of a three-person team working to develop a drone to assist emergency responders in controlling wildland fires. My focus is on thermal systems, so I'm responsible for ensuring that our drone is able to withstand the extreme temperatures.
What's the experience been like?
It has been a completely surreal experience – I'm surrounded by some of the greatest minds in the field. We are fortunate to have a summer seminar series, which allows us to attend talks such as a discussion on the Artemis Mission by the chief scientist of NASA, and a seminar on black hole imaging by computer scientist Katherine Bouman.
Apart from these talks, it feels like a privilege to be immersed in an atmosphere where innovative ideas are constantly being discussed and explored, so that even the simple act of eating in the cafeteria becomes an opportunity for learning and exposure.
What does a typical day look like?
On my way to and from work, I pass the iconic Hangar One, a decommissioned zeppelin hangar, and the world's largest wind tunnel.
In the office, we have regular team meetings and check-ins with our mentors. A couple times a week, we get an email from the head of the aeromechanics department, Dr. William Warmbrodt, announcing special events like a talk by the creator of RotCFD, a high-tech tool for aerodynamic simulations, or a tour of the drive system of the National Full-Scale Aerodynamics Complex Wind Tunnel.
After work, I sometimes go for a run and look to see which planes are parked at the airfield on base.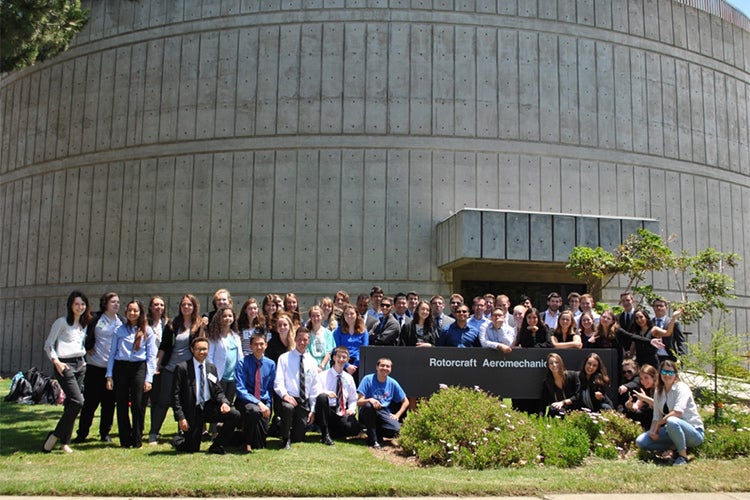 A group photo of the NASA aeromechanics interns in front of their building (photo courtesy of Saanjali Maharaj)
What have been some of your highlights?
I was privileged to tour some amazing facilities, like the NASA Advanced Supercomputing facility and the Mars Roverscape.
I'm also in the process of training to use the various facilities available at the Space Shop, the makerspace here, including the 3D printers and laser cutters. After spending a lot of time at the Myhal Centre's Light Fabrication Facility last semester, I'm excited to be in a similar environment.
How will this internship contribute to your future endeavours?
The placement has allowed me to expand my horizons beyond space in terms of future topics for research.
I'm excited about the project I was assigned since wildfires are a common occurrence in my home country of Trinidad and Tobago, where we experience six-month dry seasons. I hope to continue working on this topic and similar projects in the future to have a meaningful impact on communities throughout the world.
I'm also grateful for the opportunity provided by this placement to make connections with well-established researchers in the industry. I make it a point to attend every talk and learn about the contributions that are being made in the aerospace field.
What do you hope to do once you graduate?
I wish to pursue graduate studies in the aerospace field. My hope is to work in the aerospace industry and promote research and development in this field in Trinidad and Tobago, since – while we have many brilliant minds – there is still not enough investment in this industry at present.
I hope to inspire future generations, and especially encourage young girls to pursue studies and careers in science, technology, engineering and math (STEM). Here, I have the opportunity to meet many amazing women in the field, and I want to continue that culture of mentorship.
Engineering