'Excited to move forward': U of T Faculty of Dentistry students, patients slowly return to campus clinics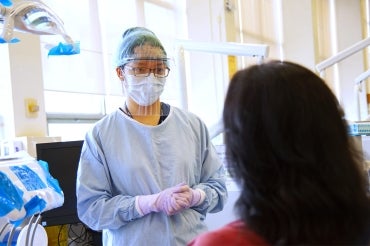 After months of near total shutdown, students and their patients at the University of Toronto's Faculty of Dentistry clinics are gradually returning to campus while observing a host of new COVID-19 safety protocols.
The school's graduate specialty clinics began slowly reopening on July 6, while undergraduate Doctor of Dental Surgery (DDS) students who are transitioning from year three to year four resumed seeing a backlog of patients as of Aug. 4th. The staggered reopening has involved a number of important adjustments, including a reduction of patient capacity and the implementation of new health and safety protocols.
Susie Son, a fourth-year student who is the Dental Students' Society president, says she and her fellow classmates are thankful they can return to clinics.
"We want to be able to train and practise as much as we can before we graduate," she says.
So far, Son says, it's been an "unexpected, thrilling" experience as she and her classmates perform many procedures for the first time. And while the class overall feels rusty, having been out of clinic for so long, Son says that both instructors and patients have been understanding and patient.
Starting in September, the faculty will be ramping up to 50 per cent of its former clinical capacity for the patients of the DDS students. This will involve even more changes to scheduling and student rotations in order to keep the entire community safe while still providing students the experience they need. Students will also have extended clinical hours on some days, allowing them to maximize the amount of clinical time they have over the school year and the number of patients they can treat.
Students heading back to clinics have undergone additional training, including an entire COVID-19 curriculum that was developed in conjunction with the other U of T health faculties. New infection control and personal protective equipment standards have also been put in place.
"The most important part is [donning and] doffing the PPEs," says Son. "I want to ensure I don't contaminate anything."
The new safety protocols are helping patients feel safer, too. A few patients have expressed concerns during the pandemic, but Sonia Huang, a first-year resident in the graduate specialty program in periodontics, says the majority are "so, so grateful to be back." In the Oral Reconstruction Clinic, where she has been since August, residents are busy restoring implant-supported crowns and adjusting and inserting dentures.
"Some have been missing teeth for four-plus months," says Huang, adding that being back has led to very positive experiences for both patients and their caregivers. Huang will also work in the Graduate Periodontal Clinic next month.
There are continued limitations due to COVID-19. For instance, Son notes that she and her fellow students are restricted from gathering together at the clinics. But Son says her passion for the profession remains as strong as ever.
"I've always wanted to be a dentist," says Son. "There will be many instances of uncertainty, but coming back to clinics is a challenge I'm willing to [under]take because I just love this profession so much."
It's a sentiment shared by Huang. "Being able to go back to clinic and see patients made me realize I am on the right path," she says. "I'm very excited to move forward."
Dentistry