Amy Bilton, an assistant professor of mechanical engineering, and graduate student Ahmed Mahmoud examine a model of a passive aerator for fish farms that they are designing (photo by Roberta Baker)
New exhibit brings water research and innovation to Canadian National Exhibition
Fresh water, salt water, wastewater, industrial water, drinking water: all water on Earth is part of the same cycle – and every drop matters. Yet around the world, water supply and quality is under increasing pressure from growing populations, industrial development and climate change.
Researchers at U of T's Faculty of Applied Science & Engineering are leading the way in addressing these pressing global challenges. Professors and students are working together to use UV light to destroy chemical contaminants, develop low-cost solutions for sanitation and effectively control and mitigate pollution by studying and deploying ancient organisms.
During the 2017 Canadian National Exhibition, U of T engineering students will showcase the innovative and multidisciplinary solutions being developed in the faculty. At this interactive exhibit, CNE attendees can test their awareness of water consumption and conservation topics with a short quiz, share on social media and win a reusable water bottle.
Here are five ways that U of T engineering researchers are addressing pressing water challenges, across Canada and around the world:
Purifying drinking water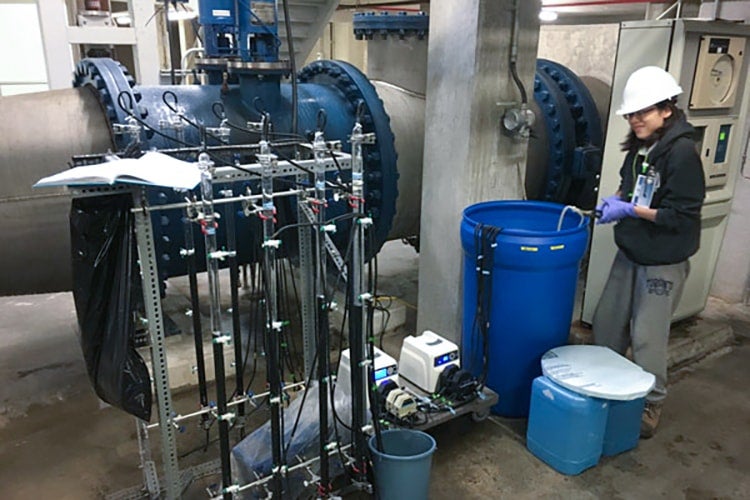 Zhjie Nie takes a sample at a Toronto-area drinking water treatment plant for her project on using activated carbon to remove contaminants (photo by Ron Hofmann)
From caffeine to birth control pills, most of the drugs we take pass through our bodies into wastewater and eventually into lakes and rivers. To keep our drinking water clean, we need new strategies to remove these pollutants.
In partnership with a number of municipalities, Robert Andrews, a professor of civil engineering, and Ron Hofmann, an associate professor of civil engineering, are testing a set of new approaches known as advanced oxidation. They blast water with everything from ultraviolet light to ozone, breaking down chemical compounds and leading to safer and cleaner drinking water.
Restoring contaminated groundwater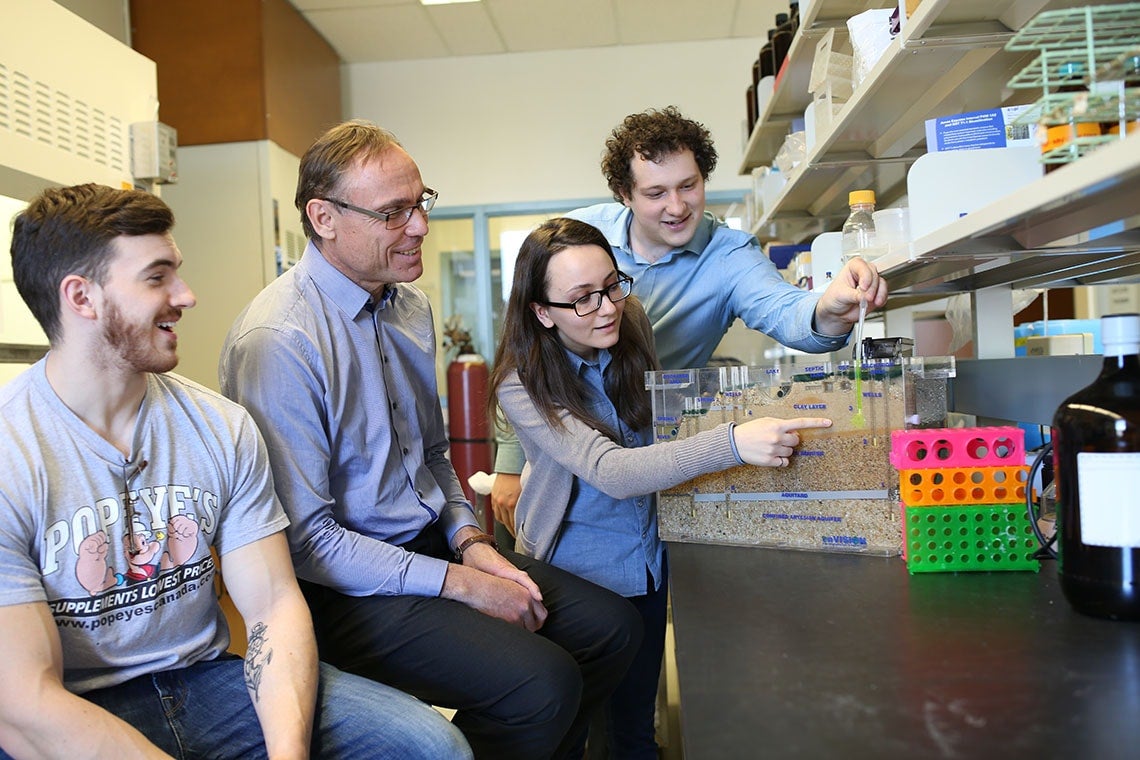 Brent Sleep oversees the establishment of the Remediation Education Network, which researches new technologies to decontaminate soil and groundwater (photo by Roberta Baker)
Across North America, thousands of sites have been contaminated with industrial compounds. These contaminants can be degraded by bacteria, but the process is slow.
Brent Sleep, a professor of civil engineering, and his team are tackling the challenge through a project called Innovative Technologies for Groundwater Remediation (INTEGRATE). The INTEGRATE team is accelerating the process by pre-treating soil and inserting custom communities of more efficient bacteria that break down contaminants more quickly.
Elizabeth Edwards, a professor of chemical engineering, also pursues this approach and has developed a commercial product that is particularly good at degrading chlorinated compounds, formerly used in dry cleaning facilities: a community of microbes called KB-1. More recently, she's developed a new microbial community that can degrade benzene, toluene, ethylbenzene and xylenes – collectively known as BTEX – in soil and groundwater.
Sustainable sanitation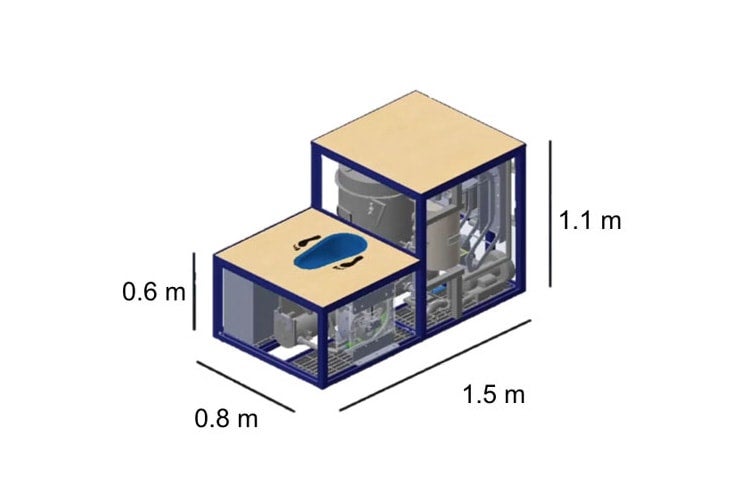 A team of U of T engineers has been hard at work building a better toilet for the 2.5 billion people who lack access to safe sanitation (photo by Centre for Global Engineering)
Worldwide, about 2.5 billion people – a third of the global population – have no access to safe sanitation. This lack of hygiene is linked to the spread of many preventable diseases, such as diarrheal diseases that kill more than 500,000 children under the age of five every year.
A team led by chemical engineering professor and director of the Centre for Global Engineering, Yu-Ling Cheng, is developing a waterless toilet that can disinfect human waste without connections to water, sewer or grid power. With a total cost of less than five U.S. cents per person per day, it is designed for users in the developing world.
Designing for stormwater

Jennifer Drake and her students research ways to design our urban infrastructure to be resilient to storm surges, including this catchbasin shield that can capture sediments from stormwater runoff (photo by Pavneet Brar)
Buildings and roadways are designed to get rid of water as quickly as possible – but that can be a disaster during heavy rains, when it often leads to urban flooding.
Jennifer Drake, a professor of civil engineering, is using technologies such as water-permeable pavement to restore natural flow systems, which allow groundwater deposits to recharge more slowly and encourage river-like flows of runoff. She is also optimizing the design and cost-effectiveness of green roofs, which can reduce peak stormwater flows.
Rethinking resource extraction remediation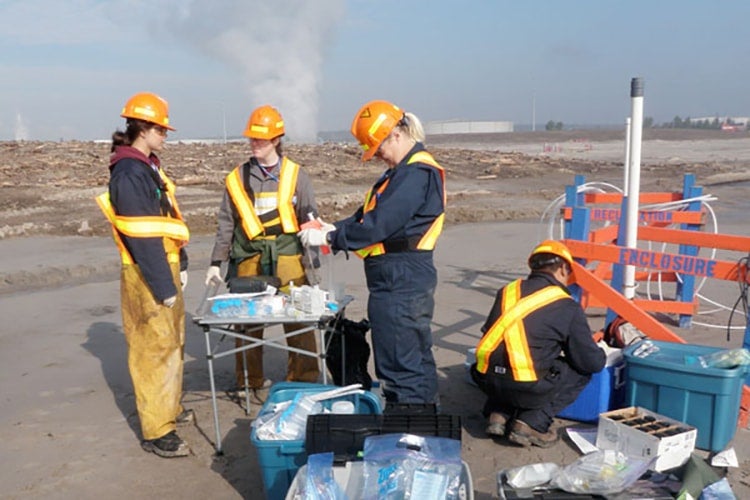 Lesley Warren (standing, at right) and her colleagues are mining the genomes of microbes that thrive in wastewater generated by the resource extraction industry (photo courtesy of Lesley Warren)
The mining and resource extraction industries generate millions of litres of contaminated wastewater annually, the chemistry of which is controlled by ancient microorganisms that breathe minerals in order to survive. An academic-industrial collaboration led by Lesley Warren, a professor of civil engineering and director of the Lassonde Institute of Mining, is studying the genomes of these organisms, gaining insight that could help both clean up contaminated water and prevent pollutants from forming in the first place.