Even airline luggage restrictions can't faze the U of T Global Brigades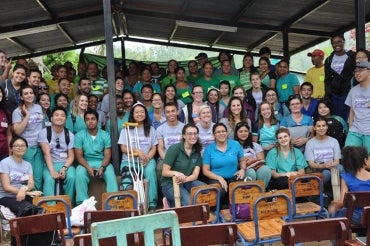 When Nadine Narain and members of the University of Toronto Global Brigades checked in at Pearson Airport this summer for their flight to Honduras, they took along more than the permitted baggage.
In fact, they had so many walkers, wheelchairs and other physiotherapy aids that the airline staff balked.
"At first, they wouldn't allow us to take the final walker on the plane because we already had so much with us," recalled fourth-year global health student Orianna Mak. "They were telling us, 'You can't bring any more mobile equipment'."
But the airline staff proved no match for Narain, Mak said.
"She guilt-tripped them, saying 'This is so unfortunate. This is going to be used by someone in need.' And finally, the airline representative gave in, and they allowed us to take the equipment aboard."
The August trip was Narain's fourth and final Brigade as a U of T student. (She recently completed her master's in occupational therapy, and has recently joined the GB Canada Board of Directors.) She wanted to try something new: enlisting the help of other health professionals such as speech language pathologists, and occupational and physical therapists, and bringing along assistive devices to help injured people in remote parts of Honduras become mobile again.
The mission was a success, said fourth-year biology student Melanie Marques, co-president of the medical and dental brigade at U of T.
"To see a man who hadn't walked in years, taking his first steps with one of the walkers we took, it just felt so rewarding," she said.
Founded in 2003 by students at Illinois's Marquette University, Global Brigades is now the world's largest student-led global health and sustainable development organization with more than 800 university groups.
Members of the Global Brigades spend seven to 10 days at a time, working with local groups to improve quality of life in under-resourced regions – while respecting local culture, says Narain. They work with licensed medical professionals and community health workers to provide health and dental services in rural communities with limited access to health care.
The organization currently focuses on Honduras, Nicaragua, Panama and Ghana.
Global Brigade members help a pharmacist sort pharmaceutical supplies (photo courtesy U of T Global Brigades)
It's definitely not a vacation in the sun. Students have to raise funds to pay for their airfare and for the supplies that they bring to their destination. Once there, they endure long commutes by bus to remote communities – and even longer hours working with local people upon arrival.
Global Brigades is not for everyone, said the group's U of T campus chair Daniel Derkach, a master's student studying stem cells at the Institute of Medical Science.
"We don't like to turn students away," he said. "But we want to make sure they understand exactly what is involved and what they'll be doing when they're participating in a Brigade."
The group tries to ensure the programs are developed with local partners and are designed to meet the needs of the host communities – but the needs of the student volunteers are also considered, Marques said.
"The Brigades do an assessment of the conditions in the host country," she said. "Are the roads safe? Is the community accessible? Will the volunteers be safe?"
The partnership doesn't end when the volunteers pack up and head home.
"There's constant communication," Mak said. "After a Brigade leaves, the head office is constantly following up."
The U of T group is already busy planning the next Brigade. There are logistical challenges to meet, fundraising goals to reach, and new people to recruit and screen. Members are also organizing a second conference, which will focus on sustainable development. And they'll be doing all of this while studying and working.
But the students say they don't mind.
Marques summed it up for the others: "International development is something that I have always been passionate about and something that I always wanted to do. When I heard about the Global Brigades, it was almost like the universe connected me with this perfect opportunity, and after I went on my first Brigade, I fell in love with the organization."
Left to right: Daniel Derkach, Nadine Narain, Orianna Mak, Melanie Marques (Photo by Terry Lavender)