'The equal opportunity I needed': U of T Accessibility Services supports students during COVID-19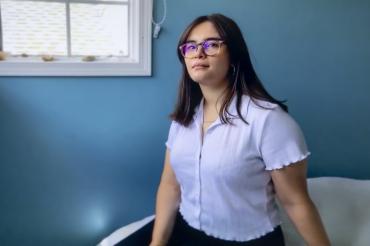 When in-person classes ended in mid-March, accessibility services staff at the University of Toronto's three campuses faced a daunting challenge: how to ensure the more than 7,000 students who use accommodations could complete their final exams.
For some students, writing a test remotely presented no difficulty; for others it created new barriers.
"You can imagine if you're a student with vision concerns, doing an online exam is going to be problematic," said Michael Nicholson, director of accessibility services on the St. George campus. "Students who are recovering from a concussion or head injury are often not supposed to use a computer for more than 15 or 20 minutes at a time."
The directors of accessibility services on each campus began meeting daily online with staff from the accommodated testing centres. Accessibility advisers sprung into action, reaching out to individual students to ask if they had concerns – and then working with faculty to modify exams as needed.
In some cases, instructors permitted students to complete a project or assignment instead of the exam. In others, students were given options for when they could take their exam. Testing centres on each campus remained open for any student who preferred to write exams in person. Most did not, but the few who did appreciated the choice, said Nicholson. "Staff at the testing centres worked hard to put a lot of options in place. There was a great deal of flexibility on the part of faculty to give students different ways to get their work done," he says.
Anna Dawson, who just finished her first year at U of T Mississauga, found the changes relatively easy to manage. She had moved home to Calgary in mid-March but was in frequent contact with her accessibility adviser. "It definitely took some time to get used to, but it wasn't as difficult as I thought it would be." She says she wrote her final exam online, in the basement of her parents' home, where the only glitch was unwanted noise when her sister started vacuuming upstairs.
Finishing first year successfully was important to Dawson. As a youth who experienced learning disabilities, and later anxiety, she had harboured doubts she would ever attend university. But through high school, she worked hard, advocated for herself and learned how to manage her challenges with reading, math and written expression. "There have definitely been a lot of bumps along the road," she says. "But I defied the odds, and I did better than I thought I ever could." She's now looking forward to returning to U of T Mississauga in September.
Dawson, who is majoring in psychology, says the academic accommodations she received from accessibility services contributed to her success. (Accommodations are designed to help eliminate obstacles faced by students.)
To reduce her anxiety, Dawson can take tests alone and spend more time completing them. She uses assistive technology to read exam questions and multiple-choice answers aloud. She takes notes during lectures, but can also access notes from a designated (and anonymous) peer in case she misses anything. "My processing speed is a bit slow," she explains. "When my profs are speaking and I miss something, it's very helpful to be able to see someone else's notes."
Dawson hopes to pursue a master's degree in counselling and eventually a PhD, with a focus on child development. It's not a career she imagined for herself a few years ago – but with a successful first year at U of T Mississauga behind her, she feels new opportunities have opened up.
"My confidence is through the roof," she says.
In a sense, this is the mission of accessibility services: to level the playing field for students – and expand the opportunities available to them. With offices on each campus, the department works with students who have mobility challenges, visual and hearing impairments, cognitive challenges, anxiety, depression and many other conditions. Over the past five years, the number of students seeking support has grown by more than 60 per cent, with mental health disabilities accounting for much of the increase.
Nicholson says the nature of this support is sometimes misunderstood. Academic accommodations such as those provided to Dawson are not intended to "help" students with their studies, he explains, but instead are about ensuring that all students have access to the same levels of opportunity. "Our office gets obstacles out of the way so students can actually do their work," he said. "This is never about expecting less of a student or doing work for them."
Evidence shows that accommodations are effective. A 2018 study conducted by the university found that, with respect to GPAs and graduation rates, students who received accommodations performed similarly to their peers. (Although they take longer to graduate, they are just as likely to finish their degree.) "We talk a lot about excellence at U of T," says Nicholson. "This study showed that our students contributed to this excellence as much as any others."
Faculty are crucial to this effort, says Nicholson. "Without them, our work would come to a standstill."
Accessibility advisers at the three campuses work with faculty to help modify course materials and provide students with alternate ways to demonstrate competency in the courses. Nancy Johnston, an associate professor, teaching stream, in Women's and Gender Studies at U of T Scarborough, has co-hosted workshops for faculty members on inclusive education. She says even minor adjustments – such as explicitly welcoming students with diverse learning styles  and encouraging them to raise concerns, or giving students a short "cognitive break" during lectures – can make a big impact.
Johnston advises her colleagues who are unsure about how to address a student's request for an accommodation to seek input from accessibility services. She also encourages instructors, if possible, to design their courses from the outset to be inclusive. "Assume you will always have diverse learners who require different types of accommodation," she says. By being proactive, "you'll save time in the long run."
When the pandemic brought an end to in-person classes this spring, Johnston didn't have to modify her courses much: she'd already designed them to be accessible through the web. "I had already created my courses assuming that some students would want to review the lectures later, or participate in discussion online."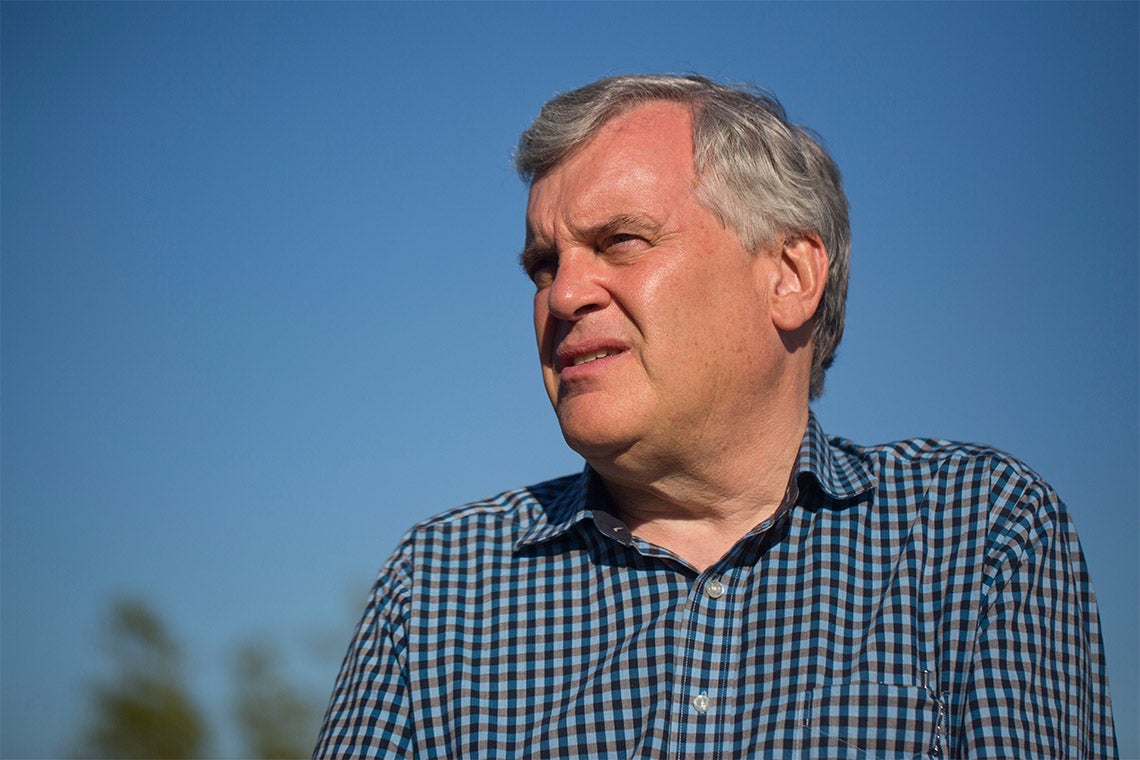 David Onley, a senior lecturer and distinguished visitor at U of T Scarborough, says the pandemic provides an opportunity to build a more inclusive and accessible society (Lucas Oleniuk/Toronto Star via Getty Images)
According to David Onley, a senior lecturer and distinguished visitor at U of T Scarborough and a long-time advocate for greater accessibility, the pandemic provides an opportunity to address the problem of ableism more generally in society. In May, Onley made a submission to the House of Commons, arguing that as part of Canada's economic recovery, the federal government should develop a "new, improved and accessible normal." 
Prime Minister Justin Trudeau announced Friday that the federal government would take steps to support Canadians with disabilities during the pandemic. The measures include a one-time, tax-free payment to holders of the disability tax credit, a $15-million investment to provide community organizations with resources to improve workplace accessibility and access to jobs and a $1.18-million investment five new projects across the country through the Accessible Technology Program.
At U of T, with the fall term less than three months away, accessibility services is now working with faculties and departments to ensure that students have the accommodations they need. How will professional faculties handle placements, for example? What will happen to labs, or classroom-based courses that rely on in-person interactions? "We're being creative and looking for unique solutions," says Nicholson.
For graduate students dealing with barriers to learning, the pandemic has presented its own set of challenges. PhD students, in particular, operate in a different environment from undergrads; they study independently, often have teaching responsibilities and conduct their own research.
Alex Lu is a third-year PhD student in the department of computer science at the Faculty of Arts & Science. He is applying machine learning in biology to discover new insights about proteins. Lu is also Deaf.
Because all of his research collaborations and meetings shifted online, Lu needed sign-language interpreters to join his video calls. He says accessibility services supported the request in a way that kept his logistic work to a minimum – and enabled him to continue a research collaboration with a lab in Zurich.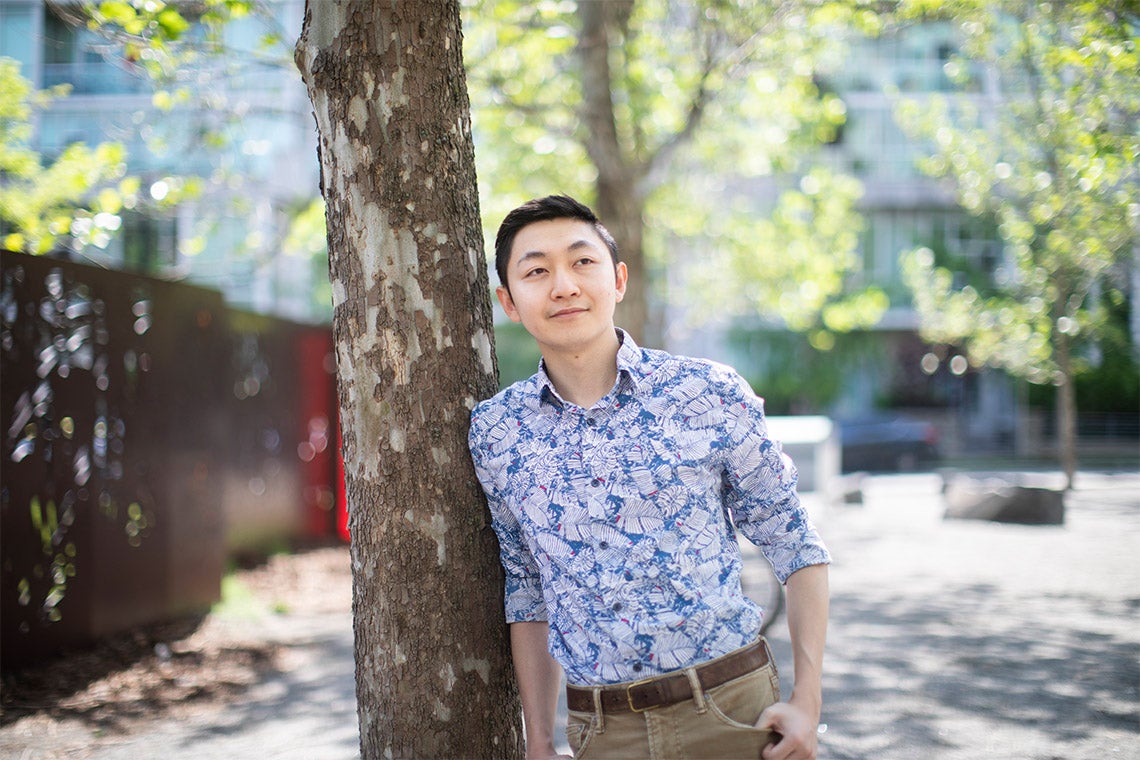 Alex Lu, a third-year PhD student in computer science who is Deaf, says U of T "gave me the equal opportunity I needed to concentrate on producing good science" (photo by Nick Iwanyshyn)
From the beginning of his U of T career, Lu credits his first accessibility adviser, Adina Burden, for coming up with innovative ways to minimize barriers, such as real-time captioning services for courses. What he  appreciated most about working with Burden, he says, was her  effort to streamline the accommodations process. Deaf students often have to request interpreters for every seminar and event they attend. As Lu points out, this is burdensome. "A PhD is difficult enough without having to co-ordinate every last detail of your accessibility plan," he says. "Adina and I worked out a way for me to prioritize my research instead of getting bogged down in accessibility logistics."
Lu will defend his thesis in January and says he's pleased with what his partnership with accessibility services has helped him accomplish. "I've produced a lot of exciting research that is 'out-of-the-box' and challenges conventions in my field," he says.
"U of T gave me the equal opportunity I needed to concentrate on producing good science."
This is really what it's all about, says Nicholson: creating an environment at U of T that gives every student the best possible chance of success.
National AccessAbility Week runs May 31 to June 6. Accessibility Services is offering two learning skills workshops for students related to end of term.
UTC