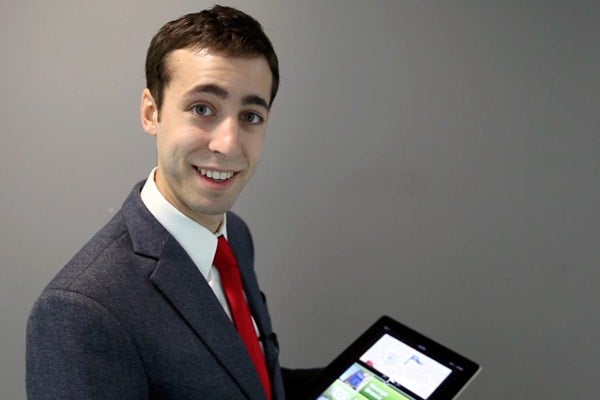 Entrepreneur honoured for giving voice to those silenced by illness or genetics
Alex Levy named Canada's Top Entrepreneur for work with MyVoice
Twenty-four-year-old University of Toronto graduate Alex Levy never intended to have his own business, but he's just been given the title of Canada's Top entrepreneur nonetheless.
Levy 's research and development of MyVoice, a mobile application that allows people with communication disorders such as those caused by stroke, autism and ALS, to make themselves understood audibly,  has won him a FuEL Entrepreneur of the Year Award from PROFIT magazine.  (Watch a video demonstration of MyVoice.)
He is among 20 Canadians under the age of 30 honoured for their entrepreneurial excellence by the FuEL Awards, which celebrate Canada's Future Entrepreneurial Leaders (FuEL). The awards honour the achievements and aspirations of entrepreneurs under the age of 30, identify role models for progressive business practices and inspire youth to make entrepreneurship their No. 1 career choice.
"It's especially amazing when we think what this will do for users in our community," said Levy, who developed the product while at a research associate at U of T's Technologies for Aging Gracefully Lab (TAGlab).   "To be in the running for an entrepreneurial award against companies that have millions of dollars in revenue and international brands is amazing. For all of those international brands and for judges at PROFIT to pick MyVoice sends a really great message to our users and our team."
Levy says winning the award will help shine a light -- through PROFIT magazine -- on MyVoice and help people learn more about it. It will also help validate the business strategy develop MyVoice even further in gaining resources and staff.
MyVoice helps users access phrases and words for everyday situations. Its technology also allows for users to determine what relevant phrases they might need based on their location, such as a café, or Paris or a restaurant.
 "The reason we started a business is simply because there were so many people that were saying to us that 'what you developed would be helpful for my family member or my child, my patient or my student' and the stories that they would tell us about the desperate need made us want to start a business."
 Levy credits his work and success sourcing funding to the assistance he received from U of T's Innovations and Partnership Office. 
 "They helped us find a number of sources of funding and support," he said. "Their ability to do this was amazing. They were very helpful especially in that very early stage when were just getting off the ground. They continue to be helpful even today.  They're at the nexus of so much of the research  and business community, so when opportunities or colleagues or conferences come across their plate we get calls from them .We feel very well supported here at U of T because of that office."
As a young entrepreneur he says it's not just about having an idea; an idea is a place to start. He has this advice for other students.
"Look at what you're doing and try and find one really crystalline, distilled nugget that you can turn into a vision for a business. Focus on what the smallest thing that you can do that might have broad appeal. Just focus on building out your depth in one area, that one inspiring piece."