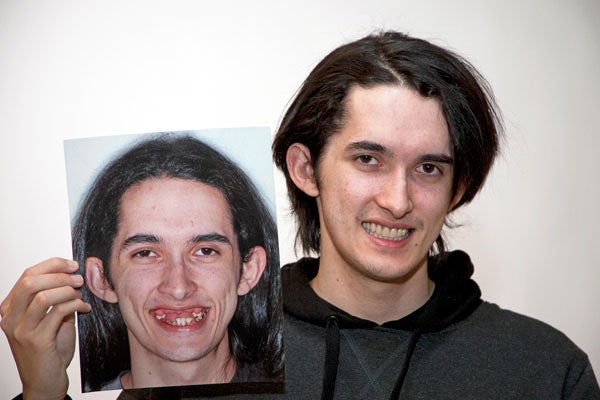 Ensuring access to care: dentistry faculty, students help vulnerable patients
The University of Toronto's Faculty of Dentistry has been putting smiles on patients' faces for decades – providing state-of-the-art dental care for vulnerable people at about half the cost of regular clinics. 
It's an important service, says Associate Professor Carlos Quiñonez, lead writer of a recently-released report on access to oral health care that found six million Canadians avoid the dentist each year because they can't afford the cost of treatment. (Read the Globe and Mail's article on the report.)
"The vast majority of dental care in Canada is privately-funded and inaccessible to Canadians who need it most," says Quiñonez. "We're proud to be able to provide this group with world-class dental care at an affordable rate." 
Quiñonez says U of T's clinic serves a diverse group of patients known as vulnerable Canadians. That's a group that includes seniors, low-income families, aboriginal peoples, refugees, immigrants and people living with a disability. The clinic treats more than 15,000 people annually, many of whom would not otherwise receive treatment. 
"The system we have in place is a good model for many in the population, but not for the vulnerable groups who suffer the highest levels of oral problems," says Quiñonez.
Vulnerable Canadians share an increased risk of dental decay, gum disease, missing teeth and dental pain. And their oral health problems make them less likely to eat healthy foods such as fruits and vegetables, he says.
But even with the reduced rates offered by U of T, many patients are still not able to afford the care they desperately need.
To assist these patients the Faculty established the Access to Care Fund, which subsidizes vulnerable patients' costs and ensures they receive the best available treatment, regardless of their ability to pay.
"For generations, people unable to afford dental care have come to U of T and found not only relief but often an entirely rejuvenated sense of well-being and outlook on life," says Dentistry Dean Daniel Haas. 
The Faculty and its students, alumni, friends and industry partners have raised more than half a million dollars for the Access to Care Fund and changed the lives of hundreds of Canadians.
"In many cases, these dental procedures represent a singular turning point in a person's life in terms of well-being, employability, relationships and self-esteem," says Haas. "And we're delighted to be able to provide that service."
(Donations to the Access to Care Fund can be made online.)
Michael Kennedy writes about health and wellness for U of T News.