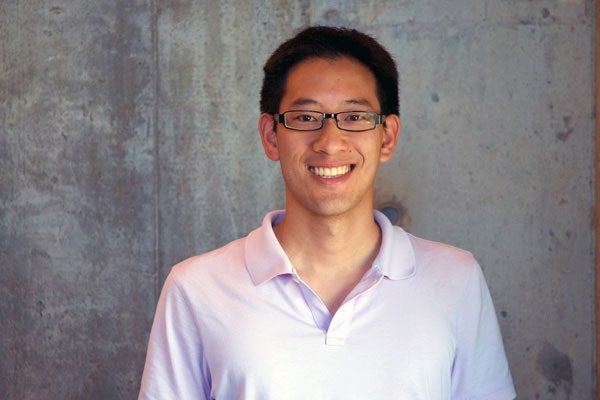 Engineering a better healthcare system: placing defibrillators where they're needed most; redesigning clinic schedules to reduce wait times
Timothy Chan on how the Centre for Healthcare Engineering is making health care better, faster and less costly
Mending broken bones or prescribing medication may seem like simple tasks but they're part of a hugely complex healthcare system of hospitals, clinics, ambulances, research centres, suppliers and governments.
And according to Professor Timothy Chan of mechanical and industrial engineering, that system needs re-engineering.
Chan is the new director of U of T Engineering's Centre for Healthcare Engineering (CHE) (formerly the Centre for Research in Healthcare Engineering). The collaborative hub brings a highly interdisciplinary, systems engineering approach to drastically improve how health care works.
"Health-care systems are a lot like giant factories – they involve a large number of people and processes all working together in different stages to meet one goal," said Chan. "At the CHE, we pioneer research that optimizes many of those stages, making health-care delivery more efficient, less costly and quicker."
Engineering's RJ Taylor spoke with Chan to learn more about how the Centre is taking the "waiting" out of "waiting room".
Medical breakthroughs make headlines every day but they aren't the only way to improve health care. How does CHE contribute?
Each year, Canadians spend over $200 billion on health care – that's almost $6,000 a person. Healthcare spending can consume over 40 per cent of the annual budget of some Canadian provinces. With numbers like these, even small efficiencies can lead to significant cost savings and decreased wait times.
At the Centre for Healthcare Engineering, we use systems engineering to find and take action on these efficiencies. Hailing from many different fields, our researchers focus on optimizing health-care delivery, decision-making and policy. We collaborate directly with industry partners, lead fundamental research and also focus on educating the next generation of health-care engineers.
Can you explain what systems engineering is?
Systems engineering is a multidisciplinary field that looks at how a process or processes operate and often how to improve them. Projects can involve leveraging vast amounts of data to create computer simulation models – models that we can use to test variables and mimic potential outcomes, leading to better decision-making.
The field is rooted in industrial engineering, which historically examined the most efficient layouts for manufacturing facilities. Today, systems engineering can involve virtually any discipline linked to the process you're trying to build or improve. With healthcare engineering, this can include public health, medicine, business, law, political science and more.
How are you using this systems engineering approach in your research?
Have you ever had to wait well beyond your appointment time at the doctor's office? It was probably because of inefficient scheduling. Recently, Professor Michael Carter and I worked with Women's College Hospital in Toronto to redesign their entire clinics scheduling system from scratch. By shifting clinic schedules to better balance resources – like not booking clinics that require time-consuming blood tests all at once – we were able to keep waiting to a minimum for both patients and staff.
Another project I'm working on looks at automatic external defibrillators (AEDs), which are publicly-available devices to treat patients suffering from cardiac arrest. With data on historical cardiac arrests, building layouts and current AED locations, my team and I can determine the ideal places to put these machines. Our computer models show that by using such comprehensive data – as opposed to merely placing AEDs according to population density – we can triple the number of cardiac arrests that are supported within 100 metres of a defibrillator. (Read more about this project.)
Internationally, I'm also involved in a collaboration to improve emergency medical care in Dhaka, Bangladesh. Unlike Toronto, Dhaka's roads are congested with motorcycles, bicycles and pedestrians that can be barriers for ambulances. We are developing models that use GPS data from cell phones to depict how traffic is moving in real time – recommending the best routes to an emergency scene. This can significantly cut down on response times and help emergency medical responders save more lives. 
What about others at the CHE?
Radiation treatment for cancer can be a complex balancing act, as doctors deal with many different variables when trying to make sure that the right amount of radiation gets into a tumour without too much getting into healthy tissues. Professor Dionne Aleman and her team simplified this treatment by creating mathematical models and algorithms that can balance the many factors involved.
These models target tumours with greater than 90 per cent accuracy, a significant improvement on current plans. Working with Princess Margaret Cancer Centre, Sunnybrook Hospital and Elekta AB (a Swedish radiation equipment manufacturer), her team has already demonstrated that their models can save time and money, with better treatment.
A few years ago, Professor Carter also worked with the Ontario Ministry of Health to develop a plan that reduced wait times for cataract operations. The goal was to bring down the wait times from an average of one year down to six months – and his model figured out how many additional surgeries were required to meet the target. When implemented, his numbers accurately predicted the real-life numbers. 
Where do students fit into CHE's mandate?
Great question. With our researchers leading such groundbreaking research, we definitely want them to share it – as well as their expertise – with students. We offer a number of graduate and undergraduate courses in health-care engineering, systems and policy, as well as fundamental engineering methodologies that are applicable to health care.
At the graduate level, we offer a master of engineering certificate in health-care engineering, which includes specialized courses and an opportunity to work directly on an industry-related project. We are also looking to expand beyond engineering and engage students from across U of T campus.
What's next?
At the Centre for Healthcare Engineering, we have ambitious plans to expand well beyond our home in the department of mechanical and industrial engineering. We are looking to actively involve researchers and students from across U of T: medicine, law, business, public health, you name it. We want to bring more diverse perspectives, add more collaborative projects, increase industry engagement and expand our student opportunities. And, of course, we want to improve health care for everybody around the world.
This interview has been condensed and edited.