Engineered stem cells can deliver antibodies more effectively, says U of T researcher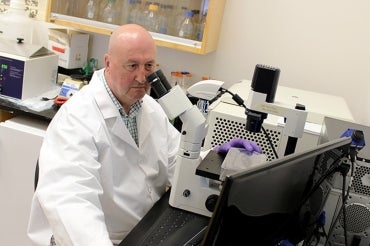 Vaccines and antibodies have long been employed as weapons in the battle against disease. They work by boosting our immune systems to target pathologies, such as Crohn's Disease or certain cancers. But, in some cases, the protection conferred by antibodies "wears off" too quickly.
Now, University of Toronto professor John E. Davies and his colleagues have demonstrated for the first time that stem cells can be used to deliver antibodies more effectively than administration of the antibodies themselves — and over longer periods of time. Their results were published August 15 in the journal STEM CELLS Translational Medicine.
Davies, who recently showed that stem cells could be used to reverse osteoporosis, partnered with Lorena Braid, Wei-Gang Hu and Les Nagata from Defence Research and Development Canada to see if they could extend the effectiveness of monoclonal antibodies (mAbs), a type of treatment that stimulates the immune system to fight unwanted cells or proteins.
"Many patients who are receiving mAb treatment for Crohn's or rheumatoid arthritis have to visit the clinic frequently for new doses due to their limited window of effectiveness," said Davies, who is appointed at U of T's Faculty of Dentistry and the Institute of Biomaterials & Biomedical Engineering (IBBME). "Our study provides a proof-of-concept that stem cells can be engineered to deliver this type of antibody over an extended period of time."
The team engineered their stem cells, sourced from human umbilical cord tissue, to produce mAbs that neutralize the Venezuelan equine encephalitis virus (VEEV), a mosquito-borne pathogen. They then compared the effectiveness of treatment using the stem cell-delivered mAbs to the direct administration of purified mAbs themselves.
"The results were eye-opening," reported Hu, the corresponding author for the study. "While traditional [purified] antibody administration provided protection for two or three days after injection, the engineered stem cells with the transgene encoding anti-VEEV protected the majority of the mice for 10 days, with protective antibody levels up to 38 days."
"This study has broad implications for a range of mAb therapies," said Davies. "Extended delivery can have a tremendous impact on many indications including immune and inflammatory diseases, and in particular the field of immuno-oncology."
Stem cells sourced from umbilical cord tissue, known as Human Umbilical Cord Perivascular Cells (HUCPVCs), were first isolated by Davies at U of T. This development led to the founding of Toronto-based company Tissue Regeneration Therapeutics Inc. in 2004, which supplied the cells for this study.