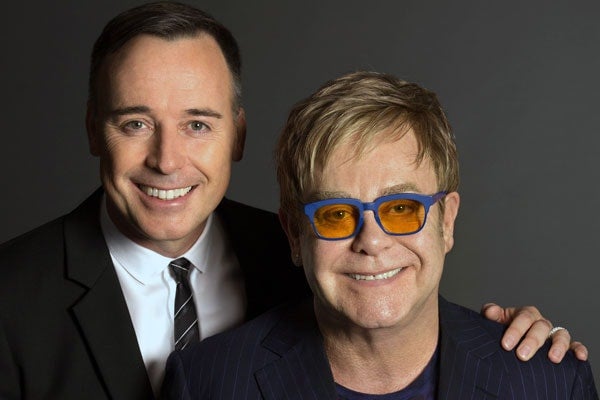 Elton John AIDS Foundation supports U of T human rights program
International Human Rights Program at Faculty of Law to investigate impact of Canadian refugee policies
The International Human Rights program (IHRP) at the University of Toronto has received a $75,000 grant from the Elton John AIDS Foundation (EJAF) to launch a project exposing the negative impact of Canada's refugee policies on some of the world's most vulnerable claimants – people with HIV or at risk of HIV due to rampant violence, discrimination based on sexual orientation and gender-based violence.
"As chairman of the Elton John AIDS Foundation and as a Canadian, I am pleased to see the University of Toronto's International Human Rights Program take the lead in advocating on behalf of HIV-positive refugee claimants seeking a better life in Canada," said David Furnish.
"The Elton John AIDS Foundation is proud to support this unique project, which is poised to bring about positive changes in policy, breakdown stigma and hold Canada accountable for its obligation to protect the human rights of vulnerable refugees."
The Faculty of Law's IHRP has gained significant expertise advocating for people affected by HIV, in Canada and around the world, with a particular focus on the rights of African grandmothers raising children orphaned by AIDS, persecuted sexual minorities and prisoners.
With EJAF's support, and focusing on Syria and Mexico as critical case studies, the IHRP will advocate for policy changes to allow refugees with, or at risk of, HIV to rebuild their lives in Canada, access necessary medical treatment without fear of persecution and empower them to become part of the prevention equation.
"Canada has historically been a leader in terms of protecting those fleeing persecution based on their sexual orientation or HIV status," said lawyer and IHRP Director Renu Mandhane. "Unfortunately, the federal government's new refugee policies are threatening to undermine our reputation. It's critical that Canada continue to show leadership in terms of protecting these very vulnerable individuals.
"For a person living in a refugee camp in Lebanon or fleeing persecution in Mexico, being gay or HIV-positive is still a potential death sentence. If they can find safe refuge in Canada, we can ensure Canada plays an important role in the global fight to eradicate HIV/AIDS." 
As with all IHRP initiatives, the project will involve many U of T law students in the research and advocacy.
"These refugee claimants face a unique set of challenges and vulnerabilities when claiming asylum," said Petra Molnar. "It is imperative that their experiences with resettlement and the asylum process are critically explored so that appropriate policy and laws can be implemented."
The project will support the work of leading NGOs, and was developed with input from the Canadian HIV/AIDS Legal Network, the HIV-AIDS Legal Clinic of Ontario, the Committee for Accessible AIDS Treatment, the Refugee Law Office of Legal Aid Ontario, researchers in Lebanon and Canadian academics.
A web-accessible report with country case studies and testimonies to illustrate broader trends and issues will be published in 2015 and will form the basis for advocacy targeting policy-makers by a coalition of NGOs.
(Read more about the work of the IHRP in Honduras; read Renu Mandhane's account of researching freedom of expression in Mexico.)
Lucianna Ciccocioppo is a writer with the Faculty of Law at the University of Toronto.