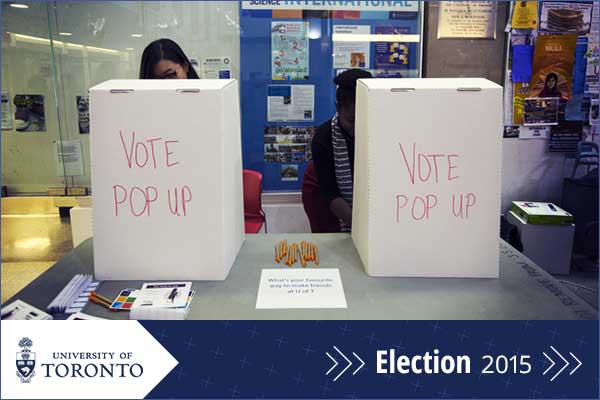 Election 2015: who says young people won't vote?
Democracy Week, civic engagement events aim to empower students
They call themselves the election committee – but they want University of Toronto students to do more than just vote on Oct. 19.
Civic and social engagement is also on the agenda for the committee, composed of staff and students from across all three U of T campuses.
"U of T and other higher education institutions have a culture of community engagement and caring about the community," says John Beebe, manager of outreach at Samara, a non-profit organization that works to boost civic engagement.
"U of T is a significant player in the larger community of Toronto. It will be a huge asset to the community if we can connect that culture to some of our political institutions."
The committee has been working with Elections Canada to open voting stations for students living on campus and with Samara to boost engagement. They've organized voting pop-up booths, documentary screenings, art exhibitions, candidates fairs, field trips, panels and more – all in a bid to help students explore and disprove the notion that young people are not interested in civic engagement. Students can even take "voteposal" selfies as part of a social media campaign.
"When I came to university I just turned 18. I became more aware of the importance of voting and civic engagement through my social group at U of T," says Kaylah Krajnc, who graduated from U of T in the spring. She also credits the Centre for Community Partnerships (CCP), where she interned during her undergraduate degree, for building a healthy interest and engagement with the democratic process.
"Kristina Minnella was my supervisor at the CCP and she really encouraged me to get involved," Krajnc says. "As part of my portfolio at CCP, I was reading one of Samara's publications and I was really struck by the observation that it's not necessarily that youth don't care about voting, but they feel that their vote doesn't matter."
Krajnc supported U of T's Democracy Week initiatives, such as the Democracy 5-buck lunch at Hart House on Sept. 28, working with Danielle Thibodeau, program coordinator at Hart House.
"I should be voting," she says. "Research shows that the youth turnout is terrible, but we could have so much more influence if more of us voted".
U of T's staff and students worked with Beebe to bring Vote PopUp kits to campus. The kits allow users to simulate the voting experience and demystify the voting process.
"The Vote PopUps flip the concept of engagement." Beebe says. "Instead of telling young people why they should vote, we ask them what matters to them. What are the most important issues to them?"
Minnella, one of many U of T staff organizing election-related initiatives, says students who had been initially daunted by the idea of voting found the process easy.
"We take students through what it is from start to finish with Samara's Vote PopUps. It's the exact same experience as an election with the exception that votes are not actually cast," she says. "The university is so big but student and civic engagement is really important to a lot of people at U of T."
Democracy Week and various events at U of T's campuses leading to Oct. 19 give students an opportunity to engage with the voting and democractic process (photo: Johnny Guatto)
During U of T's Democracy Week, Sept. 28-Oct. 2, the Multi-Faith Centre held a panel on religion, civic responsibility and voting. Participants included Master of Massey College Hugh Segal, Amira Elghawaby of the National Council of Canadian Muslims and Barbara Lloyd from the United Church of Canada.
At UTM, Vote PopUps took place Sept. 22- 24, as well as Mock Vote events, Spin the Wheel Election Trivia, a "voting trip" for students wishing to vote using a special ballot and other initiatives. 
"This is one of the most important elections of our life time," says Naveed Ahmed, VP external at UTMSU. "There are great challenges for us, from the overwhelming nature of climate change to the unfairness of an economy that excludes so many from our collective wealth. Our generation needs to be at the heart of our plans for the present and the future."
A screening of the 2007 documentary Please Vote for Me and a follow up discussion with UTM's Justin Bumgardner was organized by UTM student Sukhmeet Singh.
UTSC's student union organized viewings of the federal debates, moderated discussions, an election trivia night and an immigration panel to draw student participation in critical issues in the federal election. Students can attend the upcoming Precarious Work Workshop and the Election Day Party at Rex's Den.
The campus also hosts an all-candidates' meeting for Scarborough-Rouge Park on Oct. 7. (Learn more about the meeting.)
"Students' engagement in voting is one of my biggest passions. When we voice our concerns the parties feel pressure to come out and support us as well," says Yasmin Rajabi, VP external at SCSU. "The turnout is great. If you create the space for students they will show up."
"I hope that Democracy Week lasts past this year – we're trying to make something sustainable," says Jasmine Denike, VP external at UTSU. "Democracy Week is about informing our students and making sure that they are aware how important it is to have their voices heard."
She points out that students can find information online about accommodations for students voting in the federal election. "A lot of the students at U of T are very socially aware," she says. "They just really need to get out and vote." 
(Left: students ask their friends and peers to join them in voting in U of T's #voteposal campaign. Courtesy of UTSU via Instagram) 
At the downtown campus, Democracy Week may be over but events will continue. At Hart House, an upcoming exhibition showcasing the civic contributions of international students and others who can't vote in the upcoming elections will remain open until Oct. 19.
"We're thinking about the ways people can still participate even if they can't vote. People can still advocate for voting. They can still belong to parties. We wanted to make sure that students understood that there are these different forms of civic participation and engagement outside of voting," said Thibodeau who is organizing the exhibition with Marco Adamovic from the Centre for International Experience.
"We've been speaking to people who have come to U of T to study, and during the duration of their degree they have encountered issues of equity and they have made huge contributions to this community," Thibodeau says.
"One of the students, Mary Githumbi, led the charge for having international students have a voice on the governing council. Another student, Pratishtha Kohli, has been a really strong mental health advocate on campus, with a lot of outreach on mental health issues on campus. Those are huge contributions that they've made to this community. But they can't vote and they can't have a say in the direction of governance at large".
Thibodeau and Adamovic hope that the "…But I still can't vote" exhibition will demonstrate the many ways that people can effect change in their communities outside of voting, and to urge those who can vote to exercise their democratic right during the election but also beyond, through civic engagements.
"We're asking everyone to use the hashtag #UofTVotes coming up to Election Day," Thibodeau says. "That will help people see the extent of this network of engagement."