Election 2015 polling: still a three-way race despite NDP surge, expert says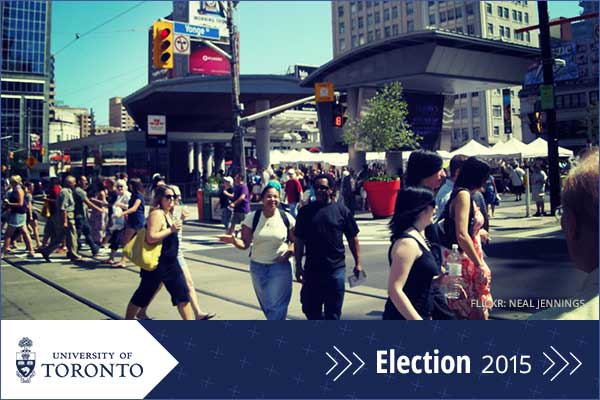 An examination by University of Toronto Professor Chris Cochrane of the latest Forum Research poll on the federal election suggests that not only is there a "marked increase" in support for the New Democrats but more people believe they will win.
U of T News has been interviewing experts for their take on campaign issues, polling, debates and more during the lead-up to the election on Oct. 19. Recent features have shared campaign analysis from researchers in statistics, economics, marketing, law and other disciplines.
The latest Forum poll, published in the Toronto Star on Sept. 11, shows the NDP in the lead with 36 per cent of the decided vote, the Liberals at 29 per cent and the Conservatives 28 per cent. The Green Party and the Bloc Québécois are each at three per cent. Detailed polling data from Forum are housed at U of T's political science department.
Cochrane, a political science professor at U of T Scarborough, examined the poll in detail and provided the following analysis:
"The poll supports the more general trend that the NDP is a leading contender for the upcoming election. I would not read too much into the week-by-week fluctuations. Depending on which numbers you look at, different parties are up or down on a week-by-week basis, which is to be expected given the nature of sampling.
"Nonetheless, the Forum poll shows a marked increase in NDP support over the past couple of months, which is also reflected in people's assessments of the party most likely to win the election. In April, just 10 per cent of respondents expected the NDP to win. The proportion expecting an NDP victory surged in June and has remained in the mid-30 per cent range for the past month.
"It is interesting that the distribution of people's reported 2011 vote continues to align much more closely with the distribution of current vote intentions than with the results of the 2011 election. The Conservatives received nearly 40 per cent of the vote in the 2011 election, but only 28 per cent of the respondents in this survey indicate that they voted Conservative in 2011.
"The Liberals received 19 per cent of the vote in the last election, but 29 per cent  of respondents claim to have voted Liberal. There are a number of potential explanations for this. Perhaps people are unwilling to admit a Conservative vote in 2011. Perhaps the sample skews somewhat toward the Liberals. Perhaps many former Conservative voters are currently undecided. Whatever the explanation, it is worth keeping in mind that former Conservative voters appear to be substantially underrepresented in this survey, and former NDP and especially Liberal voters are over-represented.
"The bottom line is that this is a three-way race. Predicting the outcome of an election is always challenging, but it is especially challenging in this case. We have an almost perfect three-way divide at the national level, and we have a single-member plurality electoral system that's capable of producing surprising outcomes under these circumstances."
Lorne Bozinoff, President of Forum Research and a U of T alumnus, said in the report that "after a surge of enthusiasm for the two opposition parties last week, and a bad week for the government, it appears voters are reconsidering their options.
"It may be that the underlying opposition to accepting Syrian refugees has led to increased support for the Conservatives. This is a very volatile electorate, as we have seen, and there is more than a normal election's worth of campaigning left to go, so any number of things can happen."