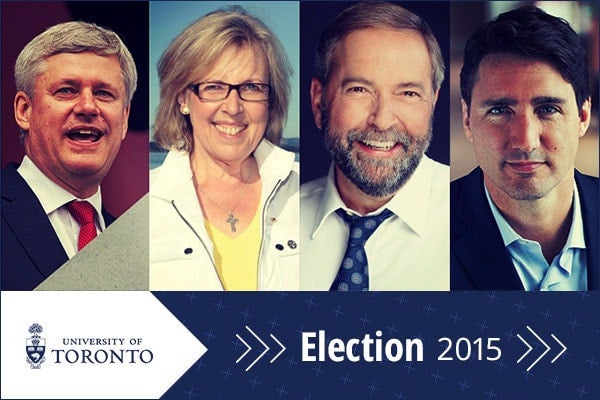 Election 2015: political science expert on the ups and downs of the campaign trail
Throughout the election campaign, U of T News will be asking University of Toronto faculty to provide expert analysis of everything from emerging election issues to political parties' competing campaign strategies and tactics.
Professor David Soberman of U of T's Rotman School of Management has reflected on the first leaders' debate. The Faculty of Law's Professor Kent Roach weighed in on the Prime Minister's proposed ban on travel to areas deemed terrorist hotspots. And Associate Professor Chris Cochrane of the department of political science examined the timing of the election call.
Associate Professor Peter Loewen of the department of political science, is assistant editor of the Canadian Journal of Political Science. This fall, Loewen is teaching a course in strategy and decision making in the Master of Global Affairs program at U of T's Munk School of Global Affairs.
U of T News writer Alan Christie spoke with Loewen about a week that saw leaders' announcements compete for media attention with events happening off the campaign trail.
---
The prime minister is facing questions from reporters about Nigel Wright's testimony at the trial of Mike Duffy. NDP Leader Tom Mulcair has said Duffy is not on trial, "Harper is on trial". What's the effect on voters?  
I think voters have already integrated the scandal into their voting decision. It won't have much more of an effect between now and election day (though I might well be wrong!). 
Liberal Leader Justin Trudeau talked about helping the middle class, growing the economy "from the heart outwards," and unveiled a plan to boost funding for Indigenous education. 
I think the long campaign is a difficult one for Mr. Trudeau. He actually announced most of his policy - more than the other two parties - prior to the campaign. But now he has 60-plus days to fill with content. This is difficult, perhaps especially for him. But Trudeau did announce on Aug. 13 funding for aboriginal education. 
Protestors disrupted press conferences by NDP Leader Thomas Mulcair, saying he is not forceful enough in his opposition to the Energy East pipeline. Yet critics say the NDP would put a stranglehold on the development of natural resources.  
Mulcair may appear to be in a no-win situation here, as there is little to mollify those whose ultimate demand is that no oil leaves Alberta. But, at some point, Mulcair can establish his centrist or moderate bona fides by acknowledging that the oil sands will continue to operate for some time and that that oil has to move. Moving it through existing pipelines (which already have oil in them, by the way) is a reasonable policy.  
The Prime Minister declared that Canadians don't want the law on marijuana possession loosened, saying it is bad for their health. But neither Trudeau nor Mulcair had raised this issue; why do you think Harper did?
I think the Prime Minister reasons that every time Justin Trudeau talks about legalizing pot voters think Trudeau should have other priorities. The PM thinks this makes Mr. Trudeau sound immature. 
Harper announced a plan to allow first-time home buyers to remove more money from retirement funds to use as down payment. He also said he would not support the Ontario government's proposed pension plan for those who don't have pensions through their employers. What message is Harper trying to send?  
There are two different issues here. The various Tory appeals around housing are targeted tax measures and rule changes meant to communicate a support for their voters. While these are not inexpensive programs, they don't match the scale or cost of Ontario's proposed pension plan. In the case of that policy, Harper is opposing a policy he can portray as excessive, expensive and unnecessary. In both cases, he portrays himself as on the side of families who could use some help, but the logic of the appeals is different.