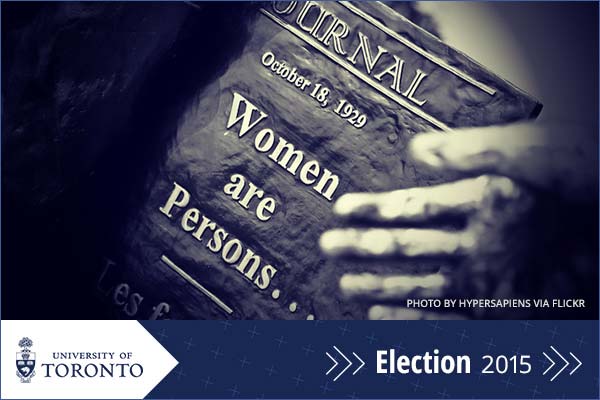 Election 2015: how will the cancelled debate on women's issues affect the campaign? Sylvia Bashevkin explains
The only debate set to address women's issues was called off recently when two candidates refused to participate.
The Alliance for Women's Rights, a coalition of 175 organizations, had been trying for months to organize Up for Debate, a national discussion on women's rights. The group said their goal was to get political parties committed to improving the lives of women. 
But Prime Minister Stephen Harper said he wouldn't be a part of the debate. Then, NDP leader Tom Mulcair followed suit — Mulcair's campaign said he wouldn't be part of any debate that Harper did not attend.
With women expressing outrage on social media, the candidates instead agreed to one-on-one interviews with Up for Debate organizers about issues relating to women.
U of T News has been interviewing University of Toronto experts, asking for their take on campaign issues, polling, debates and more in the lead-up to election day on Oct. 19. Recent features have shared campaign analysis from researchers in statistics, economics, marketing, law and other disciplines.
U of T Political Science Professor Sylvia Bashevkin spoke with writer Noreen Ahmed-Ullah about the cancelled debate and concerns that women's issues are being ignored on the campaign trail.  
---
Why do you think Prime Minister Stephen Harper declined to participate in the debate?
The political profile of the sponsoring organizations was broadly progressive, meaning the debate was unlikely to offer the Conservatives the sympathetic and highly controlled environment they prefer during a hotly contested election campaign. Instead, the debate would have been more likely to provide a setting that was advantageous to opposition parties.
Do you think women's issues are invisible this election?
Many issues historically seen as 'women's issues' have been front and centre during this campaign, including child care. Each party has addressed its constituency directly, including in Conservative messages targeted toward voters who support traditional forms of family organization.
This would have been only the second time since 1984 that the country would have had a women's issues debate.
Why don't issues related to women and girls come up for national discussion during the federal elections?
These issues do come up. The problem is that many of them are clouded in complex questions of child benefits and taxation for single-earner households. Details of tax and social policy can cure insomnia for people who are not experts in the field, meaning journalists and party leaders tend not to focus on them very closely during election campaigns.
Instead of the debate, the candidates have agreed to four of the five main federal party leaders sitting down for separate one-on-one interviews with Up for Debate. Will that bring women's issues to the forefront?
Concerted insistence on the importance of the issues puts items on the public agenda. The weakening of organized feminism since the Mulroney years helps to explain why we have not seen a televised leaders' debate on this set of policies since 1984.
What are the most significant issues relating to women and girls that should be under discussion at this time?
Violence against girls and women is to some degree on the public agenda, at least to the extent that aboriginal organizations have pressed for action on murdered and missing aboriginal women. The economic and social conditions that underpin violence are relevant to all females in Canada, and deserve attention. Challenges facing urban women and girls with respect to housing, child care, transportation, education and health care have hardly been discussed – and these are critical if we take seriously Charter of Rights and Freedoms provisions concerning equality.