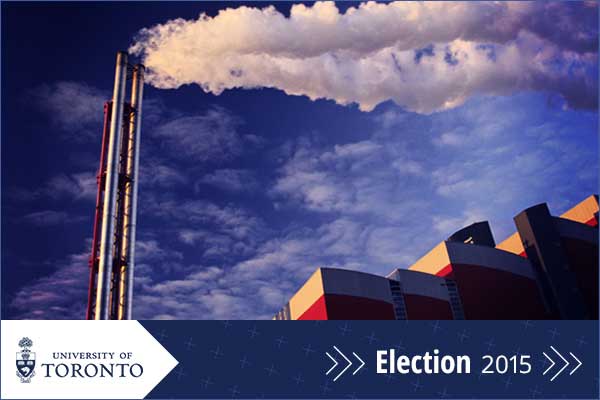 Election 2015: candidates weigh in at U of T climate change symposium
Scholars, industry, NGOs and candidates from three parties on the need to cut carbon emissions, coordinate efforts
Candidates from three major parties in the federal election headed to U of T recently to work with scholars, industry and NGOs on how Canada in general – and Ontario in particular – should manage climate change.
Although representatives of the Green Party of Canada, the Liberal Party of Canada and the New Democratic Party of Canada differed on the details, all agreed that the next Government of Canada needs to take urgent action on climate change, which many participants called "the issue of our time."
And all agreed the federal government could not solve the problem by itself – co-operation with the provinces is essential.
The Conservative Party of Canada was also invited but did not attend.
"There is tremendous political will to find solutions, and this is too important for party politics," said Chris Tolley, Green party candidate for Toronto-Danforth.
NDP candidate Matthew Kellway, Member of Parliament for Beaches-East York, struck a chord with many in the room with his party's pledge to restore science-based policy and appoint a parliamentary science officer. He also noted his party's commitment to quickly pass the Climate Accountability Act to place Canada's greenhouse gas emission reduction targets to 2050 into Canadian law.
Taking Action: Achieving Ontario and Canadian Climate Change Goals was the theme of the inaugural Beatrice and Arthur Minden Symposium on the Environment, organized by U of T's School of the Environment. The purpose of the two-day meeting was to draw a roadmap for policy makers to reduce carbon emissions in Ontario and coordinate national efforts on climate change.
"Ontario has announced it will join the Quebec-California carbon trading program but still has to make decisions concerning total emissions allowed, sources covered, and use of revenues, as well as policies which may be needed to complement the cap-and-trade program," said Kimberly Strong, director of the School of Environment. "At the same time, Canada will have a new or re-elected federal government taking office ahead of the international climate summit in Paris in December.
"The time is ripe for significant action on climate, and the Minden Symposium provided an ideal opportunity to contribute to this effort."
Delegates focused on the proposed Ontario cap-and-trade carbon emissions program and how Ontario can best work with other Canadian and US subnational governments. They also examined the role of the next federal government in co-ordinating national climate policy, including the challenges associated with designing a national policy that recognizes the major differences in the cost of reducing emissions in different regions.
Liberal party candidate and alumnus John McKay, Member of Parliament for Scarborough-Guildwood and the party's environment critic, emphasized the important role of Canada's cities. "Cities all across the country are places where we can make tremendous inroads in dealing with climate change."
A keynote address by Glen Murray, Ontario's Minister of Environment and Cimate Change, pressed academics and others gathered to be more vocal and visible in their advocacy for action. Murray (pictured below) called on academics to be less cautious in their recommendations and to take action publicly on the issue.
Organizers will soon issue a report outlining the major areas of debate and consensus, and present recommendations to policy makers as the Ontario and Canadian processes evolve.
"This was the first of what will be an annual event that will enable meaningful collaborations on key environmental issues, leading to new ideas for workable solutions and plans for future interactions," said Strong.
The symposium was made possible by a generous donation from the Beatrice and Arthur Minden Foundation.