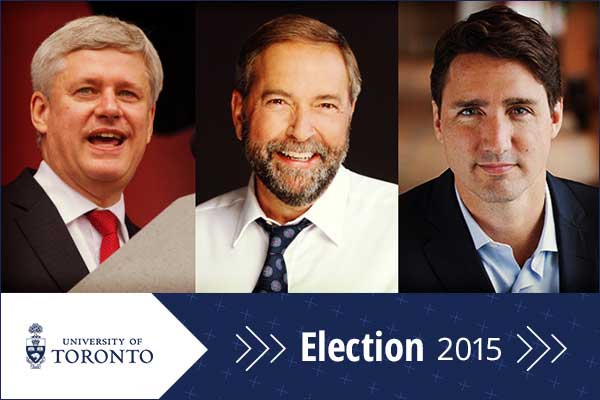 Election 2015: analyzing the foreign policy debate
The three main federal party leaders participated in the only debate on foreign policy during the election campaign on Sept. 28 – and several U of T professors watching were impressed with what they saw.
U of T News has been asking experts from across the university for their analysis on the debates, the issues, public opinion polls and more, leading up to the Oct. 19 vote. 
Recent features have shared campaign analysis from researchers in statistics, economics, marketing, law and other disciplines.
Chris Cochrane, a political science professor at U of T Scarborough, said it "was a fine example of a political debate."
Professor Janice Gross Stein, founding director of U of T's Munk School of Global Affairs and adviser to President Meric Gertler on international initiatives and Samantha Nutt, an assistant professor in U of T's department of family and community medicine and the founder of War Child Canada, also analyzed the debate on CBC television.
"The format and tone of last night's debate was how all of the leaders' debates should unfold. The debate was civil, the leaders were able to make their points and engage with one another, and the moderator kept the leaders on topic and on time," Cochrane said. 
"In my view, it was Prime Minister Stephen Harper's best debate performance so far. Harper was particularly strong in the exchanges on trade and on revoking citizenship from those convicted of terrorism offences. In both cases, Harper seemed to bedevil and frustrate his opponents," he said.
The federal government passed a law last May that gave it the power to revoke citizenship to anyone found guilty of terrorism, treason or espionage – provided they hold  citizenship in a second country. On Sept. 25 it revoked the citizenship of Zakaria Amara, who was convicted for his participation in a 2006 plot to detonate truck bombs in downtown Toronto.
The issue sparked a lively debate between Harper and Liberal Leader Justin Trudeau, with Trudeau saying the Liberal Party was worried that the first response by the government against individuals convicted of certain crimes was not to keep them in jail, but that they be subject to a two-tiered citizenship. Trudeau said giving the prime minister the ability to revoke citizenship is a slippery slope. 
Harper shot back at Trudeau that Canada has already revoked citizenship of war criminals. 
"Why would we not revoke the citizenship of people convicted of terrorist offences of this country?" Harper asked.
"A Canadian is a Canadian is a Canadian," Trudeau responded. "And you devalue the citizenship of every Canadian in this place and in this country when you break down and make it conditional for anybody."
Stein told CBC later that "it was the one electric moment in the room….that really touched a nerve" among Canadians. The leaders were speaking to two different audiences "and that speaks to a real division in this country about how you move forward in a world that is very, very complex."
Cochrane said that NDP Leader Thomas Mulcair and Trudeau "did well too, though most of their best moments came at the expense of each other" rather than Harper.
"Mulcair's criticism of Pierre Trudeau, which was ill-advised, invited Trudeau to make an impassioned defence of his father's legacy, which he did, masterfully," Cochrane said.   
"Mulcair, in turn, hit Trudeau by mixing a reference to Bill-C51 into the exchange on how to deal with Vladimir Putin. If Trudeau couldn't even stand up to Harper on Bill C-51, Mulcair asked, how could we trust Trudeau to stand up to Putin? This might have been Mulcair's best moment of the debate."
[Bill-C51 is the government's anti-terrorism legislation. Trudeau supported the bill but he said he would amend it if elected. The NDP voted against the legislation.]
The debate was sponsored by the Munk Debates and held at Roy Thomson Hall. Green Party Leader Elizabeth May was not invited but live-tweeted during the night, saying "we've heard tonight that the price of protecting our freedom is Bill C-51….that the anti-terrorism act is somehow going to keep us safe and that those who are against it are merely concerned about civil liberties and soft on terrorism. It's not true." The bill, she said, makes Canada "both less free and less secure" and needs to be repealed. 
Cochrane said "the underlying tension between the Liberal and New Democratic parties is intensifying as we approach the last rush of the campaign, with no clear anti-Conservative choice for the sizable proportions of Liberals and New Democrats motivated by their opposition to Harper. 
"A number of recent polls have reinforced the concerns of these voters that the Conservative party may come "up the middle" and win the election. Indeed, what seemed nearly impossible just a few weeks ago – a Conservative majority government – is back on the radar as an unlikely, but very possible, outcome," Cochrane said. 
"At many points in the debate, we witnessed the spectacle of two centre-left leaders competing for the same voters on more or less the same issues. On these exchanges, Harper had the best spot in the house."
Nutt said she would have been interested in a broader discussion about Canada's role on the international stage, including the issue of climate change.
"When it comes to climate change Canada's reputation on the global stage has taken a beating over the past several years." 
Both Stein and Nutt agreed that it is important for the next prime minister to attend a conference on climate change in Paris next December, but bring something new to the table, along with a "willingness to propose solutions and stand by them," Nutt said.