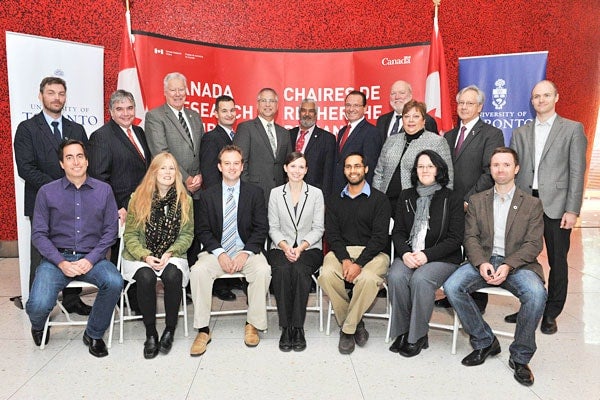 Eight new Canada Research Chairs for U of T
Twenty researchers receive renewals
Research at the University of Toronto got a big boost Oct. 12 with the announcement of eight new Canada Research Chairs. 
"We are grateful to the Government of Canada for this new investment in the Canada Research Chairs program," said Professor Paul Young, U of T's vice-president, Research and Innovation. "The chairs program is essential in enabling the University to attract and keep some of the very best researchers in the world." 
The new Canada Research Chairs (CRC) are:
• Michael Baker, Economics, CRC in Economics, Child Development and Public Policy
• Julie Claycomb, Molecular Genetics, CRC in Small RNA Biology
• Jason Moffat, Molecular Genetics, CRC in Functional Genetics of Cancer
• Trevor F. Moraes, Biochemistry, CRC in Structural Biology of Membrane Proteins
• Scott Schieman, Sociology, CRC in the Social Contexts of Health
• Dwight S. Seferos, Chemistry, CRC in Polymer Nanotechnology
• Sabine Stanley, Physics, CRC in Planetary Physics
• Mark S. Taylor, Chemistry, CRC in Molecular Recognition and Catalysis
"As with all of our Canada Research Chairs, these new chairs are investigating areas important to global society," said Young. "The new knowledge they create will be vitally important to future advances in how we live."
U of T has 238 Canada Research Chairs, the largest number in the country. 
"Our government's top priority is creating jobs, growth and long-term prosperity," said Minister of State (Science and Technology) Gary Goodyear. "By investing in talented people through programs such as the Canada Research Chairs, our government is supporting cutting-edge research in Canadian post-secondary institutions. This fosters innovation by helping researchers bring their ideas to the marketplace, where they can touch the lives of Canadians."
The event featured Professor Moffatt, who is exploring the genetic origins of cancer. As the CRC in the Functional Genomics of Cancer, Moffatt is finding ways to intervene in genetic mutations that cause cancer. His research aims to identify cancer cell vulnerabilities, to reveal more about how cancer arises, to find new innovative treatment options and to help with diagnosis. 
"The funding provided through the Canada Research Chairs program allows researchers to continue to develop innovative technologies and think on a global scale in order to accelerate scientific progress," Moffatt said. "In my case, this supports collaboration in identifying causes of diseases and finding cures."
In total, $121.6 million is being invested to support 155 newly awarded or renewed Canada Research Chairs across the country. U of T's renewed chairs include:
• Stephane Angers, CRC in Functional Architecture of Signal Transduction
• Timothy Barfoot, CRC in Autonomous Space Robotics
• Dina Brooks, CRC in Rehabilitation for Chronic Obstructive Pulmonary Disease
• Brian Ciruna, CRC in Developmental Genetics and Cell Biology
• France Gagnon, CRC in Genetic Epidemiology
• Anthony Gramolini, CRC in Cardiovascular Proteomics and Molecular Therapeutics
• Heiko Heerklotz, CRC in Lipid Science and Technology
• Kullervo Hynynen, CRC in Imaging Systems and Image-Guided Therapy
• Daniel James, CRC in Atomic and Optical Physics
• Ray Jayawardhana, CRC in Observational Astrophysics
• Olivera Kesler, CRC in Fuel Cell Materials and Manufacturing
• Eugenia Kumacheva, CRC in Advanced Polymer Materials
• Evelyn Lambe, CRC in Developmental Cortical Physiology
• Michael Moran, CRC in Molecular Signatures
• Norman Rosenblum, CRC in Developmental Nephrology
• Ayelet Shachar, CRC in Citizenship and Multiculturalism
• Katherine Siminovitch, CRC in Mechanisms Regulating Immunologic Disease
• Nhung Tuyet Tran, CRC in Southeast Asian History
• William Trimble, CRC in Molecular Cell Biology
• Subodh Verma, CRC in Atherosclerosis