Edwin Leong, a property developer who puts people first, receives honorary degree
As a property developer in Hong Kong, Edwin Leong has helped revitalize communities desperately in need of a boost.
As a philanthropist, he often directs support to the most vulnerable in society.
Today, for his sustained and profound commitment to bettering the lives of others through volunteerism and philanthropic support of higher education and health globally, Leong receives a Doctor of Laws, honoris causa, from the University of Toronto.
Born in China's Guangdong province and the youngest of his siblings, Leong remembers a lesson his parents instilled in him that has influenced his approach to philanthropy: the importance of respecting elders and caring for young people.
"That had been deep in my mind for ages," Leong told the Globe and Mail in a 2019 interview.
As a teenager in the late 1960s, in the midst of China's tumultuous cultural revolution, Leong travelled to Vancouver to finish high school. He went on to study computer science at the University of British Columbia, travelled back to Hong Kong briefly, and then returned to Canada to enrol in a master's program in computer science at U of T. After graduating, and with the unrest at home subsiding, he returned again to Hong Kong, where he stayed and launched a real estate venture.
Leong founded Tai Hung Fai Enterprise in 1977 as a property investment company, specializing in retail properties and hotels. The firm grew rapidly, and its portfolio expanded to include residential, office and industrial buildings. According to Forbes magazine, Leong earned the nickname "King of Shops" for his company's vast holdings of retail and commercial properties. Over the years, the firm has also earned a reputation for its commitment to urban redevelopment and community revitalization projects.
Leong credits his success in part to good timing. He also does a lot of homework before investing in property, has expert knowledge of the Hong Kong market and is known for keeping his cool. When others were pessimistic about the city's future, such as during the 2003 SARS outbreak, Leong doubled down, predicting – correctly – that recovery would come.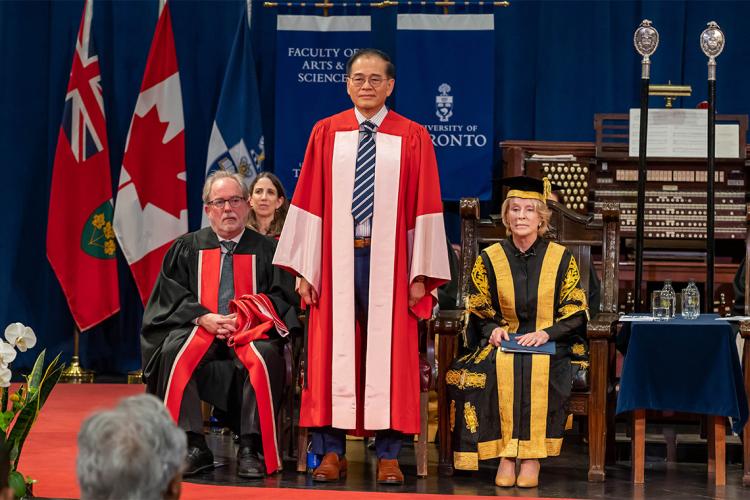 With the aim of making good on his childhood goal of caring for people throughout the human lifespan, in 2005, Leong established the Tai Hung Fai Charitable Foundation. Its three-fold mission: to provide care and medical support for disadvantaged seniors and underprivileged children around the world; to support education through scholarships and fellowships; and to fund global research related to healthy aging and pediatrics. To date, the foundation has provided more than $60 million in philanthropic support.
Leong has targeted some of his philanthropy to initiatives in Toronto and Vancouver, supporting students and researchers at both of his alma maters. In 2018, he created a scholarship that supports bright students from Hong Kong to study at the University of Toronto. The following year he established the Edwin S.H. Leong Centre for Healthy Children at U of T, which, in partnership with SickKids, develops interventions for healthier, happier children around the world. At UBC, meanwhile, he established the Edwin S. H. Leong Centre for Healthy Aging.
"I am pleased to report that so far both the Healthy Children Centre and Healthy Aging Centre have attracted lots of enquiries from individual scientists and distinguished institutions around the world interested in collaborating," Leong says. "In putting intelligent minds together, in committing to information sharing, and in learning from one another, we can generate enormous power and momentum in the medical field."
A governor of the University of Toronto (Hong Kong) Foundation, Leong holds three other honorary degrees. He has served as a director and vice-chairman of Po Leung Kuk, a Hong Kong charity that provides support for orphaned children, education and other services, and is a patron of the Hong Kong Breast Cancer Foundation. He is also an honorary patron of the Hong Kong University Foundation.
In his convocation address to students graduating from St. Michael's College, Leong urges grads to give back to society – particularly, education – and to carefully sift fact from fiction: "Always use critical thinking and objective view in analyzing this mountain of information that you have access to. Use your sound judgement. Seek advice from seniors whom you find reliable and wise."
UTC