Early English drama resources offer insights on theatre from Middle Ages, Shakespeare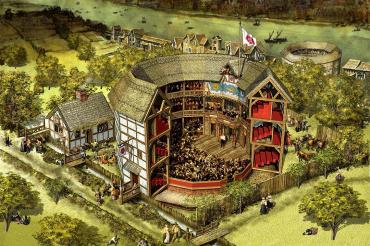 The Records of Early English Drama (REED) research collaboration has pulled back the curtain on two new online resources that bring a vibrant period of historical theatre performance, including the time of Shakespeare, to life.
Available on REED Online, the Hampshire and the Rose Playhouse Prototype provide valuable resources for teaching and research that are filled with surviving records and images of drama, music and other popular forms of entertainment in England from the Middle Ages (late 10th century) to 1642.
An international scholarly project founded in 1975, REED is focused on researching and cataloguing the context from which the drama of Shakespeare and his contemporaries grew by locating, transcribing and editing historical documents that capture the history of drama, music and other forms of secular entertainment.
At the University of Toronto, REED is associated with the department of English in the Faculty of Arts & Science, the Centre for Medieval Studies, the Centre for Reformation and Renaissance Studies and the Poculi Ludique Societas.
And with REED's latest resources, students, scholars and researchers can easily attain "a more vibrant understanding of the range and the dynamism of entertainment," says Professor Emerita Sally-Beth MacLean of the department of English, REED's director of research and general editor.
"Professors and students of drama and theatre, Elizabethan literature, early modern English history, language and manuscript studies could all make use of these resources."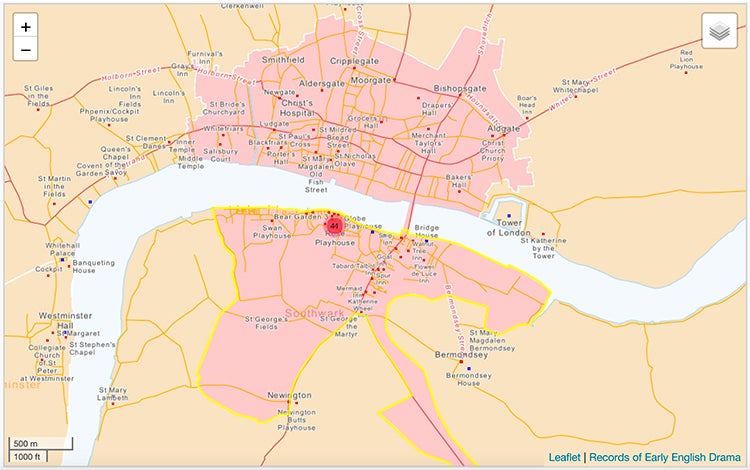 REED Online's Rose Playhouse Prototype includes an interactive map of the London area that links to extensive records and images.
The Hampshire collection provides an extensive and varied collection of dramatic records, the largest digital edition made available by REED to date.
"It includes medieval and renaissance entertainment performed by local people and professional actors, minstrels, musicians, acrobats, jesters, even animals in towns, villages, as well as the cities of Southampton and Winchester and Winchester College School where the performance venue in the medieval dining hall remains intact," says MacLean.
This collection also offers rare glimpses into the inner workings of performance, such as records of expenses for constructing stages and sets in Winchester College Hall, licences granted to acting troupes and details about the elaborate entertainment line-up for Queen Elizabeth in 1591. The records and documents are also linked to a geographic information system (GIS) provincial map of England, showing where they originated.
Edited by MacLean herself, the Rose Playhouse Prototype offers historical records and information relating to Philip Henslowe's Rose Playhouse. Constructed on the south bank of the Thames River in 1587, it may have been the first playhouse to ever stage a Shakespeare production.
This collection includes historic gems such as the deed of partnership for the Rose and the theatre inventories of the Lord Admiral's Men, a famous acting troupe of the late 1500s.
"The Rose Playhouse Prototype is our first in a projected series of individual Elizabethan and Jacobean playhouse digital editions that could be used in classrooms where drama from the period is taught," says MacLean. "It should be of particular interest for faculty teaching Shakespeare.
"For the first time, the dramatic records are linked with manuscript images and detailed interactive mapping of all London area locations associated with the theatre, as well as historical data available on other open access websites."
Those websites include international databases such as the Henslowe-Alleyn Digitisation Project, which is part of the archives of Dulwich College in London.
This archive holds thousands of pages of manuscripts left to the college by its founder, actor Edward Alleyn (1566-1626) and makes up one of the largest archives of material on professional theatre and dramatic performance in early modern England, during the age of Shakespeare and his contemporaries.
"I hope the Rose Prototype will stimulate an expanding partnership of collaborators to research and edit all the Elizabethan and Jacobean playhouses for the REED series," says MacLean. "If our research can lead to new collaborations with archaeologists, local historians, museums and heritage sites that would be terrific."
In fact, MacLean hopes both new collections attract attention globally.
"I would like to see our outreach expanded to bring many more students, scholars and a wider public around the world to our work," she says.
Faculty of Arts & Science