'Driven by a sense of equity and justice': Miriam Rossi, a pediatrician and U of T professor, was an influential diversity advocate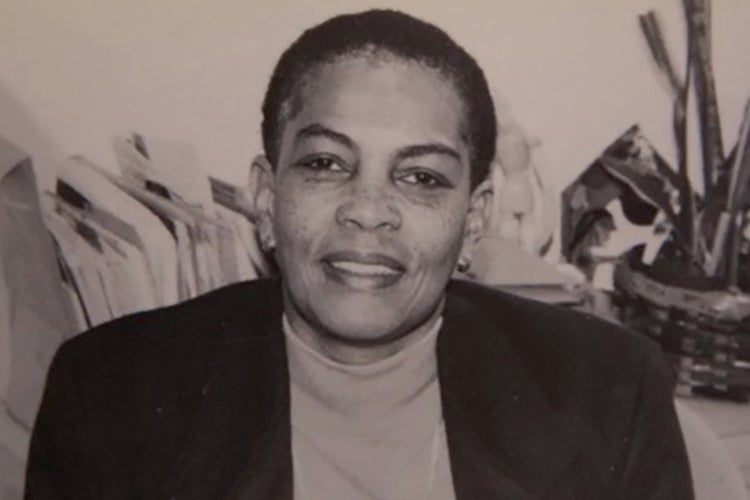 "The cards were stacked against me in the States, to a certain extent, because I was Black, but they were really stacked against me because I was a woman," Miriam Rossi told U of T Magazine in a 2001 interview (photo courtesy of Faculty of Medicine)
Dr. Miriam Rossi was a key player in the drive to make the University of Toronto's Faculty of Medicine more diverse, while acting as a mentor, role model and adviser for hundreds of students of all backgrounds.

For three decades, Rossi was a pediatrician at the Hospital for Sick Children and a professor of pediatric medicine at U of T, and she served for 13 years as associate dean of student affairs and admissions in the Faculty of Medicine. She died on July 11 at the age of 81.

"She was so driven by a sense of equity and justice," said Lisa Robinson, chief diversity officer at U of T's Faculty of Medicine. Fortunately, because of Rossi's position, "she actually had the power to effect change," Robinson said.

One of her most important achievements was the founding of the summer mentorship program for high school students of Indigenous or African ancestry. Over the past 25 years, the program has brought more than 900 young people to the campus to get exposure to the study and practice of medicine, while encouraging them to join the health-care profession.

In the 1980s and early 1990s, Rossi and others became acutely aware that enrolment in the Faculty of Medicine didn't reflect the community at large. That's when the idea was floated of a mentorship program to get more diverse high school students interested in health care as a career path by bringing them to the university and associated hospitals for a summer program where they could shadow doctors and other health-care providers.
One of the few Black medical students at the time, Dominick Shelton, was a driving force behind the program.

"I worked with Dr. Rossi about addressing the issue of the underrepresentation of Blacks in medicine at U of T," said Shelton, now an emergency medicine physician at Sunnybrook Health Sciences Centre. Together they created the Association for the Advancement of Blacks in Health Sciences, and out of that grew the idea of the summer mentorship program. Rossi, because she had influence as associate dean, was able to make it happen, Shelton said. "She opened up a door which would not have been opened otherwise."

Indeed, he said, just the fact that Rossi was in a position of authority was tremendously important. "A Black female of her era, accomplishing all that she did, was just phenomenal," he said. "Just seeing her, while I was in medical school, was beyond what I could have expected."
Diana Alli D'souza, a former U of T administrator who worked with Rossi to set up the mentorship program, describes her colleague as "a champion of diversity and inclusion and social responsibility." Rossi was "a very strong-willed woman," D'souza said. "No one could say no to her, not even the dean or the president of the university."

Dr. Nasra Warsame, now a family physician in Ajax, Ont., was one of the high school students who attended the mentorship program in the mid-1990s. She was in the program for two years – the second involved working in a U of T laboratory – then came back later as a co-ordinator for the mentorship program. Rossi effectively advised and motivated all the students who came to her for advice, Warsame said,  "She wasn't very touchy-feely. She was just a direct person. She'd say, 'That's not the path, Nasra.' ... She made you want to be a better person, to be the best version of yourself."

Rossi was also an inspiration, a role model and a mentor to many students outside the medical field, said Dr. Anna Jarvis, a professor emerita in U of T's department of pediatrics and a long-time colleague and friend of Rossi's. "It is amazing how many people across ages, backgrounds and faculty she mentored," Jarvis said. "People came to her who were in the non-academic staff, admin people, and people who were in arts or in other professions. She was there for everyone."

Rossi was also a wonderful doctor, Jarvis said, and did important work in adolescent medicine at SickKids hospital, where she showed a "generosity of spirit" and openness to even the most troubled teenagers, and was an authority on eating disorders and gender issues. She was also open to alternative medicine, and supported the inclusion of traditional First Nations healing in the U of T medical school curriculum.
(photo courtesy of Faculty of Medicine)
Miriam Frances Senhouse was born in Boston, Mass. on Jan. 31, 1937. Her mother was from Barbados, while her father was the American-born son of immigrants from Barbados and Canada. Her paternal grandmother had Indigenous roots in New Brunswick.

Rossi, called Mimi by her family and friends, was mentoring and teaching from an early age, according to her sister Muriel. "Mimi taught me to read when I was turning four years old, and throughout her school years she tutored her peers," Muriel said. "Mimi's models were our parents and our neighbours, who supported each other, gave back to the community, led Girl Scouts, taught ballet, tap dancing and coached sports groups."

As a teenager, Rossi began to dream of becoming a doctor, around the time that she was working as a nurse's aide while attending college in Boston. She got an undergraduate degree in dietetics, then a master's in biological sciences and nutrition at Iowa State University.

In her late 20s, Rossi moved to New York City where she worked as a nutritionist in the city's public health department in Harlem. She then went to Howard Medical School in Washington and the medical school at Mt. Sinai Hospital in New York.

But there were many challenges for the ambitious young woman.  "The cards were stacked against me in the States, to a certain extent, because I was Black, but they were really stacked against me because I was a woman," Rossi told U of T Magazine in a 2001 interview. "What it did is make me understand I had to work harder – and smarter – to get certain things."

After graduation from medical school she married Renato Rossi, an engineering executive. The couple moved to Montreal while Rossi did her medical residency at McGill University, then they spent several years in Italy for her husband's work. Rossi qualified to practise medicine in Italy, in addition to her licences in the U.S. and Canada.
"The world of medicine was her life," said her sister Muriel.

The couple moved to Toronto in the early 1980s, and Rossi took a position in pediatrics at SickKids hospital while teaching at U of T. In 1988 she became associate dean of student affairs.

Rossi was actively involved in the community outside of the university, serving a wide range of organizations ranging from the Black Business and Professional Association (where she and her husband funded student scholarships) to the Trillium Gift of Life Network.

She spent eight years on the board of Trillium, which handles organ and tissue donations in Ontario. Trillium president Ronnie Gavsie said Rossi was intense and serious, but also showed a warmth and softness that was almost motherly.  Rossi was particularly interested in getting Trillium's message to communities that were often left out of the loop and had low rates of donations. 
"Her raison d'être was to make sure that we got to populations that might not hear from us, but that needed to hear from us," Gavsie said.   

Miriam Rossi leaves her sister Muriel Smalheiser, husband Renato Rossi, son Arthur Rossi, and four grandchildren.