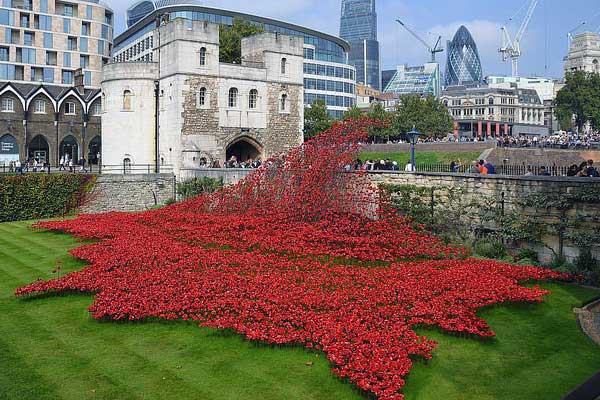 Dr. John McCrae, University of Toronto medical graduate
Alumnus wrote iconic war poem, In Flanders Fields
Edward Shorter is the Faculty of Medicine's Jason A. Hannah Professor of the History of Medicine and also a professor in its psychiatry department. He has authored numerous books on the history of psychiatry and mental illness.
Susan Bélanger is research coordinator in the history of medicine program.
Last month, Dr. John McCrae was selected as a 2015 inductee to the Canadian Medical Hall of Fame.This timely announcement coincides with the centenary of the First World War, and the honour itself is a fitting commemoration of his famous poem, In Flanders Fields.
McCrae's tribute to his fallen comrades, written on May 3rd, 1915 during a lull in the terrible battle of Ypres, was published in the London magazine Punch that December. It quickly became the most popular poem of the Great War, known throughout the British Empire and later in the United States. After a century the poppy and McCrae's verses remain potent symbols of remembrance and the tragedy of war.
Yet the soldier-poet's own story has been largely forgotten, except in his hometown of Guelph. There his memory is preserved in the limestone cottage where he was born in 1872, now a museum.
John McCrae was a product of Ontario's rural heartland. The grandson of rugged Scottish pioneers, he inherited his mother's intellectual curiosity and warmth, his father's love of the military, and his family's strong Presbyterian commitment to duty. John and his brother Thomas (born in 1870) went on to become two of the University of Toronto's most distinguished early medical graduates.
Even before entering U of T, young John's talent and broad interests were evident. He began writing poetry while at Guelph Collegiate, and at 14 joined the school's cadet corps, winning a provincial gold medal. The following year he entered the militia unit commanded by his father. In 1888, at the age of 16, he became the first Guelph student awarded a University of Toronto scholarship.
McCrae spent most of the next decade in Toronto. Yet this key period in his life is sparsely documented, partly perhaps because the Faculty of Medicine (established in 1877) was still in its infancy. As an undergraduate at the university's Knox (Presbyterian) College, he was a diligent student and devoted church-goer, but also found time to write poetry and remain active in both the Guelph militia and as one of the few members, along with writer Stephen Leacock, of the Varsity's unit, "an honourable but neglected body called Company K." 
(Photo at left by Amanda Slater via Flickr.)
He excelled in biology under the supervision of Professor Ramsay Wright, earning the highest mark in his second year.  In third year he slipped to second place as his chronic asthma worsened in the city smog. After taking a year off to teach at the agricultural college in Guelph, McCrae returned to Toronto in late 1893, completed his degree in Natural Sciences with high honours in 1894 and entered the Faculty of Medicine.
McCrae graduated in 1898, winning the gold medal as the top student in his class. Following a brief internship at the Toronto General Hospital, he joined the large contingent of top-notch Toronto medical graduates sent by Wright and J.E. Graham, professor of clinical medicine, to study with North America's foremost medical educator. Canadian-born Dr. (later Sir) William Osler had transformed Johns Hopkins into the leading medical school and teaching hospital on the continent, and would go on in 1905 to become Regius Professor of Medicine at Oxford. McCrae's brother Thomas, who had graduated from Toronto as silver medalist in 1895, remained at Hopkins as one of Osler's assistant residents and eventually became one of his close colleagues.
John McCrae spent several months working with Osler before beginning a fellowship in pathology at McGill University in September 1899. His studies were soon interrupted by the outbreak of the Boer War in mid-October. Believing that it was his duty to fight, he again took a year off, this time to lead the Guelph contingent of the Royal Canadian Artillery on active service in South Africa. There he served with distinction and was a popular officer, but was shocked by the cruelty and destruction of war. 
After returning to Montreal in 1901, McCrae resumed his medical career, becoming one of the leading academic physicians of his generation, with positions at McGill University and the various teaching hospitals in addition to a large private practice. Gregarious and outgoing, he was also a popular social and literary figure with a large circle of friends.
McCrae resigned from the artillery brigade in 1904 after reaching the rank of Major, and was not involved with the military again until the eruption of the Great War in August 1914. As part of the British Empire, Canada was automatically involved in the conflict, and within three weeks 45,000 Canadians had rushed to enlist, McCrae among them. As before his chief motivation was duty rather than a naïve rush to adventure: "I am going because I think every bachelor, especially if he has experience of war, ought to go," he wrote to a friend. "I am really rather afraid, but more afraid to stay at home with my conscience."
Even so, nothing could prepare him for the horror of trench warfare. Appointed as brigade-surgeon to the Canadian Field Artillery, he found himself posted to the trenches near the devastated city of Ypres in Belgium. On April 22, 1915, the Germans launched an unexpected attack, using deadly chlorine gas for the first time in the war. The Canadian forces held the line for 17 days, but at a terrible cost. Half of the brigade was killed, including one of McCrae's closest friends, who fell the day before he wrote In Flanders Fields.
(Image at right by Amanda Slater via Flickr.)
McCrae was gratified by the success of his poem and its use as a call to arms, but his creative fires were now largely spent. It was the second-last poem he would write. Soon afterward he was promoted to lieutenant-colonel in charge of medicine at the No. 3 Canadian General Hospital in France staffed by his friends and colleagues from McGill. Those who had known him in happier times were shocked by the worn and exhausted man he had become. The enormous number of wounded and the grim reports from subsequent battles affected him deeply. Relentlessly committed to duty, he insisted on living in a tent throughout the winter like his comrades at the front and had to be ordered into the heated officers' huts as his health failed. On January 24, 1918, McCrae was appointed as consulting physician to the First British Army, the first Canadian so honoured. But he did not live to take up this post. Four days later he died of pneumonia and meningitis, and was buried with full military honours in Wimereux, France.
McCrae's tragic belief that he "would have broken faith had he lived while so many had died" – seen as an example of his selfless devotion to duty by his grieving compatriots, but now recognized as an ominous symptom of despair born of post-traumatic stress – remains the final chapter in this story of the terrible cost of war.
(Photo above by Phil Guest via Flickr.)