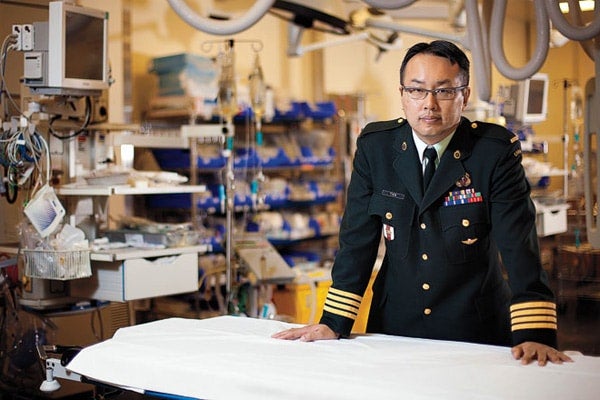 Dr. Homer Tien: from the battlefield to the ER
When Dr. Homer Tien is asked why he received the Order of Military Merit in December, he shrugs.
"I guess because I've been in the Forces for a while," he offers modestly.
Only later does the colonel, an assistant professor at U of T and director, trauma services, at Sunnybrook Health Sciences Centre, recall his exceptional advancements.
"In '96, I was the first medical officer posted to the Canadian military counterterrorism team on the NATO mission in Bosnia," says Dr. Tien. "And, oh yeah, in 2006 I was the first Canadian surgeon deployed to Kandahar."
Since then, Tien has been deployed to Afghanistan five times, most recently last fall for a two-month tour of duty – making him also the last Canadian Forces trauma surgeon to serve in Kandahar.
At the Kandahar military base, Tien would start the day by strapping on a 9 mm Browning pistol.
"I'm so used to wearing a gun, I didn't even think of it," he says.
Then he'd grab a coffee at the base's Tim Hortons and head to the military hospital. He would perform such procedures as digging shrapnel out of the bodies of British, American and Canadian coalition soldiers, and caring for civilians who had stepped on landmines.
"Amputation is common with a landmine injury," he explains. "Sometimes we have to do a triple amputation, which is really sad, especially with a child."
On occasion, Tien would work 36 hours straight – without complaining.
"The only thing I have to do on the base is work," he explains. At home, he's busy helping his wife drive their three daughters to music lessons and sporting events.
Tien enlisted in the Canadian Forces in 1990 to pay for medical school at McMaster. Later, his military service funded surgical training at U of T and a two-year fellowship with Sunnybrook's trauma team. Tien also earned a master's degree in clinical epidemiology at U of T, graduating in 2007.
Today, he excels in teaching the intricacies of treating blast injuries and gunshot wounds.
Perhaps Tien's greatest teaching, though, is leadership.
"In medical school there is very little formal teaching of leadership training but in the military you receive a lot. You learn to be decisive in an emergency situation and assertively pass on your decisions. You learn you absolutely must not waffle."
Tien also has a teaching role in the Forces. In 2007, for example, he trained military medical technicians to perform on the battlefield an emergency cricothyrotomy, which involves making a cut in the neck and inserting a breathing tube through the slit.
"Medical technicians had never done it before, and they do a very good job in a very difficult environment," says Tien, whose research focuses on military medicine, including war surgery.
On July 3, the Parliamentary Secretary to the Minister of National Defence presented Tien with the Canadian Forces Major Sir Frederick Banting Term Chair in Military Trauma Research.
"I am very proud that Colonel Tien's continuing work is being recognized, and that he is being extended this important opportunity as the first Canadian Forces Chair in Military Trauma Research," says Chris Alexander. "I look forward to following the progress of his work over the years to come."
Barry McLellan, President and Chief Executive Officer, Sunnybrook Health Sciences Centre, says: "We are excited to continue our work with Dr. Tien and the Canadian Forces in a research capacity to share experiences in trauma medicine that will better serve the CF and civilian populations."
At Sunnybrook, Tien cares for Ontario's most seriously injured. They come by helicopter or ambulance after falling from the high beam of a construction site or being cut out of a mangled car on the 401.
About 50 per cent die before they get to Sunnybrook's Tory Regional Trauma Centre where Tien is the medical director, but a remarkable 90 per cent survive if only they can arrive with a beating heart.