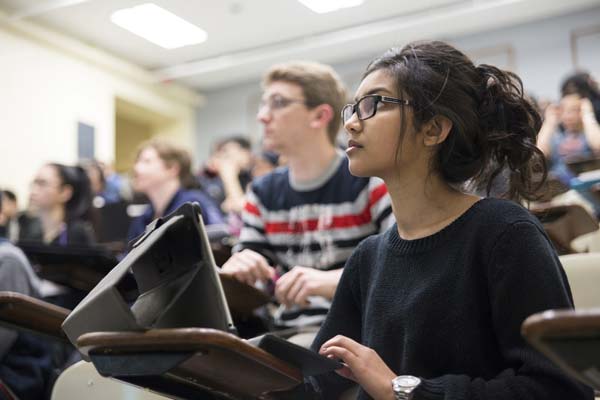 Downtown campus to introduce Friday evening and Saturday exams this December
For the first time, some students on the U of T's St. George campus will write December exams on Friday evenings and Saturday mornings and afternoons.
"This was not a decision made lightly," said Steve Bailey.
The director of academic and campus events, Bailey is charged with organizing time and space for first-entry undergraduate exams on the St. George campus.
"Our task is to create a student-focused exam schedule that is as reasonable and free of conflicts as possible. We must lay a foundation for students to best demonstrate their knowledge in exams."
The change comes as a result of a late Labour Day this year, Bailey said. With U of T classes not starting until the third week in September, the delayed holiday means fewer days are left available for exam sittings at the end of fall term.
"The late Labour Day this year meant we only had eight days in December to schedule exams for our students. That is simply not enough time."
Bailey said the university looked at other potential solutions, such as adding more physical spaces in which students could write exams. But, without more time, Bailey says that option would have doubled the number of exam scheduling conflicts.
More than 35,000 students will be writing exams on the St. George campus this December.
"It became clear that adding Friday evening and Saturday exams was the only way to create a reasonable schedule with the lowest number of conflicts – without dipping into the winter break," Bailey said. "While this will be a change for some members of the university community, it's a change that makes sense and one that's already been implemented right here at the U of T and at institutions across Canada."
A recent survey of 63 institutions by the Association of Registrars of the Universities and Colleges of Canada showed that 86 per cent schedule final exams on weekends. U of T's Mississauga and Scarborough campuses have scheduled Friday evening and Saturday exams for several years.
"Trying to create a balanced exam schedule is a challenge for all universities,"  said Executive Director, Enrolment Services and University Registrar Richard Levin. "We didn't want to reduce the length of winter break, so Saturday exams is a reasonable solution and one that is very common across Canada.
"The more days available in the exam period, the less compressed each student's schedule is. For example, there will be fewer cases of students scheduled into multiple exams on the same day than we would see in a shorter schedule."  
Students facing exam conflicts should get in touch with their registrar, said Bailey, where they can engage with a well-established procedure to resolve conflicts.