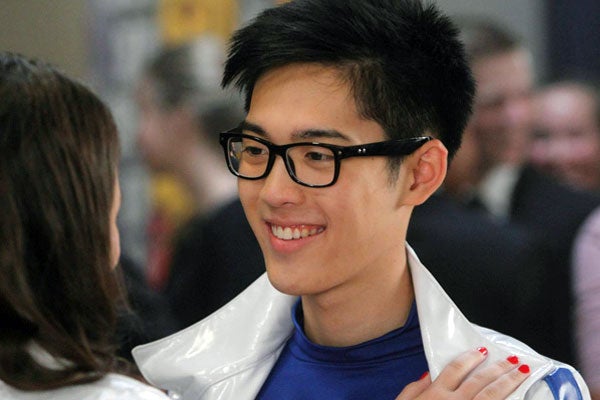 Does this face look familiar? Meet the undergrad who stars on Degrassi
André Kim will continue to play Winston Chu when series moves to Netflix and Family Channel in 2016
Plenty of students have part-time jobs, but not everyone spends their off-hours as a high schooler on a beloved Canadian drama series.
U of T Mississauga theatre and drama studies student André Kim has juggled acting and academic study since Grade 11, when he landed a part on Degrassi: Next Generation. The program is the fourth instalment in the Toronto-based Degrassi series, which has been broadcast around the world since Kids of Degrassi aired in the early 1980s. 
The Edmonton-born actor grew up in Mississauga, where he began acting with children's theatre groups before joining the drama program at Cawthra Park Secondary School, a performing arts high school in Mississauga.
In Grade 10, he sent an audition recording to Degrassi producers and landed the part of Winston Chu, nerdy sidekick to Degrassi's popular Miles Hollingsworth character. He has played the part for the past three years.
"It doesn't feel like a job," Kim says, adding that his Degrassi experience initially felt like summer camp. But the show quickly taught him that acting could be his career. "I love acting and reading the scripts and being there for rehearsals," he says. "I love working on set and talking with the director. It's a lot of fun."
Kim notes he's very different from his Degrassi character. "Winston is nerdy and smart, but doesn't take crap. He's new to the idea of serious committed relationships. It's fun to play, because there's an element of innocence and naivety to him. It's perfect for the age of his character."
While some of his acting colleagues headed to Los Angeles in search of stardom, Kim applied to UTM where he spent a year enrolled in humanities courses. He is now in his second year.
"I wanted to test the waters and see what I was most interested in," Kim says. "I took anthropology, psychology and philosophy to figure out what I wanted to do."
But he couldn't shake the acting bug, and applied to the joint theatre and drama studies program at UTM and Sheridan.
"I decided that if I was going to be at university, I should do something I really liked," he says.
"I did a lot of research into theatre programs before choosing to audition here, I like the combination of academic studies with practical teaching. It's a tough process to get in, but we know that we were chosen. It's a nurturing environment and they work you until you're the best that you can be. It makes me more committed."
Auditions may give some actors butterflies, but Kim likes the competition. "I love auditioning. It's a thrill," he says. "It's cool knowing that I've got to beat all those guys to win a role."
"Theatre is so different from film acting. I have to use my whole body, not just my face. And there's no stopping for another take – it's one performance all the way through."
While Kim's first love is performance, he also hopes to write scripts and comics, or become an e-sport announcer for video game competitions.  
"That requires a lot of stage presence and comfort on camera," he says. "I love gaming, but for now my mind is truly set on acting."
The actor recently wrapped up work on two short films, Quarter Life Crisis and Dumb Luck. Degrassi: Next Generation ended in 2015, however the franchise will continue with the fifth instalment in the series, Degrassi: Next Class. Kim will reprise his role as Winston Chu in the program, which airs on Netflix and Family Channel in 2016.