'Do not let challenges and difficulties stop you': Kinesiology grad and cancer survivor Lucas Aragao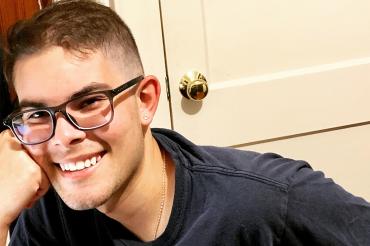 For Lucas Aragao, soccer opened doors when his family moved to Canada.
When he was younger, he was bullied in school because he looked different and didn't speak English, but things changed one day when he was last to be picked for a game of soccer at recess. 
Having grown up in soccer-crazed Brazil, the pickup game was a chance to wow others with his talent on the ball. "As a Brazilian, playing soccer with the other kids was very easy and allowed me to showcase my soccer skills and abilities," says Aragao, who recently graduated from the Faculty of Kinesiology & Physical Education (KPE). 
A few weeks later, his best friend's father came to watch him play and asked him to try out for the local soccer team that he coached. Aragao showed up in running shoes because he didn't have cleats, but made the team anyway. In his own words, he was "the happiest kid in Toronto."
He made many new friends and started playing every sport imaginable – except for hockey. "Skating seemed impossible to me, but despite that, I developed a passion for hockey and became a huge Toronto Maple Leafs fan," he says. 
Aragao excelled in sports throughout elementary school and continued to do so in his teens, becoming a starter for the varsity boys' soccer team in Grade 9 and the captain of the junior soccer team the next year. The team won the north division title for the first time in years. But then things took a sharp turn for the worse.
"I started seeing two of every object when playing and thought it was fatigue at first," Aragao says. "I did every possible vision testing and nothing was found."
This went on for months until he became permanently cross-eyed. After a few more weeks of testing and no results, he went to the Hospital for Sick Children (SickKids) where they discovered a brain tumour. 
"Being diagnosed with cancer was the worst day of my life," Aragao says. "As a 15-year-old, I believed my life was going to end."
He had brain surgery, followed by chemotherapy and radiation treatment. 
"I didn't have the energy for anything. I was always tired and vomiting," he says. "My family and friends kept me going and I am so grateful for them." After nine months of intense treatment, he was pronounced officially cancer-free. 
His fight with cancer inspired him to pursue studies in a health-related field in university, opting for kinesiology at U of T. 
"That was the best decision," he says. "Having such a tight-knit community of students was amazing and there were so many fun events throughout the years to balance out the academic demands of the school."
Aragao helped the women's soccer team with physiotherapy, worked as a student manager for the men's soccer team and won three-out-of-four PHE-4-ALL tournaments, the faculty's annual competition in which each year faces off against one other and alumni in events including indoor soccer, European handball, ultimate frisbee and an academic challenge.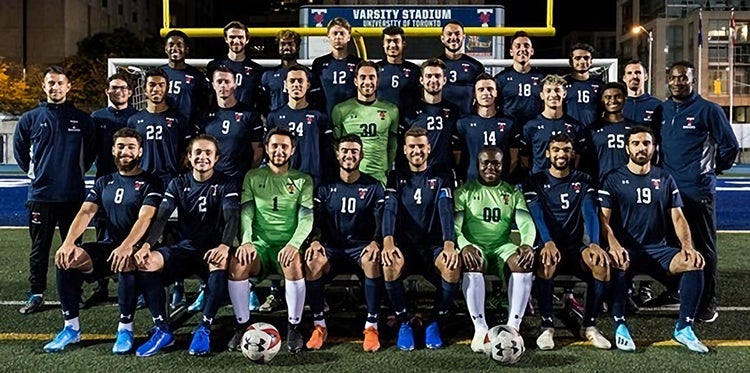 Lucas Aragao was the student manager for the Varsity Blues men's soccer team (second on the left in second row) (photo courtesy of Lucas Aragao)
It wasn't always easy for Aragao, however. The cancer treatment had lingering side effects impairing his memory and making it difficult for him to study for exams. The COVID-19 pandemic added another layer of difficulty. Being immunocompromised, Aragao worried about catching the virus while being isolated from his friends during lockdowns. 
One advantage was the transition to remote learning. "Online school was easier for me as I could take my own time with coursework and did not depend solely on my negatively impacted memory from cancer treatment during in-person exams," he says. 
Taking his time allowed him to excel in all his courses, increasing his GPA with straight As in his third and fourth years. 
"All this would not have been possible without Accessibility Services and their continued assistance," he says.
Aragao's plans for the summer after convocation include working in the SickKids cancer research lab. Following that, he will take a gap year to decide what to do next: physiotherapy, cancer research or teaching.
"I love sports and I love children and caring for people in need, so I would be happy with any of these three options," he says.
His message to new students: persevere in the face of difficulty to achieve your goals. "Do not let challenges and difficulties stop you," he says. "Sometimes the mountain you are climbing can block the view of your success and what you are about to enjoy in life, so do not give up and keep going at it. You will look back one day and see that it was all worth it."
UTC