Members of the San Francisco 49ers take the knee during the American national anthem over the weekend (photo by Bobby Ellis/Getty Images)
With race at the centre of the Take the Knee controversy, protests over police misconduct and the emboldening of white supremacists, U of T sociologist Ellen Berrey's book on the limitations of the term "diversity" has drawn the attention of the New Yorker.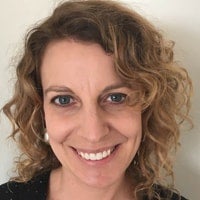 In a piece titled "The limits of 'diversity,'" the current issue of the magazine quotes at length from Berrey's 2015 book, The Enigma of Diversity: The Language of Race and the Limits of Racial Justice. 
"From an academic perspective, it feels like a peak moment of my career," the assistant professor of sociology at U of T Mississauga told U of T News.
Berrey (above) spent six years studying how a Fortune 500 company, a major American university and a Chicago neighbourhood, which prided itself on its multiracial, mixed-income demographics, tackled the concept of diversity. She argued that public acceptance of diversity hasn't accomplished racial justice, writing a piece for Salon in 2015, titled "Diversity is for white people: The big lie behind a well-intended word." 
"Here's what I've learned: diversity is how we talk about race when we can't talk about race," Berrey wrote in Salon. "It has become a stand-in when open discussion of race is too controversial or – let's be frank – when white people find the topic of race uncomfortable. Diversity seems polite, positive, hopeful. Who is willing to say they don't value diversity?"
Why the interest in her work now?  
"There's a recurring story in the United States because there's a recurring problem of how are we dealing with the structural problems of racism," Berrey said. "What's happened in the last 40 years or so is that the dialogue has shifted – when we're talking about policies – from language that's about remedying social problems or addressing discrimination and justice, to now we have more happy, warm, fuzzy language around diversity."
She said the New Yorker article comes on the heels of the affirmative action debate in college admissions that's resurfaced south of the border. But the discussion over the term "diversity" also has implications in Canada, where the ideals of multiculturalism are debated at length.
"There's been a shift from using affirmative action to address equality to using affirmative action to achieving the benefits of diversity," Berrey says. "So people will say that diversity is good for learning, good for profit, good for white people, and everybody wins out. But with that, we lose a more hard-hitting dissection of the problems of racism, discrimination and inequality that still persist."
She recently finished another book, Rights on Trial: How Workplace Discrimination Law Perpetuates Inequality, that is also attracting interest as the Harvey Weinstein scandal unfolds. The book, which was co-authored by Robert L. Nelson and Laura Beth Nielsen, focuses on issues of employment discrimination and also explores legal cases involving sexual harassment.
One of Berrey's current research projects investigates student anti-racism protests at both American and Canadian universities since 2012, digging deeper into the Black Lives Matter movement.