Despite PTSD, former military nurse forges new path with U of T degree in health informatics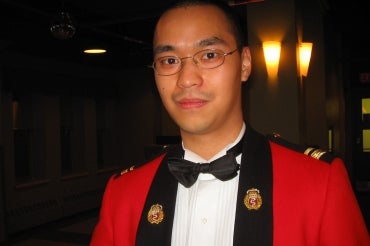 After 18 years of service as a military nurse, Andrew Lo suddenly found himself faced with adjusting to civilian life again.
It wasn't easy: He suffered from post-traumatic stress disorder (PTSD) and chronic pain, and was unsure of what to do next.
One of his friends, a graduate of the Institute of Health Policy, Management and Evaluation, encouraged Lo to apply to graduate school.
"I had always wanted to pursue a graduate degree, but my military career never allowed me to follow that path," Lo says.
In the end, Lo applied to IHPME's Master of Health Informatics program. He graduates on June 21.
During his time in the military, Lo had undertaken a series of health informatics-related projects, including helping to lead his care delivery unit (CDU) as they transitioned from paper charts to electronic medical records in 2011-12. He also managed his unit's rollout of a new module of the Canadian Forces Health Information System, helping to transform the way patients were scheduled and the way their medical charts were detailed electronically.
Despite his experience, he found it very difficult to return to university after almost 10 years away. First, he had to learn new tools that were not available when he was in school – for example, Google Docs, Lucidcharts and Slack. And he had to manage his mental health and chronic pain.
"The noise pollution in Toronto was a constant trigger for my PTSD, making it unbearable sometimes to even leave my residence," he says.
"At the very start of my program, completing it seemed impossible to me. But I learned to respect my limitations and came to recognize that asking for help is not a sign of weakness.
"The faculty and the school were very supportive in terms of helping me manage both my mental illness and physical injuries," he adds. "I knew that I did not want to be defined by my illness or injuries."
His resilience is something that Lo attributes to his training and time in the military. Just out of high school at the age of 18, Lo decided to enter the Canadian Reserves after one of his close friends signed up. It was a decision that set the course for a career that included numerous roles, from operations and training officer, to primary care and patient liaison nurse.
"As a military nurse you must be a jack of all trades," says Lo. "One day you may be on the surgical floor maintaining your clinical skills while on another you may be needed to manage the immunization clinic for the National Capital Region, serving all personnel, from the Governor General to the Chief of Defence Staff."
For Lo, one of the most challenging experiences in the military was his time as a patient liaison nurse. In 2014, Canada had officially ended its operations in Afghanistan and Lo was responsible for co-ordinating the care of soldiers returning to Ottawa. Many had been involved in 2006's Operation Medusa, a Canadian-led offensive and one of NATO's largest land battles at the time.
Part of his role involved casualty repatriation, which included co-ordinating with receiving hospitals and ambulance services, as well as arranging accommodations for casualties' families. During these encounters, Lo would often end up listening to the soldiers as they shared their experiences of their time in Afghanistan.
"Many of these stories were quite horrific and heart-breaking," he says. "Some of them suffered  physical injuries which included missing limbs. Many suffered from psychological injuries after witnessing the death or injuries of their comrades." Some of those people attempted suicide or took their own lives.
It wasn't long before the weight of these stories and the heavy demands of his role began to catch up to him.
"It sounds cliché, but when I was taking care of my patients, their needs were more important than my own personal feelings," he says. "We have a saying in the military, 'Stay mission-focused and carry on,' and that is what I did to provide the best care for my patients and their families."
Lo was diagnosed with post-traumatic stress disorder and given medical release from the military.
Now, as a graduate, Lo is looking forward to applying his newly acquired skills, and is hoping to forge a new career path.
"I do see myself returning to the health care field in the future, and I'm confident I now have the skills to be successful wherever I go," he says.
IPHME