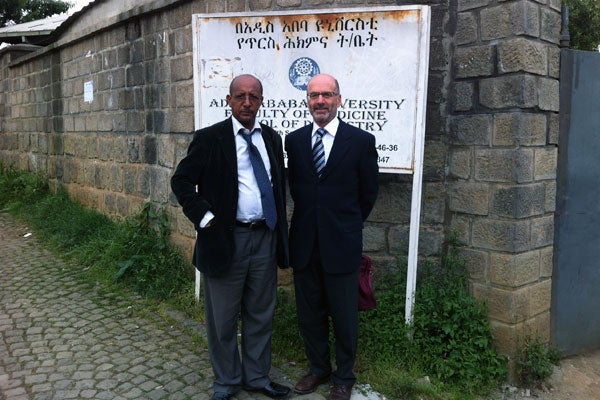 Dentistry joins the Toronto–Addis Ababa Academic Collaboration
"This is a partnership," says Dean Daniel Haas. "But the vision is that in a few years, they won't need us anymore."
The list of challenges to oral health care facing the estimated 94.1 million people of Ethiopia is long.
Dr. Wondwossen Fantaye, director of dentistry at Addis Ababa University's College of Health Sciences, ranks gum disease as the country's most endemic oral health-related disease. That's  followed by a rise in cavities and then a host of other diseases, from those related to naturally hyper-fluoridated water to Noma (cancrum oris), an often gangrenous microbial disease that eats through the lining of the mouth and face.
Yet the greatest challenge of all, according to Fantaye, who spoke at a special Faculty of Dentistry lecture at the University of Toronto recently, is the need for experts to train the next generation of oral health care providers.
That's  a challenge that a newly formed partnership between U of T's Faculty of Dentistry and Addis Ababa University – as part of the Toronto-Addis Ababa Academic Collaboration (TAAAC) – hopes to address.
"We have managed to train undergraduate students [at the Addis Ababa College of Health Sciences] but we have only 11 postgraduate specialists in a country of 90 million people, and all 11 are approaching retirement age," says Fantaye. 
Of those 11 specialists, Fantaye adds, only five are teachers at the College – not nearly enough to train enough health care providers to serve the second most populous nation in Africa. 
An initiative seeded by U of T psychiatrist Dr. Clare Pain in 2003, the TAAAC quickly evolved into a university-wide project, with strategic partnerships stretching over fourteen departments and six U of T Faculties with the goal of helping the African nation develop an infrastructure of experts.
Dentistry's interest in the TAAAC came after one of the Faculty's professors, Dr. Aaron Fenton, visited the University in 2011. A follow-up visit last year with Dr. Fenton and Faculty of Dentistry Dean Daniel Haas led to Dentistry joining the TAAAC and cementing its partnership with Addis Ababa University, which has since blossomed into a full knowledge exchange program that formally launches this fall.
At the core of the partnership is not the provision of health services (although with Ethiopia's ratio of one dentist to 360,000 people, this is a clear benefit) but knowledge transfer. 
For Fantaye, the difference is profound. "What we are talking about is capacity building," he describes.
"There is indeed a tremendous need," says Dr. David Lam, who collaborated on drafting the first Oral and Maxillofacial Surgery (OMS) graduate program with the Ethiopian school while on a visit last June. 
"The majority of the citizens seek care from a witch doctor first, and often either never make it for medical attention or until facial tumors and cancer reach a devastating size," Lam relates. 
The OMS program represents the first graduate program in dentistry that will launch with U of T Dentistry's help. But for Lam, the Collaboration is already making a profound impact: "My next trip will be to help train the first group of five OMS residents ever." 
The first formal engagement of the Faculty of Dentistry at Addis Ababa University will take place in December of this year, when Dean Haas will return to Ethiopia to help initiate the program for their dental students, joined by two other faculty members who have committed to completing the first one month rotations. 
"Dr. Wondwossen had mentioned that he needed my expertise clinically, so I will be working with their faculty and students in the clinic," says Dr. Jim Lai, associate dean and head of periodontology at the Faculty of Dentistry, who will be among the December contingent. "I will also be working with a couple of their lecturers who are interested in periodontics to see if they can teach perio in the future." 
A second contingent plans to travel in May, with the addition of two fourth-year students who will have completed their Doctor of Dental Surgery program but have not yet been licensed as professional dentists.
These graduands will undertake "pre-clinical teaching," according to Dentistry Clinical Associate Dr. Joel Rosenbloom. 
Rather than offering patient care, says Rosenbloom, "These students can teach down a level, similar to a program established [at the Faculty of Dentistry] where the upper year students act as mentors/ teachers for first and second year students." 
In a nation where according to Fantaye, "teeth, more than language, show which area you're from," this is the most valuable form of aid. 
 
"This is a partnership," stresses Faculty of Dentistry Dean Haas. "We'll work with the school to build capacity. But the vision is that in a few years, they won't need us anymore."