Denham Jolly, radio pioneer and champion of social justice, receives honorary degree
It is a testament to Denham Jolly's tenacity that, in 2001, Toronto finally got its first Black radio station. Jolly had applied twice before for the broadcasting licence, spending years – and a lot of money – trying to bring Black culture, music and perspectives to the city's FM dial.
He was used to being persistent, though, and, as an immigrant entrepreneur, overcoming obstacles. "You can't give up," he once told an interviewer. "You have to have the mentality of a long-distance runner."
The co-founder of FLOW 93.5FM, Canada's first Black-owned radio station, Jolly is highly respected for his business acumen and his role in community development. But he may be just as well known as a philanthropist and human rights activist, and for his unwavering support of racial equality.
Today, for his leadership in promoting equity, social justice and opportunity in the Toronto area, Jolly receives a Doctor of Laws, honoris causa, from the University of Toronto.
Born in Jamaica, Brandeis Denham Jolly moved to Canada in 1955 to pursue a science degree, graduating near the top of his class at McGill University. Due to immigration rules, he had to return to Jamaica. But he came back to Canada in 1961 and landed a job in Toronto teaching science.
An entrepreneur at heart, Jolly soon bought a student housing property to earn some extra money, and then another. Later, he left the classroom to become a full-time businessman and, over the next decades, acquired several more ventures in Toronto and the United States.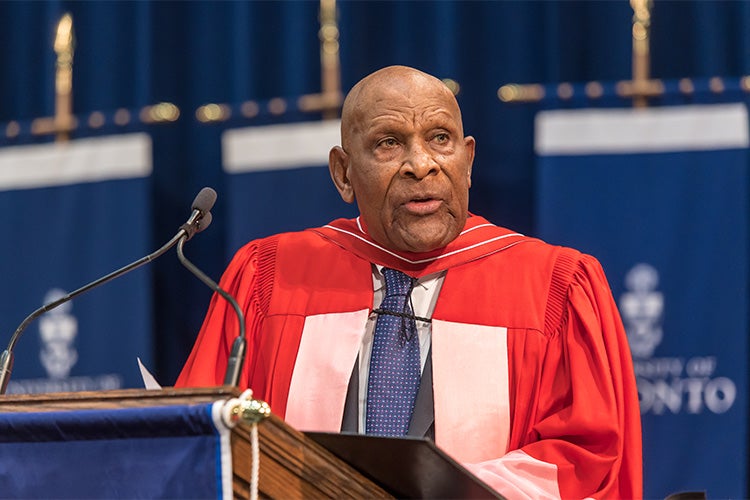 B. Denham Jolly speaking at convocation accepting his honorary degree (photo by Lisa Sakulensky)
In the early 1980s, seeing a need to highlight Black success stories, Jolly co-founded the Black Business and Professional Association and was named president. One of his first acts was overseeing the establishment of the Harry Jerome Awards. "Of this I am very proud," he told the McGill Reporter, noting that, in addition to recognizing Black excellence, the organization created a scholarship fund that has provided millions of dollars in financial aid to young Black people to pursue higher education.
Around the same time, he bought Contrast, Canada's first newspaper for the Black and Caribbean diaspora, and briefly served as its publisher. He then led a campaign over more than a decade to create Flow 93.5FM.
Living in Toronto, Jolly felt that the Black residents of Canada's most diverse city lacked a voice in the media to report on events and express perspectives important to them. In his view, Canadian institutions professed a commitment to multiculturalism, but often didn't follow through with action.
"Canadians say they believe in the mosaic, but some of the tiles have never seen a polish from the day they were put on the wall," he told the Washington Post in 1997. "There is a lot of lip service, but in matters of race you are never quite sure of your place."
Over the years, Jolly says he has been on the receiving end of subtle and not-so-subtle discrimination. He wrote about Canada's "polite" racism in his 2017 book In The Black: My Life. In an interview with BNN Bloomberg, he recalled a conversation with a bank manager in the 1980s who told him "I'll lend you money, but I wouldn't want you marrying my daughter."
Following this encounter, Jolly often sent his white accountant to deal with banks, which sometimes had more stringent loan conditions for Black entrepreneurs. When house-hunting, he would bring a white friend and pose as her contractor. In his view, many people holding powerful positions in Canada's financial sector "don't want minorities to exceed them" and try to constrain their success. "Part of my story is about Canada's uncomfortable struggle with Blackness," he said in his book.
Jolly's memoir won the 2017 Toronto Book Award. In 2019, in recognition of his community spirit, the City of Toronto named a street in his honour – "Jolly Way" in Scarborough. He has received numerous honours, including the Queen's Diamond Jubilee Medal and Canada's 125th Confederation Medal. In 2021, he was appointed a member of the Order of Canada.
For his convocation address, Jolly planned to speak about the importance of diversity, telling graduates that finding ways to help others was also a way to help themselves: "By doing good, you do well." 
In his own life, Jolly says he sees the fight for social justice as a responsibility, and he has been a steadfast champion of racial equality. He has supported the Jamaican Canadian Association, the Black Action Defense Committee, which seeks to end police violence targeting young Black men, Jane and Finch Concerned Citizens, Caribana, and many other community organizations.
Now 86, he continues to advocate for the vulnerable in society. As he told BNN Bloomberg, he's not quite prepared to "stop opening my big mouth when it comes to human rights."
UTC