DeMar DeRozan changed the conversation around mental health: U of T psychiatrist in the Toronto Star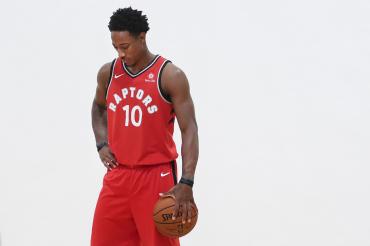 He was a key figure in the Toronto Raptors' rise from sporting irrelevance to NBA champions, but DeMar DeRozan's biggest contribution may prove to be talking openly about his mental health struggles and motivating others to do the same.
In a Toronto Star op-ed, Mark Sinyor, an associate professor in the department of psychiatry at the University of Toronto's Faculty of Medicine, praises the former Raptor for helping shatter the stigma surrounding mental illness, especially among men.
"When DeRozan said he hoped that some people might look at him and see a person who has struggled with depression and who nevertheless lives a meaningful and successful life, to me it was even more exciting than a Game 7 buzzer beater," writes Sinyor.
Sinyor, who is also a psychiatrist at Sunnybrook Health Sciences Centre, notes that stories about people conquering mental health challenges can save lives, and that "resilience is actually contagious." In DeRozan's case, he writes that the former Raptor's willingness to talk about mental health prompted other NBA stars to follow suit, and helped transform the discourse around mental illness. 
"For that, our city, our country and the whole basketball world owe him an immense debt of gratitude."
UTC