Tassie Cameron (second from left), alongside the stars of TV drama Ten Days in the Valley (photo by Disney|ABC Television Group via Flickr)
Alumni Linda Schuyler and Tassie Cameron to speak at U of T event on Tuesday
Tassie Cameron is at the top of her game.
The U of T alumna and award-winning television writer and executive producer is having a busy year with her show Ten Days in the Valley, starring Kyra Sedgwick and airing on ABC in the U.S. and CTV in Canada, a second season of her well-received dark comedy Mary Kills People on the way and a new half-hour comedy for CBC.
"It's an amazing time to be making TV," says Cameron, who graduated from the University of Toronto in 1991 with an English degree from the Faculty of Arts & Science.
With A-list talent flocking to the small screen and cinema-quality production, critics are correct in calling it the golden age of television, says Cameron, who is also the creator of the hit cop drama Rookie Blue.
On Tuesday, Cameron will be joined by fellow alumna Linda Schuyler, the creator of the longstanding Degrassi TV franchise, for a discussion about what it takes to create a hit TV series, at Innis Town Hall on U of T's downtown Toronto campus.
"I'm thrilled I'm going to be there with Tassie because Tassie started her television career writing scripts for me on Degrassi: The Next Generation," says Schuyler, who graduated in 1974 with a bachelor's from Innis College and received an honorary degree from U of T in 2016. 
Degrassi has also made a big move in recent years with its latest iteration, Degrassi: Next Class, airing on Netflix and the Family Channel.
The current season marks 38 years since Degrassi first aired as a series of short films in 1979.
"One of the keys for Degrassi's success is we've allowed ourselves to keep abreast of the times and keep up with how kids communicate with one another," says Schuyler.
In staying timely, the show has never been afraid to tackle tough issues like abortion and sexual identity.
"We have some clear principles in terms of how our storytelling is built, and one of them is that we're fearless in terms of our subject matter," Schuyler says. "So often our storytelling leads to discussion and we had many incidents where parents and kids had discussions on difficult topics because we made it safe for them from having watched a TV show."
While Degrassi is a cultural phenomenon in and of itself, it also launched the career of one of Canada's most famous stars – Drake a.k.a. Aubrey Graham, who Schuyler remembers hiring as a "gangly 12 year old."
"Obviously I'm incredibly proud of him," she says. "We don't see him a lot, but when we do, it's a great big bear hug and we're happy to see one another."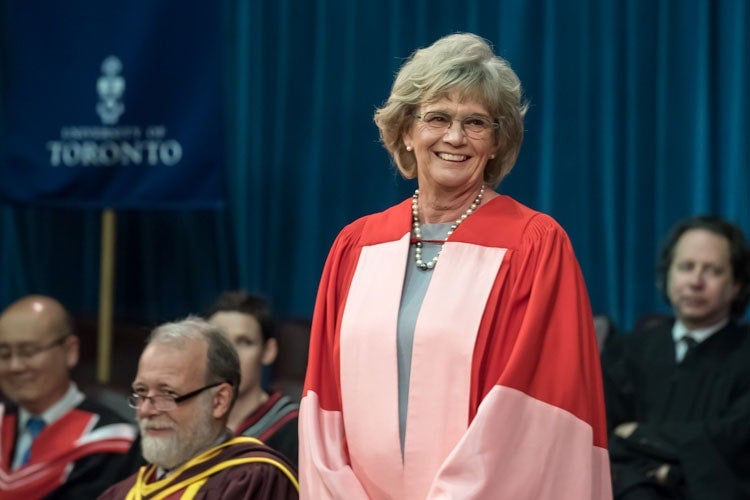 Schuyler received an honorary degree from U of T in 2016 (photo by Steve Frost)
Creating one of Canada's most iconic TV shows wasn't the first thing Schuyler had in mind after graduating from U of T.
"I spent eight years  in a classroom as a junior high teacher before I ventured out as an independent producer," she says. "Those eight years, who would have known they'd have such a huge influence on what I would be doing as an entrepreneur."
Schuyler's path to success should be encouraging for U of T students who are still finding their way.
"You don't start with the end game in mind, you just start with what feels right and truthful at the time," she says.
For students who are interested in working in the television industry, Toronto is the place to be, says Cameron.
"It's super busy in Toronto compared to when I started," she says. "It's a thriving, excellent community for television and film here."
There's also a push for better representation in the industry, says Cameron.
"People are really looking for diverse voices – actors, storytellers and crew," she says. "Women, LGBT, racial diversity – people are really keen to build an industry where those voices are included right now."
With the #MeToo campaign exposing widespread sexual harassment in the entertainment industry, Cameron is also optimistic that the movement will give way to a safer working environment, especially for people who are starting their careers.
"I don't think this kind of behaviour will be tolerated in any way like it was when I was first starting out," she says. "I'm sure there's lots of men I worked with in the past who are nervously sitting there hoping their lives aren't about to implode.
"I think it's a huge relief. It's depressing and exhilarating, and I think all the women I know in this industry are feeling this is a real housecleaning that needs to happen and a reckoning that needs to be addressed."
Schuyler is also glad the "floodgates have been opened."
"Hopefully there's going to be a next generation with a much more respectful and supportive environment, particularly with women," she says.