A dean's world tour: Christopher Yip checks in with U of T Engineering students around the globe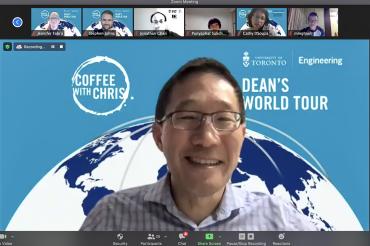 Christopher Yip, the dean of the University of Toronto's Faculty of Applied Science & Engineering, recently took a trip – virtually – around the world. 
Using the digital meeting platform Zoom, Yip facilitated a series of open discussions for undergraduate students in the faculty who are currently studying remotely in dozens of locations across the globe – from Tehran to Taipei – due to public health restrictions put in place to combat the spread of COVID-19. 
"We wanted to do this session because we are now more than halfway through the semester, which is the time when the stress level naturally starts to inch up a bit," Yip said in his opening remarks. 
"I want to hear from you about what's working and what isn't, but I also want to give you a chance to connect with other students in your time zone who may be going through the same challenges you are." 
More than 100 students registered for the three sessions, each of which was scheduled at times convenient for a certain section of the globe. Session 1 covered East Asia and Southeast Asia while Session 2 covered Europe, Africa, Central and South Asia and the Middle East. Session 3 was aimed at students in North, Central and South America. 
Yip was joined by front-line staff including academic advisers, learning strategists and U of T Engineering's registrar and mental health programs officer. 
Also on the call were more than a dozen alumni, from recent graduates to seasoned professionals. Each shared their own experience on how students can make the most of their time at U of T Engineering, how to network and prepare for future career opportunities and offered to connect with those in their regions of the world. 
"I was really grateful to get a chance to talk to faculty, alumni and students from U of T Engineering because it demonstrated the support and availability of the community from all over the world," said Carmelle Chatterjee, a third-year chemical engineering student who attended remotely from Frankfurt, Germany.
"Especially in these times, it's nice to get a reminder of what we all have in common and how we can connect, regardless of our background or where we may be situated in the world." 
This event was the first of its kind, but it likely won't be the last. U of T Engineering has extended its remote access guarantee for the winter semester. 
"I've been so gratified and impressed to see how everyone has handled the current situation, using their engineering talent to develop creative solutions to unusual challenges," said Yip. "Going forward, I think it's really important to continue to maintain our strong community, form new connections and for me to hear directly from students."
Engineering