David Denison, a corporate leader who led the CPPIB to global acclaim, receives honorary degree
A corporate leader with exceptional investment knowledge, David Denison has made an immense impact on something that affects every Canadian: the Canada Pension Plan.
As CEO of the Canada Pension Plan Investment Board (CPPIB) from 2005 to 2012, Denison transformed the organization's investment strategy in a way that has contributed to Canada's global reputation for having an innovative and effective retirement income system.
Today, for his corporate leadership in the for-profit and non-profit sectors and for his outstanding service to the University of Toronto as co-chair of its Investment Committee, Denison will receive a Doctor of Laws, honoris causa, from the university.
Born in Gander, N.L., where his father worked as an airport meteorologist, Denison was raised in Montreal but finished high school in Toronto.
He earned a bachelor's degree in math and a bachelor of education from U of T in the mid-1970s, then taught high school math in Toronto. After six years, he decided that teaching was not for him, completed his chartered accountant designation and embarked on a career in business.
"Part of it was a challenge to myself," he once told Reuters. "Being a successful teacher, could I be successful in a dramatically different environment?"
Denison worked at a number of investment firms, including Merrill Lynch, in the 1980s. He moved to Fidelity Investments in 1995 and became president of the Canadian office.
Ten years later, he was named CEO of the recently formed Canada Pension Plan Investment Board. Denison told the Globe and Mail in 2012 that he had been attracted to the position by the prospect of being able to lead change. "How many times in one's life or career do you get the chance to come into an organization … early stage, and really have the opportunity to help shape how it's going to evolve?" he asked.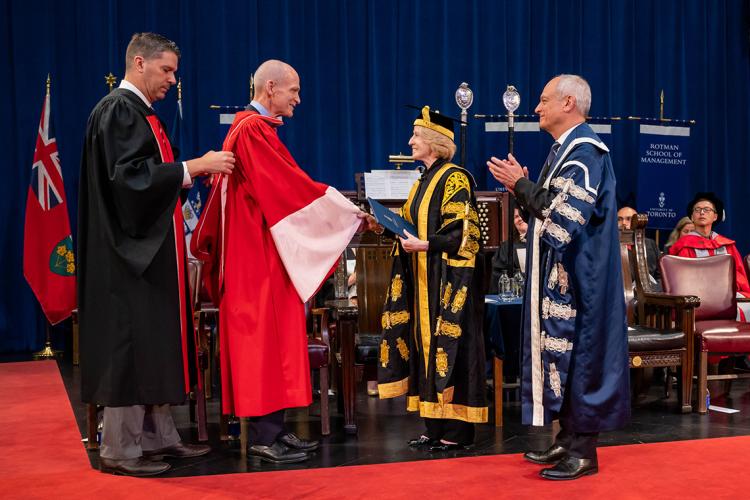 Under his watch, the pension plan's portfolio grew from $70 billion in assets to $170 billion. At the same time, the number of employees leapt more than 10-fold – a challenging process for any manager.
Denison says his most important decisions in the early years were hiring the right staff. "If you focus on the people … the deals will take care of themselves," he told the Globe in 2012. "And if you don't pay enough attention to the people and the culture, you will end up with some deals you probably won't be happy about having on your track record."
He has applied his business knowledge to the non-profit sector as well. As chair of Bridgepoint Active Health, he led that organization in a merger with Mount Sinai Hospital to create the Sinai Health System – a move designed to provide long-term strength and stability to each group.
He has also served as co-chair of U of T's Investment Committee for 13 years, providing guidance to the University of Toronto Asset Management Corporation (UTAM) and the university's administration. In this role, his advice on investment strategy has been instrumental in enabling UTAM to significantly improve the performance of the pension and endowment funds under its management without undue risk.
A reflection, perhaps, of his discipline is his commitment to running. For decades, Denison arose at 4:30 each morning to start the day with a jog – preferably outdoors. When he traveled, he would choose hotels based on how well they were situated for running. In the Globe interview, he recalled once having to forgo his outdoor run – on a trip to Sao Paulo – after hotel staff told him it wasn't safe to run in the city in the dark.
When he retired from the pension board, he kept his daily run but pushed it back to 5:30 a.m.
Denison has held numerous corporate board positions, including at BCE and RBC, and is a Fellow of the Institute of Chartered Accountants of Ontario. He has also served as a director for several non-profit organizations, including the Canadian Opera Company, the Princess Margaret Cancer Foundation, the Toronto Rehabilitation Institute and the United Way of Greater Toronto. He holds one other honorary doctorate. In 2014, he was named an officer of the Order of Canada.
In his convocation address to graduates of Rotman Commerce, Denison urges them to avoid pressuring themselves to have a mapped-out career plan: "…approach these next few years as an important process of self-awareness and discovery about the types of work, roles, cultures and organizations that will best provide personal satisfaction and fulfilment.
"It may take several years and a detour or two before you find what you're ideally suited for… If that proves to be the case, don't look upon those detours as setbacks or missteps – I never once thought that way about the years I spent in teaching or public accounting.
"They're just an essential part of your learning process and each one will give you important additional skills and perspectives that you can draw upon in the future."
UTC