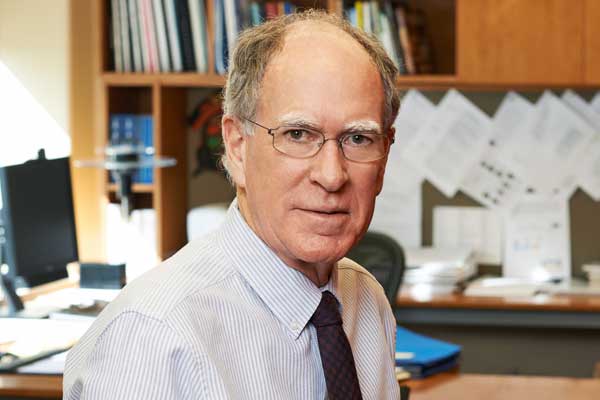 David Cameron to lead Faculty of Arts & Science through 2019
Renowned political scientist David Cameron has been re-appointed as dean of the Faculty of Arts & Science for a three-year term effective July 1, 2016 and running until June 30, 2019.
The re-appointment, announced on Oct. 30 after approval of the Agenda Committee of the Academic Board, was the result of consultation with faculty, staff and students in Arts & Science and throughout the University of Toronto community.
Cameron was first appointed dean of the Faculty on February 1, 2014, following an eight-month term as interim dean. He said he plans to continue to focus on the key priorities of the Faculty of Arts & Science including faculty renewal, financial sustainability, graduate student support and internationalization.
"The reappointment of Professor David Cameron as dean is wonderful for the Faculty of Arts & Science and the University of Toronto. His steadfast and collaborative leadership style will ensure that the Faculty can continue to balance its rich history with the innovation that has placed it at the forefront of the changing landscape of higher education," said Cheryl Regehr, U of T vice-president and provost.
"I cannot think of a person better equipped to lead the Faculty at this time. I am delighted that Professor Cameron has agreed to stay on as dean and I look forward to continuing to work with him over the coming years."
Cameron's contributions to the University of Toronto community span 30 years. He has served as vice-president, institutional relations, chair of the department of political science and acting vice-dean of undergraduate education and teaching in the Faculty of Arts & Science. He has been a department of political science faculty member since 1985.
A Fellow of the Royal Society of Canada, Cameron is considered an expert on federalism, Quebec nationalism, French-English relations, constitutional renewal and national unity. He has applied his expertise by helping governments throughout the world rebuild, reform and restructure. Among the countries he has advised are Iraq, Sri Lanka, Estonia and India. He also led an effort to identify possible governance solutions for the Israeli-Palestinian conflict through the Jerusalem Old City initiative. In addition, Cameron has shared his knowledge with the Ontario government through a series of advisory roles.
Cameron's work has been recognized nationally and within the U of T community. He has received the Governor General's International Award for Canadian Studies and the Adrienne Clarkson Public Service Laureateship as well as U of T's Ludwik and Estelle Jus Memorial Human Rights Prize and the Carolyn Tuohy Impact on Public Policy Award.
He holds a bachelor of arts degree from the University of British Columbia and master's and doctoral degrees from the London School of Economics and Political Science.