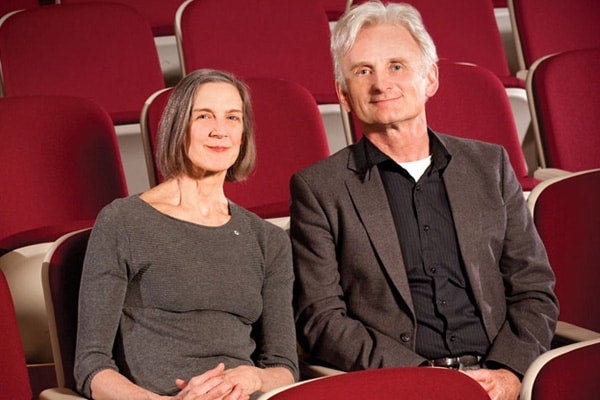 The dancer and the insect expert
How Peggy Baker and Darryl Gwynne brought art and science together
How could a contemporary dance artist and an insect expert ever forge a productive partnership?

Well, meet Peggy Baker and Darryl Gwynne.

Baker is an internationally acclaimed dancer and choreographer. She has been artist-in-residence at Canada's National Ballet School since 1992, while also building a reputation for innovation and excellence in modern dance that brought her the Canada Council for the Arts' esteemed Walter Carsen Prize for Excellence in the Performing Arts in 2010.

Gwynne is a behavioural ecologist and professor of biology at U of T Mississauga, who is highly regarded for his work on the evolution of reproductive behaviour in insects and spiders.

On October 16, 2009, Gwynne opened a curious e-mail, quite different from the usual exchanges he has with scientific colleagues and students. It explained that Baker's dance company was staging a work inspired by a classic 1970s book, The Lives of a Cell, by American academic Lewis Thomas and by documentary films demonstrating insect behaviour by Montreal visual artist Sylvia Safdie. The dance piece, called coalesce, featured dancers performing the subtle movement and communication patterns of insects.

"We had heard Darryl on the CBC radio science program Quirks and Quarks talking about his research,"says Baker. "I wanted Darryl to offer his opinion of the work we had done in the studio in interpreting insect movements. I also wanted him to help prepare the audience to experience the dance by way of his knowledge about insect behaviour."

Gwynne was quizzical about the proposition at first. "I'm a dyed-in-the-wool scientist and art and dance really weren't my thing. But my wife and I went down for a rehearsal and I was really impressed. It was so beautiful. I was amazed at how realistic the insect movements were as choreographed by Peggy and performed by the dancers."

When coalesce was staged at Toronto's Harbourfront Centre in February 2010 Gwynne did indeed offer insights into insect behaviour before the performance.

It was a great pleasure to have Darryl prepping the audience before our performance, says Baker. He is a person of tremendous energy and focus and his insights were fascinating and so valuable in helping our audience understand what they would see on stage.

In fact, Gwynne's tutorial went over so well that an audience member invited him to a dinner party to offer his insights into the insect world.

While his work with the dance community was new, outreach to the public about science has long been a priority of Gwynne's work.
"When I was a PhD student at Colorado State University, my supervisor, Professor Howard Evans, taught me not only to communicate to my fellow scientists, but to everybody. That's important. Science is hard for many people to understand, but I believe it is worth understanding because it has a direct impact on our lives. So I do everything I can to communicate through popular magazines and programs such as Quirks and Quarks."

And he was particularly appreciative of and impressed by Baker's efforts to blur the lines between art and science.

"You look at children in the garden when they're two or three and they have no trouble picking up worms and insects. But with most adults, such critters bring out the fear factor. So good on Peggy for getting inspired and seeing the beauty in the insects' movements."
This story originally was published in Edge Magazine's Fall 2011 issue.