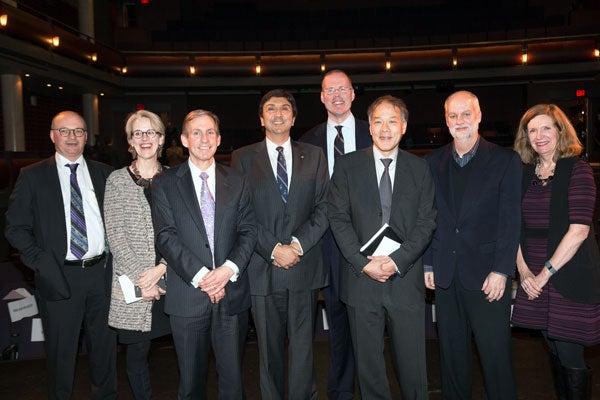 Dalla Lana School of Public Health hosts distinguished panel on health system innovation
An expert panel of thought leaders with distinctive viewpoints on Canada's health-care system met on Feb. 3, 2016 at the University of Toronto to address the question: can we innovate our way to a sustainable health system? 
More than 350 students, alumni, faculty, staff and partners attended the event where this question, posed by Dr. David Naylor, University of Toronto President Emeritus, guided discussion at the Dean's Leadership Series inaugural event, which was presented by the Dalla Lana School of Public Health (DLSPH).  Dean Howard Hu's aim for the series is to educate Canadians on significant issues facing the health system and to stimulate discussion on how society can respond to these challenges.
"Healthcare everywhere is changing in response to an aging population, the revolution in information technology, greater engagement of patients in their own care and unprecedented advances in medical science," said Dr. Naylor, referencing a report (Unleashing Innovation: Excellent Healthcare for Canada) by the Advisory Panel on Healthcare Innovation, which he chaired from June 2014 to July 2015.
"Canada is not well-positioned to respond to these forces," he concluded, summarizing input heard during the advisory panel's stakeholder consultations.
Following Dr. Naylor's keynote address — his first talk at the University since the conclusion of his presidency in November 2013 — panellists articulated challenges and opportunities for health system innovation. The panellists were: André Picard, Globe and Mail columnist; Susan Fitzpatrick, Toronto Central LHIN CEO; Dr. Peter Pisters, University Health Network President and CEO; Leslee Thompson, Accreditation Canada President and CEO; and Dr. Ross Upshur, DLSPH's Clinical Public Health Division Lead.
Upon reflection, the panel unanimously agreed that innovative ideas and a wide-scale cultural shift are necessary for transforming Canada from a healthcare laggard to a healthcare leader.
"Canadians are tolerant of mediocrity. We think that since healthcare is free, it's okay to wait for service. We don't realize how much better other systems are," said Picard.
Professor Adalsteinn Brown, director of the Institute of Health Policy, Management and Evaluation, skilfully moderated the panel, pressing each member to explain how the system can evolve beyond a zero sum game and affect significant change.
Panellist responses included re-aligning physician incentives — moving from a fee-for-service model to payment for outcomes — and linking accreditation standards and outcomes as effective levers to system transformation.
Professor Upshur's optimistic comments emphasized U of T's important role as a catalyst for change that stimulates discussion and educates tomorrow's leaders.
"Today's students are demanding equity and social justice skills and knowledge so they can work with marginalized populations," said Upshur, who is also a professor in the department of family and community Medicine.
"Students, healthcare providers, CEOs and everyone between must unite and push the government to affect action."
Click here for photos from the Dean's Leadership Series.