'Creativity, passion and a genuine sense of leadership': Four U of T faculty honoured with Early Career Teaching Awards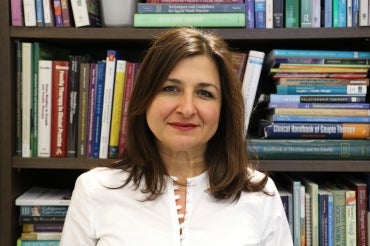 One winner devotes a day of the week to improving in-demand social-work skills. Another has brought live performers to his medieval literature lectures. One has taken a decidedly broad approach to teaching disability issues. Still another is clicking with his computer science students.
The University of Toronto is recognizing four faculty members – Toula Kourgiantakis, Matthew Sergi, Daniel Zingaro and Anne McGuire – with an Early Career Teaching Award for the 2018-2019 academic year.
The award recognizes faculty members who are effective teachers and demonstrate an exceptional commitment to student learning, pedagogical engagement, and teaching innovation. Each year, up to four awards of $3,000 are offered.
"This year's winners of the Early Career Teaching Award have brought creativity, passion and a genuine sense of leadership that prioritizes and prizes our students' in-classroom experience," says Cheryl Regehr, U of T's vice-president and provost. "The University of Toronto congratulates them for their early career honour, a well-earned accolade."
Award recipients will be honoured at the annual Excellence in Teaching reception, traditionally held in the fall.
Toula Kourgiantakis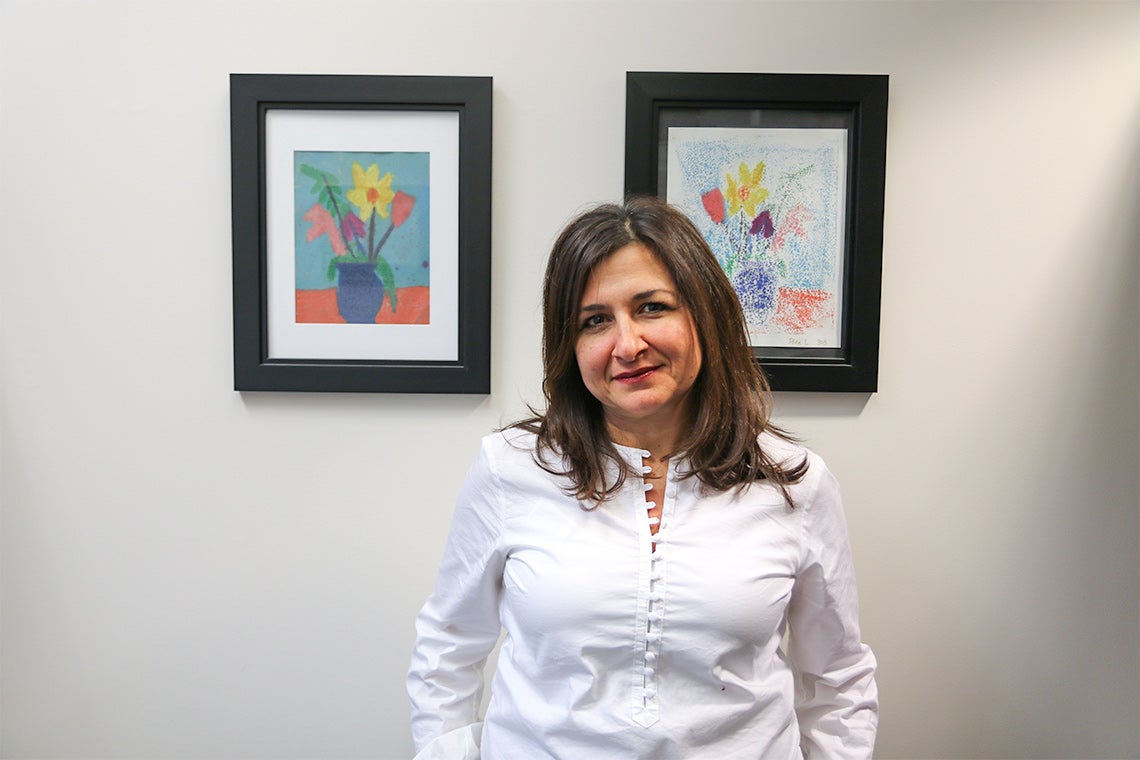 (photo by Perry King)
For Toula Kourgiantakis, Fridays are the most fruitful day of the week.
As an assistant professor, teaching stream, at the Factor-Inwentash Faculty of Social Work, Kourgiantakis has been instrumental in the development of "Practice Fridays" – where trained actors, field instructors and industry professionals visit Master of Social Work students and provide case studies that teach foundational skills considered essential for the profession.
"They've really taken a life of their own," says Kourgiantakis, who joined the faculty in 2015.
Practice Fridays have received enormous support from industry professionals. Beginning with a focus on first-year master's students, they have expanded to include second-year students, focusing on more specialized skills such as how to conduct a mental health, addictions and suicide assessment.
"When people are coming in, in addition to doing a kind of a broad assessment, [they practise] how to hone in and ask questions that are specific to mental health, to get a good read on how a person is doing," explains Kourgiantakis, who brings about 25 years of clinical experience to her role.
A certified couples and family therapist who continues to practise as a therapist, she was drawn to the U of T role because of the faculty's desire to enhance and emphasize the practical aspects of the program.
"I love [this work]," says Kourgiantakis. "I feel like I'm starting over. It's a new career but at the same time I'm bringing in my expertise and experience from the field.
"I love working with the students. I really enjoy the fact there is room to develop quite a bit here. That's always a lot of fun."
Kourgiantakis says her focus has shifted to mental health and improving the faculty's capacity to address it in the field. She is in the first year of a University of Toronto Teaching Fellowship, an opportunity to engage in a two-year pedagogical project that directly benefits students in a defined area of institutional priority.
The fellowship includes work on a required second-year course in the Master of Social Work program that focuses on mental health. "This particular project has the collaboration of social workers from CAMH [the Centre for Addiction and Mental Health], and they're involved in developing the course, in giving feedback," she says.
That feedback will support how the course delivers core concepts in interactive ways. Kourgiantakis and the team have already brought in online tutorials, which include simulated client videos and online quizzes.
The fellowship and her work at the Faculty of Social Work have made the Early Career Teaching Award honour even more special, Kourgiantakis says.
"I was absolutely surprised [to win]. We have a lot of really outstanding academics across the university.
"It does certainly permit me, having received the teaching fellowship from last year, to get to know so many people across the university – that has been the most beneficial part of the award."
Matthew Sergi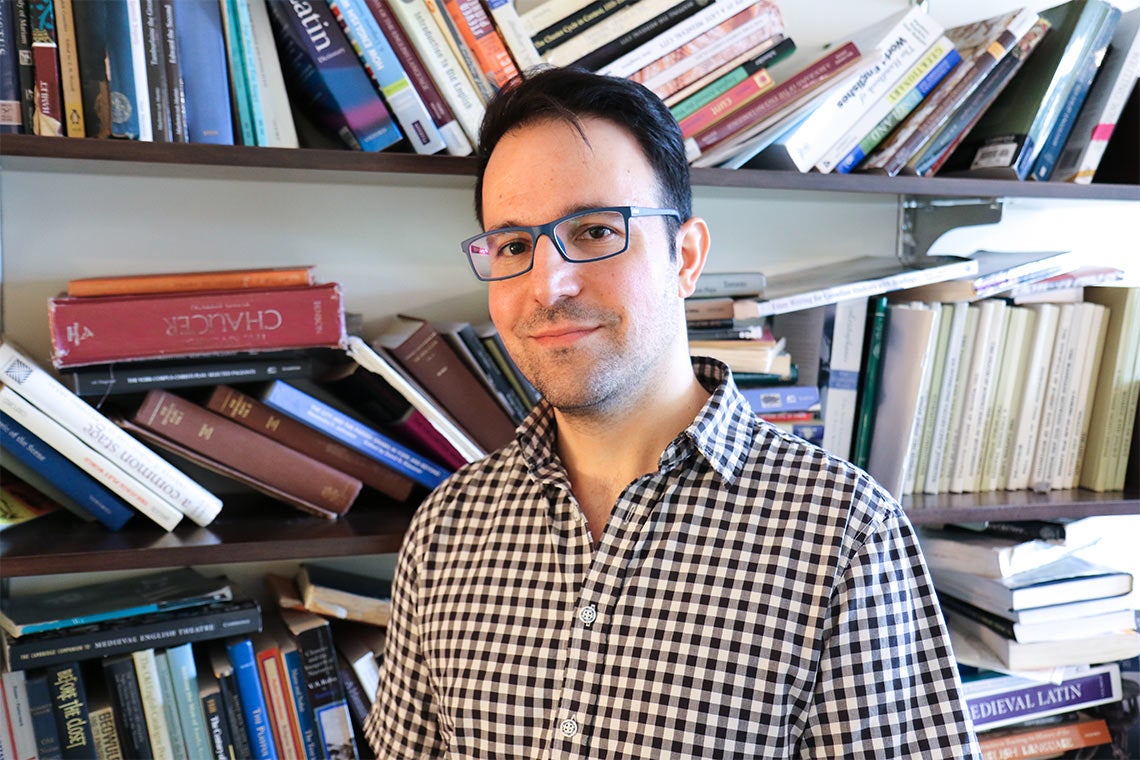 (photo by Perry King)
When Matthew Sergi brings live performance and re-enactments to his classrooms, it's not just a "cheap tactic" to grab the attention of students, he says.
Sergi, an assistant professor in the department of English, wants to make the humanities feel more human – and bring heightened discourse to the concepts that pervade his lesson plans.
"Bringing attention to debates, to disciplinary and political conflicts, trying to invite disagreement – this is necessary for my work because so much of what I have to do is challenging what students come to the table thinking they know about the past," says Sergi, who joined the department in 2013.  
With a focus on medieval drama, Sergi aims to show that the past is not as repressed as we think, compared to other conservative texts from institutions like the Catholic Church.
Sergi recalls leading his medieval drama class in a call-and-response song from a 15th-century play that's about "remembering to wipe your ass after you shit."
"The refrain involves the word shit over and over again, and there are these students going 'Oh, ha ha ha,'" he says. "Then I challenge them to think it's notable that this song is not framed in any way as profane or inappropriate – this is a performance that is done in public, with a mixed age and gender audience.
"But, it is you [the student] that has these hang-ups."
As a graduate of the Tisch School of the Arts at New York University, with an emphasis in drama and applied theatre, Sergi's training as a performer and director remain fundamental to his teaching and research. He wants to be present in his classes and work to engage students in the material to improve their critical thinking and writing skills.
Sergi has carried forward that philosophy into course development at U of T. Writing About Literature, an undergraduate course devoted to developing composition, facilitates contact between students and the department of English.
In this course, students learn what encompasses strong writing, read short faculty publications and then speak to the professor, in person, to unpack the submissions. For example, students once read an academic article on a Shakespeare sonnet by Professor Christopher Warley.
"There's a point in which the students come to life, in understanding that someone that they may have seen is also doing what they're doing but at a higher level – that's something to aspire to, but also something for them to critique, to think through," says Sergi.
And the students' writing has vastly improved, he says.
Sergi says he is thankful to be honoured with an Early Career Teaching Award, at a university that has given him space to approach teaching in unconventional ways.
"I'm very happy for the award," he says.
U of T "is a very humane place, for which I'm grateful, and it's part of what has allowed me to try new things in the classroom."
Daniel Zingaro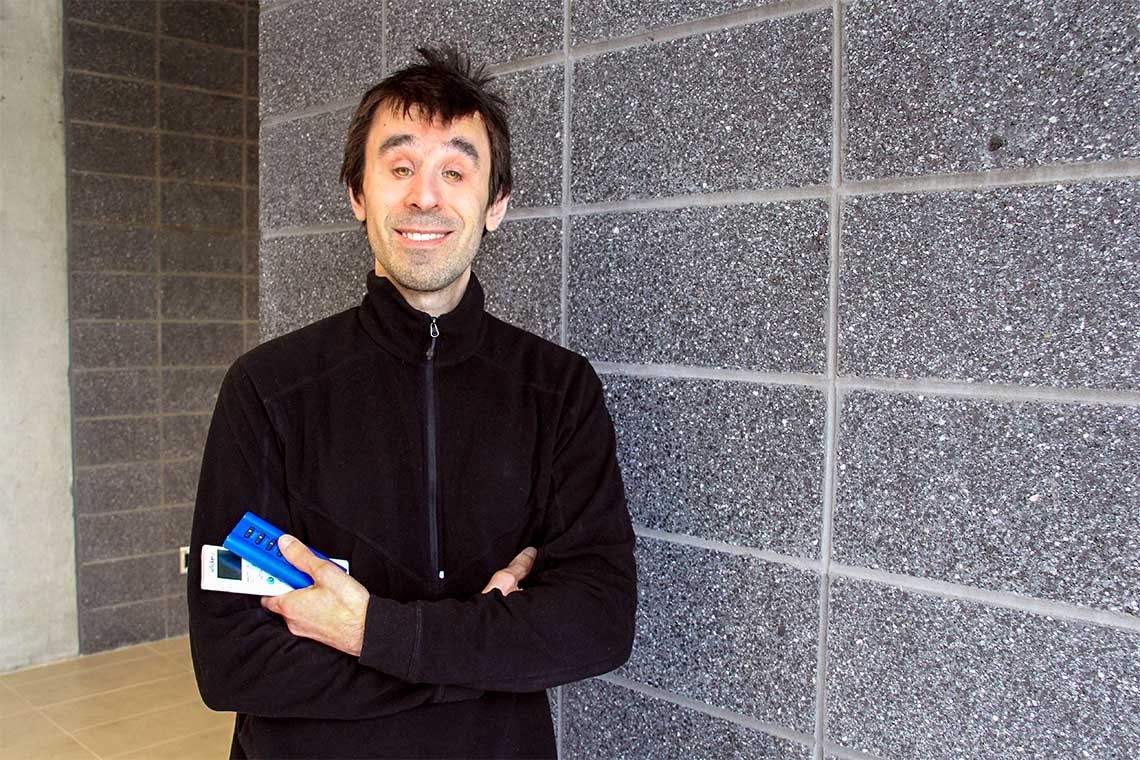 (photo by Blake Eligh)
Daniel Zingaro wants to click with his students – literally.
Zingaro, an assistant professor, teaching stream, in the department of mathematical and computational sciences at U of T Mississauga, is considered an international leader in the use of peer instruction, or PI  – an active-learning approach that uses clickers to engage students on material.
PI, he says, is designed to target student difficulties and misconceptions, and to confront students with the realities of how much they understand.
"Originally designed for physics instruction, PI replaces lectures with multiple-choice questions," says Zingaro, who earned his PhD from the Ontario Institute for Studies in Education in 2014.
"One of the first courses I taught at U of T was a C programming course taken by many students who were unsuccessful in the prior term. I figured that throwing the same lectures at them again was unlikely to help."
With some guidance from an early paper on applying PI to computer science courses, Zingaro had students use clickers frequently during lessons to indicate when they were having trouble. "This was what I needed for the C programming course. I've since spiralled down a bunch of research avenues, and I'll spoil the punch line: No matter what outcome measures we use, we see that PI helps students."
Zingaro's teaching style has been recognized by the Office of Student Transition and Student Life for his contributions to student engagement and the U of T Mississauga community at large.
Above all, he respects his students. And they respect him back.
"I'm honoured to receive this award because my students, through their reference letters, decided that I should be part of the clamour," he says. "I challenge my students and push for their learning all the way. I have a reputation for what I expect in my courses.
"One student on Reddit recently called me a 'savage.' Yet, this award reminds me: At the end of the day, students get me."
Anne McGuire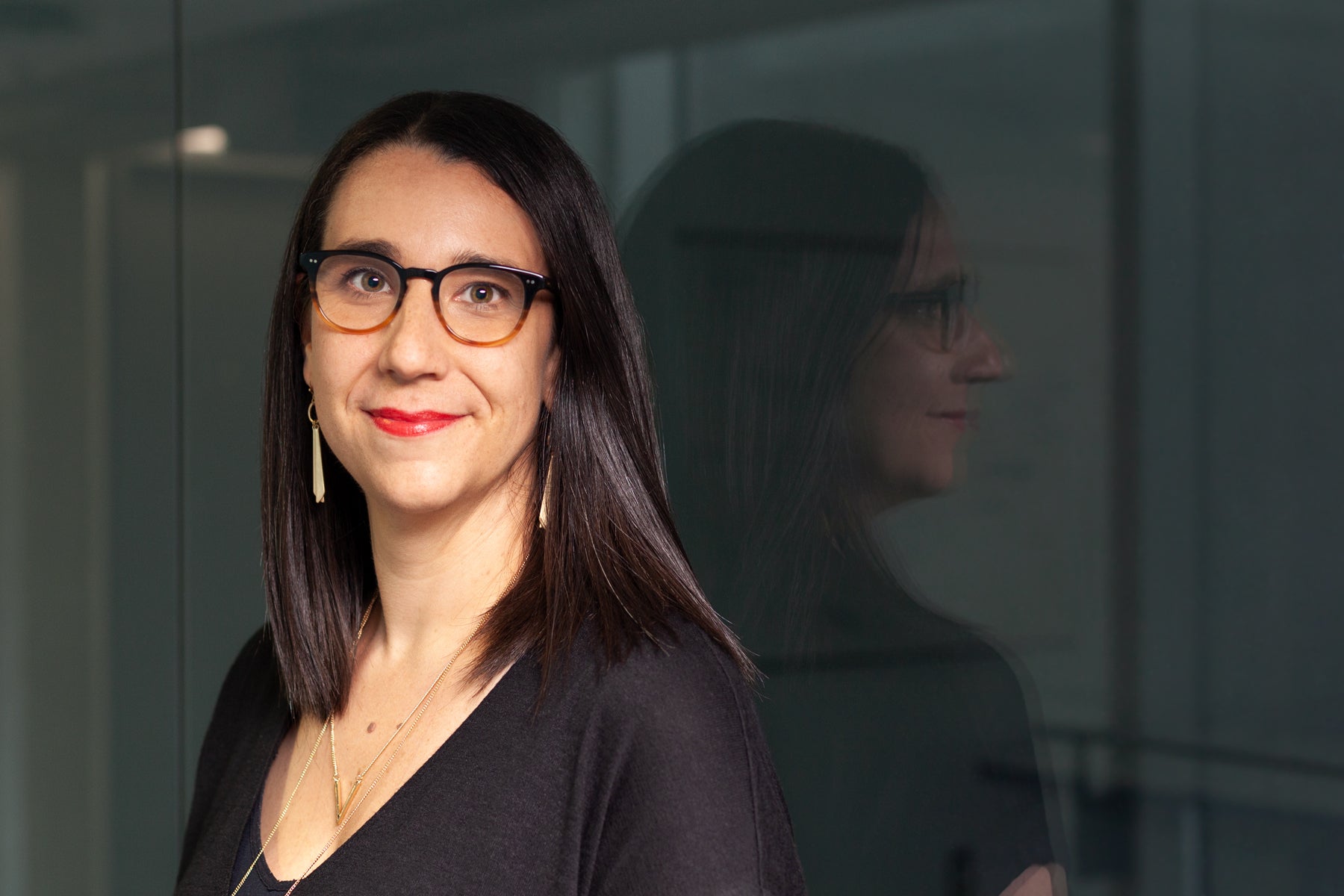 (photo by Michael Barker) 
With a teaching and research focus on disability histories and theories of oppression and justice, Anne McGuire is committed to access.
McGuire, an assistant professor, teaching stream, directs the content of her courses away from a focus on individual notions of disability and towards the social and relational aspects of it.
"For example, when disability is conceived of as a personal problem, it is often left up to individual disabled people to secure access, accommodations, rights and respect," explains McGuire, who joined the equity studies program at New College in 2014. "However, as disability is transformed into a valuable and socially meaningful category, the physical, social and attitudinal barriers faced by disabled people become a social justice issue of concern to all."
As a result, McGuire has created course content and teaching practices that engage the widest array of student learners – including students experiencing a range of physical and mental health issues.
"Developing course syllabi and online course shells that are screen reader accessible, captioning audio and video materials shown in class. These are good teaching practices that make learning more accessible for more students," she says.
McGuire has been at the forefront of many equity studies initiatives. She is the faculty adviser for Knots, an undergraduate journal for equity studies. She also curates the New College Disability Studies speaker series that brings in scholars and an array of local and international artists, activists and community organizers.
"I'm really proud of these initiatives both for their role in nurturing a vibrant disability studies community here at U of T and for strengthening the relationship between the U of T community and the community of scholars and activists outside of this university," she says.
As her achievements rack up, she feels proud of winning the Early Career Teaching Award. 
"I was thrilled to receive this honour. The first thing I thought when I heard was how lucky I've been to find myself teaching here in the equity studies program at New College.
"The students here are incredible – critical, creative, passionate, incisive and complex in their analyses. It's such a privilege to teach these students – it makes my work easy and challenging in equal measure."
UTC